Liverpool is 1 of the most competitive Cities to find a job in right now
2017 has already been marked by a lot of change in the UK, especially now Brexit negotiations are firmly underway. As such, it is extremely positive to see Liverpool's job market strengthen, with the latest data from the UK's leading independent job board, CV-Library, finding that job applications, vacancies and average salaries all saw impressive growth in the 1st ¼ of the year.

In fact, CV-Library's Q1 job market report, which compared data from Q1 2017 with Q4 2016, found that Liverpool was 1 of the most competitive cities to find a job in, with job applications in the City seeing a very impressive quarterly increase of 30.9%.

While this was to be expected, with January typically being 1 of the busiest times for recruitment; it is still very promising to see the job market in the City continuing to strengthen. The top ten cities for job application growth over the period were:-
► Bristol – 39%
► Cardiff – 37.1%
► Birmingham – 36.5%
► Portsmouth – 35.9%
► Manchester – 33.3%
► Liverpool – 30.9%
► Exeter – 30.4%
► Guildford – 29.9%
► Southampton – 28.5%
► Leeds – 25%
Lee Biggins, founder and managing director of CV-Library, comments:- "It is fantastic to see the job market in Liverpool not only holding its own, but also expanding throughout the 1st ¼ of the year. It is particularly promising to see a huge number of candidates in the City actively looking for their next career challenge, and with salaries seeing an impressive rise, the financial benefits of making a career move are clear to see."

Additionally, average advertised salaries in the area experienced positive growth, with Liverpool seeing strong salary increases when compared to the last ¼. The City saw quarterly salary increases of 4.6% alongside the growth in job applications; above the UK average of 2.4%.

Furthermore, total job vacancies have seen similarly encouraging growth, increasing by 17% when compared to the last ¼, highlighting the strong expansion aims of UK businesses in the City, with job hunters more than happy to oblige.

Biggins concludes:- "The 1st ¼ of the year has proved to be a successful time for candidates and companies alike. With a huge number of candidates looking for a new job, businesses should have a very deep talent pool to choose from when it comes to filling a vacancy. That said, it is clear from our findings that hiring demand is not necessarily meeting candidate appetite, and we hope to see this improve in the next ¼. 2017 will inevitably bring a range of challenges to the job market, with the likes of Brexit, the'gig' economy and worker automation constantly under the spot light. However it is very promising to see the core job market strengthening and expanding in Liverpool throughout this period."

Learn more about CV-Library at:- CV-Library.Co.UK.

A 3rd of North West patients don't know the name of a single GP at their surgery
PRESSURE at GP surgeries, in the North West England, now means ⅔ of patients never see the same doctor, according to:- 'The State of Britain's GP Services Report.' The report, which examined the experiences of 1,000 patients, also found that 1 in 3 residents in the North West of England were so distanced from the providers of their primary care that they were unable to name their GP. The report by AKEA Life, which offers home visits from dedicated family doctors, uncovered that just 36% of patients see the same GP every time they go to their surgery.

Dr. James Palaweck, chief medical officer at AKEA Life, said:- "A lot of GP services are under so much pressure to deal with increasing numbers of patients that it is no longer the norm for patients to be seen by the same family doctor every time they go. Instead they often see a nurse practitioner or locum GP who might only be at the surgery for a short period of time. It's sad to see that so few patients know their GP or have a long term relationship with them these days."

► 21% of patients in the North West England now see up to 3 different GPs per year.

► 53% of North West England residents say that they agree that they would feel more comfortable attending appointments if they were to see the same GP every time.

Dr. Palaweck added:- "Having a good relationship between patients and doctors is important to help with diagnosis, particularly with more serious cases such as cancer or mental wellbeing. If a patient is uncomfortable discussing their symptoms with their GP because they've never met them before, this can draw out the diagnosis and delay treatment."

The research also found that 18 to 24 year olds are least likely to know the name of their doctor, while for those aged over 55, 69% said they know the name of their regular GP, the highest percentage. AKEA Life is a new GP service that provides quick, convenient and quality access to health advice in patients' own homes, workplaces or wherever they are, via a dedicated family doctor. To find out more information please visit:- AKEALife.Co.UK.
Help Transform Cancer Care by taking a walk on 11 June 2017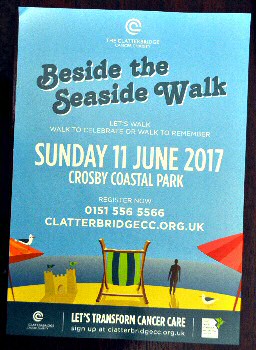 THE Merseyside based Clatterbridge Cancer Charity are holding a:- 'Beside the Seaside Walk' on Sunday, 11 June 2017.
The walk will take place to celebrate the work being done by the charity and remember those who have died due to cancer.
The event will take place in Crosby Coastal Park and more information can be obtained about how to take part, via calling them on:- 0151 556 5 566.
If you do not already know, this is an amazing charity that is truly helping those with cancer day in day out.