Get your bike fixed – for 'free'
MECYCLE café and bike workshop, in Ainsdale, is taking part in the:- 'Big Bike Revival', so dust off that forgotten bike, take it to Mecycle and they'll make it roadworthy; free of charge. 'The Big Bike Revival' is a national campaign which aims to encourage even more people to get out and enjoy the benefits of cycling. Mecycle is part of Autism Initiatives and support young adults with autism in work placements and employment. It will again be an active part of the Big Bike Revival for 2 weeks, the 1st week begins, on Saturday, 6 May 2017, and the 2nd starts, on Saturday, 27 May 2017. If you take your bikes along during those 2 weeks you can get them back on the road.

Jon Gordon, Autism Initiatives Communication Manager, said:- "There will be many people who haven't cycled in years and have an old bike in the garage. This is your chance to dust it off, get it repaired and roadworthy and start biking this summer; all for free. We're thrilled to be part of this campaign again, especially as we're celebrating selling over 500 refurbished bikes in the last three years. For those who would like to buy a bike, we have a great range of refurbished bikes in store for sale."

Mecycle will also run guided bike rides on Friday's for the whole 6 weeks of the:- 'Big Bike Revival'; 10am for more seasoned riders and 1pm for beginners, call:- 01704 579353 to book a ride. Please note that Mecycle hopes to get people cycling again and will make straight forward repairs such as brakes, cables and inner tubes, and there are some restrictions to the repairs offered for free.
Warning to motorists and pet owners in Southport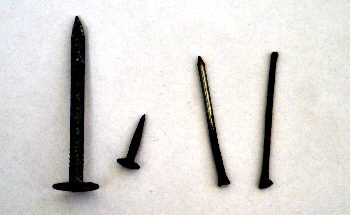 OVER the last week we have been hearing reports of nails being deliberately dropped on side roads. Unlike previously when glass bottles have been deliberately broken on roads and pavements, these nails are an added worry. They are hard to spot and if driven over, can cause punctures as are often angled pointing upwards, lodged within cracks within the road surface. Also dog walkers are taking note as some of these nails have been placed pointing upwards on pavements. Often the ones on pavements tend to be carpet tacks, so if you have shoes on, they should be ok if stood on, but don't walk around in bare feet. If you spot anyone deliberately dropping nails on the roads or pavements, contact the Police on: - 101 and if you can, once they have gone, and if safe to do so, please remove them, unless told otherwise by Police. If any businesses see CCTV images of the people doing this, again please let Police know. These are just a few of the nails we have found on the roads next to Lord Street. Let's hope this is just an isolated incident.
Vintage fire engine to help carry baton from Southport to Pier Head in Liverpool over May Bank Holiday
LOCAL Firefighters from Merseyside Fire and Rescue Service will be helping to launch the #OurBlueLight Mental Health Relay to raise awareness of how mental health issues affect emergency service staff.

Taking place from Saturday, 29 April 2017 to Friday, 22 September 2017, the relay will see staff from emergency services across the UK, including:- Fire and Rescue, Police, Ambulance, Prison Services and the NHS, carry a baton across the North West of England.

The baton will travel to different Cities throughout its journey and each weekend local Emergency Services will hand it to another Emergency Service Team for it to be taken to its next location.

On Saturday, 29 April 2017, the relay will launch on Blackpool Promenade, at 10.30am, when the baton will be taken to Southport Community Fire Station, on Manchester Road, by crew from Southport Lifeboat. It will then remain at the Fire Station overnight.

On Sunday, 30 April 2017, at 10.30am, the baton will be placed in a Vintage Ambulance and travel in convoy with 3 Fire Engines and vehicles from HM Coastguard Southport, along Lord Street, Southport, through Ainsdale, Formby, Ince Blundell, Thornton and Netherton, before arriving at Merseyside Fire and Rescue Service Headquarters, on Bridle Road, Bootle.

Following a short break, the baton will then be placed in a vintage Dennis F8 Fire Engine and the convoy will travel through Kirkdale, Vauxhall and Wapping in Liverpool before arriving at the Pier Head for around 1.30pm.

At the Pier Head, Deputy Chief Fire Officer Phil Garrigan will hand the baton over to Merseyside Police, at around 1.45pm, after which a procession of Emergency Service staff will carry it to Merseyside Police Headquarters in to Canning Place, at around 3pm.

The baton will then remain at Merseyside Police HQ until Sunday, 7 May 2017 when it will be carried by Police to Cheshire Police Headquarters, in Winsford.

For more information about the #OurBlueLight Mental Health Relay please visit:- OurBlueLight.com/Mental-Health-Relay.
If you spot this passing, please show your support!

Merseyside Lowland Search and Rescue (MERSAR) visits Southport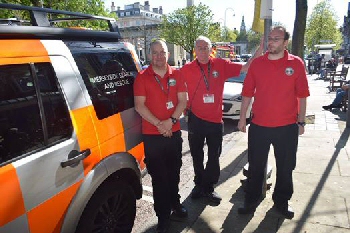 THE newest volunteer emergency response charity has been gearing up for a very busy summer. Although primarily based on the Wirral, Merseyside Lowland Search and Rescue (MERSAR) is on call for the whole of Merseyside, 24 hours a day, 365 days a year, under the direction of the local emergency services, like Merseyside Fire and Rescue Service and the Police.
In 2016, for example, the team assisted the search for a missing boy, at Formby Point, along with other services, including the Coastguard. They are the equivalent to the Mountain Rescue and every member is a volunteer, meaning that no charge is made for the Team's services. But just as with Mountain Rescue, the team members are highly qualified and to put them through the training requires donations to pay for the training and equipment. The team have been in Southport a few times and on 22 April 2017, they popped over this time, to set up shop on Lord Street, Southport, to do a collection.

But the mostly important part of it was to make people aware of them and what they do. Now with more members qualified, they are getting ready to help with more emergencies. Currently the team has 25 active members, that includes' Heart Paramedics, Swift Water Rescue Technicians and a team Doctor. They also have a host of other volunteers with other skills in training. For more information about your Lowland Search and Rescue Team, visit:- MerSAR.Org.UK The charity are looking for new members and also people to help with fund raising. If you can lend a hand and help them to save lives, please do get in contact with them.
Southport Swords practice on St George's Day for the traditional May Day Tour of Sefton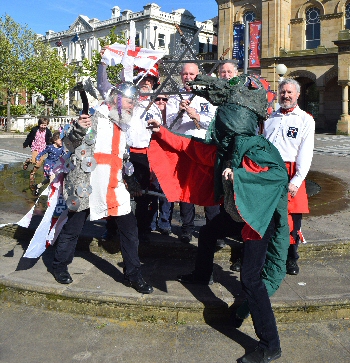 THE Southport Swords, who were founded in 1968, were out and about on St George's Day, 23 April 2017, performing on Southport's streets, with a dragon... The team is credited as Sefton's finest Men's Long sward and Morris Dance group. Keep an eye out on 1 May 2017, in and around Southport for them, as they will be performing traditional May Day celebrations. Weather permitting they hope to be performing on 1 May 3 special dances that they have devised themselves along with other traditional 1 May dances. Locations will include the following:-

► Starting at 5.20am, on Princes Gardens, Southport, until around 6am for the Drawn Dance.
► The Swords will then travel to Crosby Beach, performing for a short time from around 10am.
► The Swords then move on to Little Crosby Hall, for another performance, at around 10.40am.
► Then heading back to Southport, to perform in Birkdale at around 11:40am.
► The group will stop off at 1pm. in Britannic Gardens, Churchtown, for a short performance.
► Other locations will then be added on the day.
► The last show is due to take place at around 3pm on Southport's newly renovated Kings Gardens, next to the Marine Lake.

If weather is bad, they will move into local pubs and also look at other alternative locations. Please also note that these times might also change due to traffic and other factors.

If you want to know more about the Southport Swords, they currently practise on Tuesday nights, 9.00pm to 10.30pm, at The Mount, Manchester Rd, Southport. The Southport Swords are male only dancers and to join them you do not need experience, but must be over 16 years of age.

Should you wish to book them, they are available to dance at:- weddings, functions, fetes, festivals, store openings, days of dance etc. To book call Geoff Charleton on:- 01695575235, or call Dave Roberts on:- 01704-212422, alternatively you can email them.