Final call for Sgt Pepper performers
IT'S the last chance for musicians and performers across Liverpool and the wider region to be part of a never before seen Musicircus.
So far, more than 400 people have signed up to be part of 'Mr Kite's MUSICIRCUS!' an event inspired by the Sgt Pepper album track:- 'Being for the Benefit of Mr Kite' and will see a huge group of people come together at Aintree Racecourse, to play or perform different extracts from different Beatles songs simultaneously, creating an unforgettable cacophony of sound.
Those who have already volunteered to be part of the FREE unique event, on Sunday, 4 June 2017, include guitarists, drummers, the Chinese Youth, dancers, choirs, poets, orators, rock 'n' roll bands and aerialists. And there is also some 4 legged support as horses from the Aintree Equestrian School will also be taking part.
However, the deadline to sign up is looming, 5pm, Monday, 8 May 2017, and the team behind the event are still on the hunt for brass bands, jazz and classical instrumentalists, Irish ceilidh performers, mariachi bands, circus acts, marching bands and even opera singers!
The spectacular is dedicated to the Beatles, so anyone who volunteers must be able to perform, or perform to, any Beatles track.
Sarah Vasey, Arts and Participation Manager for Mr Kite's Musicircus, said:- "We are delighted with the take up so far, and the reaction from groups and individuals across the City and beyond extremely positive and they can't wait to be part of this world premiere event. We want to make sure visitors to Aintree Racecourse on 4 June 2017 have an unforgettable, fun family day out and we're keen to attract a diverse range of performers who can give an interpretation of tracks we know and love. It really will be a once in the lifetime opportunity and I encourage as many people as possible to sign up and be part of this landmark cultural moment."
Pagoda Arts has signed up to take part and the youth orchestra and dancers will be at Aintree in June. Director of, Zi Lan Liao said:-"We are so pleased to be part of the Sgt Pepper event; the fusion of Beatles songs being played on Chinese musical instruments will be incredibly special, and we'll also give a Chinese dance and taichi performance."
Anyone interested in being part of this free event should fill an the online form on the events website, which details what tracks can be performed, what instruments can be played, how may performers in your act etc. Questions or queries can be directed to:- 0151 233 0200 or emails can be sent to:- cultureliverpool@liverpool.gov.uk.
All volunteers are encouraged to come in costume or simply come dressed colourfully, and although there will be no rehearsal, acts will be contacted ahead of the event to confirm what they are playing/performing on the day, and where in the racecourse they will be located.
The spectacular is part of 'Sgt Pepper at 50: Heading for Home' – a series of celebrations marking 50 years since the release of iconic album:- 'Sgt. Pepper's Lonely Hearts Club Band.' It is set to be a fantastic experience not only for the performers but for the audience as well. The Musicircus will run from 2pm to 5.50pm, on Sunday, 4 June 2017, at Aintree Racecourse, accessible from Aintree Rail Station.
Prescot Festival Ushers in New Generation of Talent
THE Prescot Festival will showcase young, rising musical and artistic talent in June 2017. Primary and Secondary School children from across the borough of Knowsley will once again perform live in pursuit of the title of Young Instrumentalist of Prescot during this year's 10 day programme. Sonny Fielding, a former St Edmund Arrowsmith student from Whiston, wowed judges 3 times to take the title and this year he's upping his game and appearing at the Royal Albert Hall, for the opening night of the BBC Proms. He'll be singing as part of the City of Birmingham Symphony Youth Chorus, also known as the BBC Proms Youth Choir.
The young tenor, now 18, has been studying at the Junior Royal Northern College of Music alongside his A Levels at Cronton College, and has received a scholarship to study singing at the prestigious Royal Conservatoire of Scotland, later in September (2017.)
Sonny Fielding, said:- "It was a great encouragement to be recognised for my musical talent through the Prescot Festival To be awarded the title of Young Instrumentalist 3 times has really spurred me on to be the musician I am today."
Festival Artistic Director Dr Robert Howard added:- "Sonny has always shown a real joy and expressiveness in his musicianship, and it's a pleasure to see him go on to even greater things."
Local primary school pupils will also get their chance to shine at this year's festival, with a Schools' Poetry Showcase at St Mary and St Paul's School.
The festival opens, on Friday, 16 June 2017, with Leyland Band, not only Lancashire's number 1 ranking brass band, but also among its most youthful, featuring a plethora of young musicians. Other highlights of the festival, which ends on Sunday, 25 June 2017, include organist Ian Tracey, jazz quintet the:- 'Chilled Lemons' and 'Phoenix Concert Orchestra.'
Tickets are on sale at:- Poco Coffee, 30 Eccleston Street, Prescot, L34 5QJ and online.

Jarvis Cocker to introduce pioneering electronic music concert at Liverpool's Metropolitan Cathedral, 50 years after it was commissioned
Photograph by Nick Fairhurst. Courtesy of Liverpool Metropolitan Cathedral.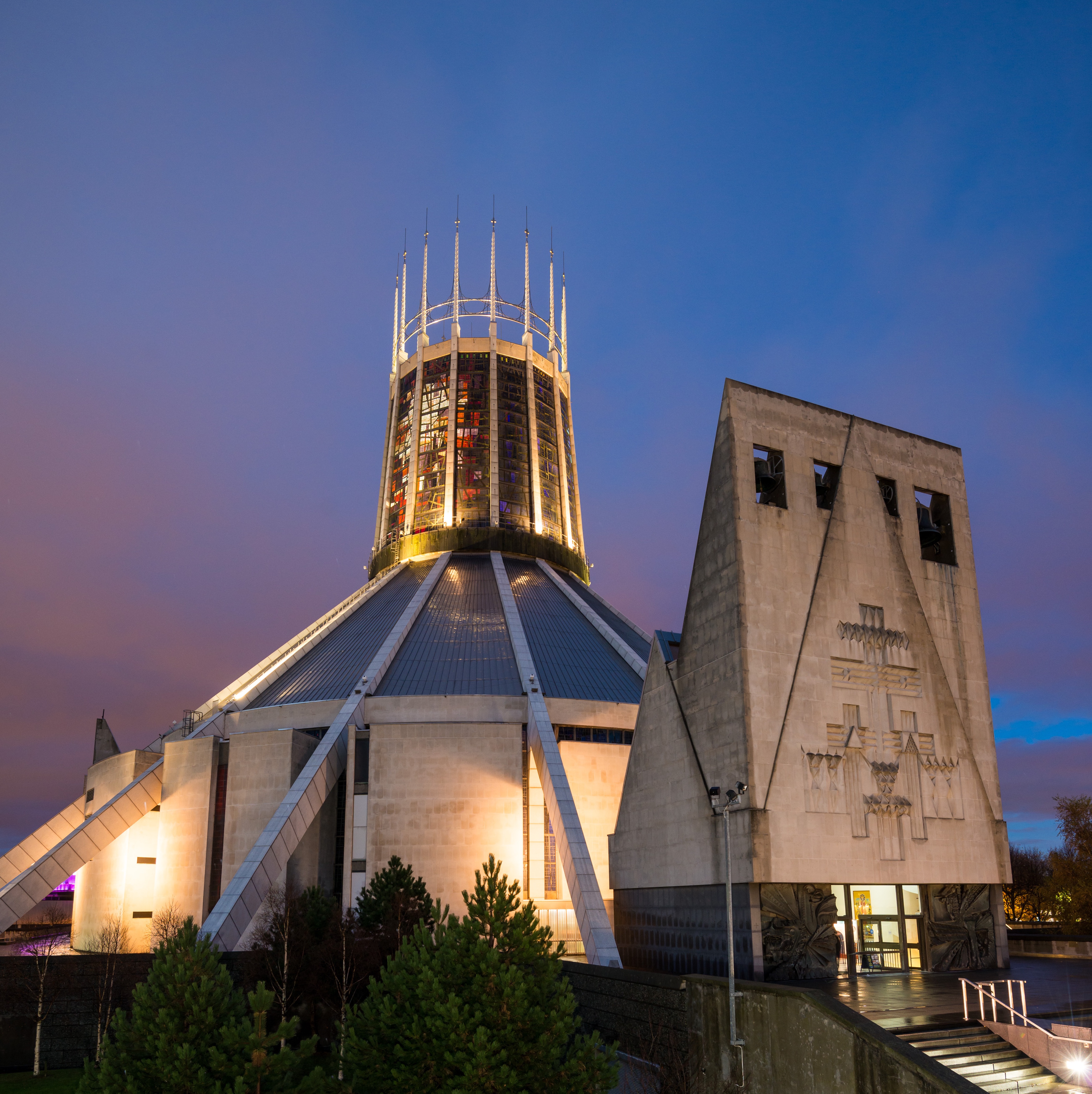 PULP frontman Jarvis Cocker will introduce Pierre Henry's 'The Liverpool Mass,' presented by Bluecoat at the Liverpool Metropolitan Cathedral of Christ the King, on Saturday, 13 May 2017. BBC Radio 6 presenter is a life long fan of the electronic pioneer, regarding him as a pivotal influencer of modern music. He has previously met the composer at Henry's Son/Ré studio in Paris, the City where they both live.
Pierre Henry is known worldwide for developing electronic music through 'musique concrète', a form of composition using electronically treated natural sounds. His influential work has informed both contemporary classical and pop music over the past ½ century, and has been sampled by DJs and producers in recent years, including:- Fatboy Slim and William Orbit, while his 'Psyché Rock' was the inspiration for the theme tune of Matt Groening's TV series 'Futurama.'
Henry was commissioned to compose music for the inauguration of Liverpool's Metropolitan Cathedral of Christ the King, in 1967, however the piece, the world's 1stelectronic mass was not completed in time and another work was substituted. It was later reworked and a studio recording released in 1970, on the French Philips label as:- 'Messe de Liverpool.'
Now, 50 years on, in a unique collaboration between the French composer and Bluecoat, the piece; structured as a traditional Latin Mass, will be staged in full at the Cathedral on the evening of Saturday, 13 May 2017.
Cocker's participation in the event continues his longstanding relationship with Liverpool, which last year saw him hold the 1stever UK exhibition of his own art:- '20 Golden Greats,' at The Gallery in the Baltic Triangle. He has previously been a judge for the City's biennial John Moores Painting Prize at the Walker Art Gallery.
As an individual whose career as musician and broadcaster has often embraced experimentation and pushed boundaries, Cocker is the perfect person to introduce what is already set to be one of the most radical and exciting events in Liverpool's music calendar.
With a sound design created especially for the Cathedral space using 40 speakers arranged around its circumference:- 'The Liverpool Mass' will be presented as a live mix by Henry's collaborator Thierry Balasse.
The performance is a highlight in a series of special events taking place throughout 2017 to celebrate Bluecoat's 300th Anniversary. The building is the oldest in Liverpool's City Centre, and also the UK's 1st Arts Centre. As well as forming part of Bluecoat's tercentenary programme and the Cathedral's Jubilee, the performance is also a key strand of Liverpool's '67-17: 50 Summers of Love' programme.
This will be the 1st time 'The Liverpool Mass' has been presented with Henry's cooperation; which includes a new sound design; in the setting for which it was originally intended: a mid 20th Century modernist structure with distinctive 'brutalist' architecture of concrete and stained glass, designed by British artist John Piper. Henry's electronic score was intended to complement this daring new building, as the sound would resonate in the magnificent, cavernous, light filled circular interior.
Bryan Biggs, artistic director at Bluecoat, said:- "We are delighted that Jarvis Cocker has agreed to introduce Pierre Henry's The Liverpool Mass at the Metropolitan Cathedral. He is a huge fan of the French composer's music and recognises the significant impact it has had on contemporary music; both classical and pop; over the past half century. It is fitting that Jarvis; an advocate for music that dares to experiment, is audacious and explores new forms; is joining us on what promises to be a memorable evening in the splendour of the Cathedral."
Pierre Henry said:- "I am particularly delighted that 'The Liverpool Mass' should at last be performed in full in the extraordinary space of the Cathedral of Christ The King, which it was initially composed for. Since I wrote the piece 50 years ago, it has become something of a musical myth, closely linked with this cathedral. I am very proud to take part in the celebrations for its 50th Anniversary, a historic Anniversary."
Tickets for the event are available to book via Bluecoat's website.