Nominate Endangered Merseyside Buildings 2017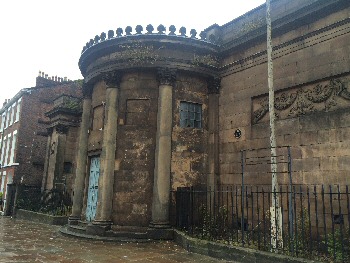 THE Victorian Society is asking the residents of Merseyside to nominate threatened Victorian buildings for the 2017 Top 10 Endangered Buildings List!
Do you know a Victorian or Edwardian building you feel is under threat? Is there something you wish you could do to help secure its future? Every year The Victorian Society compiles a list of the Top 10 Endangered buildings in England and Wales, shortlisted by our architecture and conservation experts. Appearing in the Top 10 Endangered Buildings List will give your nominated building heightened publicity and could help save it.
Comparatively few buildings from Liverpool and Merseyside have made it in to our top 10 lists over the past decade, but this by no means suggests there aren't plenty of buildings worthy of nomination for 2017. 2 out of 3 very damaging planning applications for the Grade II listed Langton Dock Pumphouse in Bootle (Top 10 list 2010) were thankfully refused permission in 2014 (following our objections), but the long term future for this grand dock house remains uncertain.
To nominate a building contact the Victorian Society via email or post (1 Priory Gardens, London W4 1TT) with brief details of the building(s) and at least 1 photo on or before Friday, 7 July 2017. The chosen Top 10 list will be announced on Wednesday, 13 September 2017.
Christopher Costelloe, Director of the Victorian Society, says:- "Getting an endangered building in the Top 10 is an invaluable way to bring it to the attention of the people who matter, the people who can ensure its protection. Buildings in previous Top 10 Lists have been bought, sold, restored, protected and repurposed, all because of the people who nominated and campaigned for them. If there's a 19th century building you're concerned about in your area then please let us know and together we can help ensure its future."

Merseyside Police to carry out high visibly policing as part of national week of action
MERSEYSIDE Police are carrying out high visibility policing in key areas and offering safety, crime reduction and reassurance messages as part of its ongoing work to address the issue of knife crime. The Force is one of a number forces across the UK taking part in a week long operation, which runs until 7 May 2017, and aims to highlight the work regularly being done across Merseyside, and nationally, to combat the issue. Officers will be using a variety of tactics in identified hotspot locations across Merseyside which include using knife wands and knife arches. They will also be offering guidance, support and advice as well as visiting licensed premises and carrying out high visibility patrols. A number of knife amnesty bins will also be at locations including Huyton and Kirkby Police Stations.
Chief Inspector Keith McLachlan said:- "We have had a number of high profile incidents recently involving knives but I want to reassure the public that we are committed to reducing violent crimes and making sure our streets stay safe. Work is ongoing to combat the issue of knife crime but this week of awareness allows us to get the message out to the public about what we are doing. Violent crime; including knife crime; does have devastating consequences for the victim and their families and our Officers have worked within schools across Merseyside to educate young people about the dangers of becoming involved in knife crime and the impact it has on the community. Our knife crime statistics are in line with national statistics and we have had notable successes in making arrests. We also have a fantastic reputation nationally for being a safe place to visit and Merseyside Police is committed to ensuring this continues. By using a number of tactics, some of which are more overt such as carrying out high visibility patrols in our key night time areas we want to reassure the public of our continued commitment to tackling this problem and taking decisive action against anyone found committing offences. A change in the law now means that anyone aged 16 to 17 years of aged who is convicted of possessing a knife for a 2nd time automatically receives a detention and training order of at least four months. For anyone aged 18 years or over they will receive a prison sentence of at least 6 months. The reason for this is that knives kill and people carrying knives are a threat to our communities. We will act on all information reported to us. Anyone with information can call Police on 101 or the Crimestoppers line anonymously on:- 0800 555 111."

Merseyside's Police Commissioner Jane Kennedy said:- "Any incident involving a knife rightly causes concern to our communities. Merseyside Police takes a very robust approach to anyone caught carrying a knife and the recent changes to the law means that those arming themselves with knives can expect even tougher sentences. Knife crime ruins lives and can have a devastating impact on the whole community. I would urge local people to help us tackle this issue by taking advantage of the amnesty bins to dispose of weapons and by encouraging people, particularly parents and carers, to talk about the potentially tragic consequences of carrying knives."