Bike project supporting local people to hold 1st sale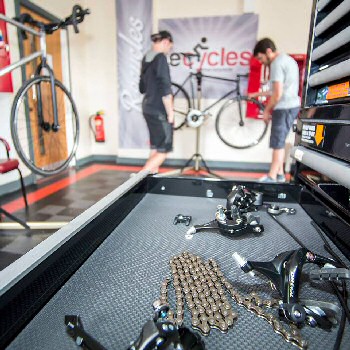 A Liverpool based bike project, which supports local people who are unemployed, asylum seekers or have learning disabilities, is getting ready to hold its first bike sale and community event after restoring and servicing more than 50 bikes in the year it's been up and running.
The social enterprise, Recycles Merseyside, set up by The Salvation Army's Stoneycroft Corps (Church) in the Old Swan area of Liverpool, offers a bike mechanic course to local people, many of whom are experiencing homelessness.

The course attendees refurbish bikes which have been donated to the project, giving them hands on experience and the ability to learn new skills.

Phil Doragh, Project Coordinator, at The Salvation Army's Recycles Merseyside, said:- "At Recycles we work with some very vulnerable people and equip them with new skills. We believe if we give people the opportunities they can transform their own lives and this has been true at Recycles. Attending also gives services users focus as well as a boost to confidence. We've seen a huge difference in those who have completed the bike mechanic course. Recycles gives local people access to a project that can make a tangible difference to their lives. Also, we're able offer an affordable bike service, and in some cases this means people are able to continue to use their bikes which allow them to get to work every day. Essentially there are three key aims of our project and that's to encourage recycling, promote exercise and to help transform lives."

It takes around 6 weeks to complete the bike mechanic course if service users attend twice a week. The project operates from a workshop attached to the corps which is equipped to enable up to 4 people to work at once.

Phil, continued:- "Over the last year the local community has very generously donated bikes which we've now refurbished ready to sell. We're holding our first bike sale to give local people the opportunity to purchase affordable bikes while supporting the community. It would be wonderful if anyone with an old bike could think of donating it to us so we can continue to make a difference to the most vulnerable local people."

One service user, Tony, began attending the project in February 2017. He is currently living in The Salvation Army's Centre for people experiencing homelessness, Darbyshire House.

Tony, 51, said:- "It's been wonderful coming to Recycles as it's given me a focus, something to look forward to. After completing the bike mechanic course I now volunteer at Recycles, helping others which has been a huge boost."

The bike sale and community event will be held at The Salvation Army, Stoneycroft, from 10am until 2pm, on Saturday, 13 May 2017. Bike themed music and drama will run throughout the day.

The Salvation Army has been helping people to transform their lives for more than 150 years. Stoneycroft Corps runs a number of activities to support the community. To find out more go online.

Bike Run or Walk for Your Local Air Ambulance
EVERY 10 minutes an Air Ambulance takes off to attend the injured and save lives. UK coverage is provided by local Air Ambulances, many of which do not receive Government or lottery funding and rely on donations from the public to remain in service. The group BRoW4 (Bike Run or Walk 4) is providing an opportunity for people to raise money for their local Air Ambulance.

The 3rd annual Bike, Run or Walk event will take place on Sunday, 25 June 2017, at Ferry Meadows, Peterborough. There are 3 routes to choose from; 5km track for walking with or without a dog. (About 3 miles); 8km track for bike, run or walk with or without a dog. (About 5 miles); 12km track for bike or run. (About 7½ miles). There will be marshals along each route. This is not a race, allowing participants to finish the route in their own time. Participants are expected to raise money for their chosen Air Ambulance through sponsorship of their finishing their chosen route. Everyone who finishes will receive a certificate.

Registration is open now. Anyone in England, Wales, Scotland and Northern Ireland can take part to raise money for their own local Air Ambulance or for an Air Ambulance elsewhere in the UK. The registration fee is ₤10, with no registration fee for children under 13 when accompanied by a fee paying adult. In addition to the bike, run or walk activities there will be refreshments, including an ice cream van and a burger van, a selection of stalls including a tombola, plus face painting, a bouncy castle and other amusements to make the event a fun family day out. Parking is available for a small fee. There is a Premier Inn and camping facilities nearby.

A registration form can be downloaded from the BRoW4 website. People who would like to support the event, but not bike, run or walk are welcome to volunteer as marshals.

The event has been organised by BRoW4 (Bike Run or Walk 4), a fundraising group run by volunteers. Founder Anna Dutton said:- "Following the success of our first two events when we raised money for Magpas, an Air Ambulance based in Huntingdon, Cambridgeshire, this year we are being more ambitious by opening the event to cover Air Ambulances, from all over the UK."

More information can be found on the BRoW4 website, on Facebook or send them an email. Plus you can call:- 07828 471738. For a full list of Air Ambulances in the UK visit:- AssociationOfAirAmbulances.Co.UK.
1st 'pasta' post for meat eaters' favourite veggie meals
WHEN it comes to vegetarian meals, it seems we are a nation of pasta-lovers. According to the Vegetarian Society's findings from a recent survey, the Italian comfort food was the top choice of veggie meal for the 1,500 respondents who answered the question.

The poll was carried out ahead of National Vegetarian Week 2017 that held over 15 May to 21 May 2017, by the market research experts, YouGov, who surveyed meat eaters, pescetarians and vegetarians. Respondents were asked for their favourite vegetarian meal that doesn't include any kind of meat, poultry, fish or seafood.

Pasta was a clear winner gaining 16.3% of the vote, with salad taking second place with 7.3%. Our palates seem to also enjoy spicier flavours, with 6.3% of respondents opting for curry as their favourite, which took 3rd place. 4th and 5th places were very close, with pizza just stretching ahead of mac 'n' cheese with 5.7% and 5.6% of the votes respectively.

Other dishes that just missed out on the top slots included:- egg and chips, beans on toast, omelette, soup, baked potato and risotto.

Jen Elford, Head of Research and Information at the Vegetarian Society, said:- "These top 5 favourite vegetarian meals are foods that are familiar to all of us; which really helps bring home the message that enjoying veggie food is something everyone can do. National Vegetarian Week is the perfect excuse to get stuck in and enjoy more of your favourite veggie dishes."

Of course, as is the case with any survey, not all the answers given were sensible… there were a 'fusilli' ones!

National Vegetarian Week 2017 is taking place from 15 May to 21 May 2017, is proudly supported by TV chefs, the Hairy Bikers. For more information, please visit:- NationalVegetarianWeek.Org.