Give Sailing a go for FREE with the WLYC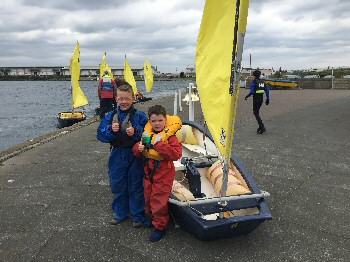 TRY sailing on Saturday, 20 May 2017, between 11am to 4pm, West Lancashire Yacht Club (WLYC) on Southport's Marine Lake. The club will be taking part in a national open day event with the:- 'RYA's Push The Boat Out initiative #PTBO.'

This will be an opportunity for the residence of Southport and further afield, to come down to the Marine Lake and try your hand at some of the free activities on offer at WLYC.

With sailing boats and power boats at the ready for you to give it a try with our experienced club members to show you the ropes. There are also some model RC dinghies for those who don't fancy going out on the water.

Everyone of all ages are welcome to down at West Lancashire Yacht club for this fun and exciting event. We ask that any young people under 18 be accompanied by an appropriate adult. For more information follow the event on the club's website.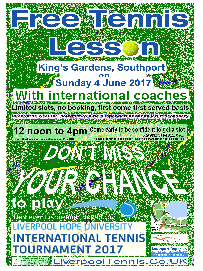 Free Tennis Lesson on Southport's Kings Gardens
ON Sunday, 4 June 2017, international tennis coaches will be giving free taster tennis lessons on Kings Gardens, thanks to the Liverpool International Tennis Tournament. The sessions will be held on a mini soft ball tennis court and run from 12 noon to 4pm. Spaces are limited and on a 1st come, 1st served bases. At the event you will be able to find out more about how to join local clubs and also about the Liverpool Hope University International Tennis Tournament. Plus you never know who might also be attending this event, so it might be worth getting a pen and at the paper ready... Also the Friends of Kings Gardens will be on hand to give you lots of information about other events that are due to take place within the Gardens, from Open Air Cinema Screenings, to car shows and more...
CLA calls for urgent review of energy efficiency standards
RURAL landlords have called on the Government to urgently provide clarity on its plans to review minimum energy efficiency standards (MEES) set to be introduced in 2018.

The CLA has written to Alex Chisholm, the BEIS Permanent Secretary, to say that the Government is running out of time to make crucial amendments to energy efficiency rules set to come into force in the private rented sector. The CLA represents landowners, farmers and rural businesses, and its members provide around 40% of all private rented housing in the countryside.

The Minimum energy efficiency standards will mean that from 1 April 2018 it will be illegal for a private landlord to let a property with an energy performance certificate (EPC) rating lower than E to a new tenant and to an existing tenant from April 2020.

However, the Government is yet to confirm how it will amend the MEES regulations, which are still drafted as if supported by the Green Deal despite it being scrapped in 2015, leaving them unenforceable.

In addition, there is still clarity required as to whether those who own listed buildings or properties in conservation areas must comply.

CLA Deputy President Tim Breitmeyer said:- "The industry has repeatedly called on the Government to revise the MEES regulations and its failure to make any progress in 2 years since the Green Deal was scrapped is not good enough. With less than a year to go and the further delay of the general election, time looks to be running out. In addition to the problems with the regulations, around one third of the homes set to be affected by MEES have been given lower EPC ratings than they deserve, due to mistakes in the way the Government assesses the energy efficiency of traditional solid wall buildings. Although the Government has recently consulted on fixing these mistakes, we have received no assurances these will be rectified before the April 2018 deadline. We support the principles behind the MEES regulations, but there are so many errors, delays and uncertainties that it is almost impossible to advise anyone on how to be proactive and ensure compliance. This has a negative impact on landlords, tenants and the Government's own policy objectives. Without the framework in place it is unjustifiable to ask landlords to act on the regulations when so much remains unclear."

Visit CLA's website to read The Retrofit Up; How Government energy policy is failing traditionally built homes across the British countryside.

International Day Against Homophobia and Transphobia (IDAHOT) Week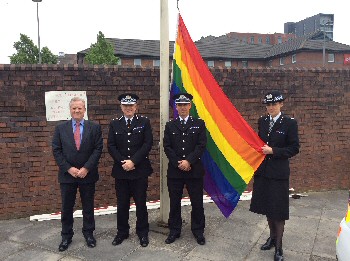 THE rainbow flag is being flown at Merseyside Police HQ from Friday, 12 May 2017, ahead of International Day Against Homophobia and Transphobia (IDAHOT) next week. On 17 May, 1990 the World Health Organisation finally removed homosexuality from its official list of mental disorders and IDAHOT has been celebrated on that date across the world ever since and for the ninth consecutive year, Merseyside Police is flying the rainbow flag until Thursday.

Assistant Chief Constable Julie Cooke raised the flag at Merseyside Police headquarters in Canning Place on Friday with the force's Mini Police, alongside Navajo In Trust, local Trans+ groups, Mermaids and GYRO. Merseyside Police HQ will also be illuminated with the rainbow colours.
The 2017 IDAHOT theme is 'families' with particular focus upon the diverse meaning of the word, recognising the variety of families in our community and the impact of family on LGBT people.

After the flag raising, guest speakers from LGBT support groups provided information to Police Officers and staff on how they help young people and families.

Chief Constable Andy Cooke and Assistant Chief Constable Julie Cooke said:- "Flying the rainbow flag is a visible sign of our dedication to eradicating homophobia, Biphobia and transphobia in Merseyside. This forms part of our larger commitment to tackling hate crime in all its forms and we want the message to be clear to victims and offenders that offenses involving disability, race, religion, sexual orientation or gender identity will not be tolerated by Merseyside Police. I am proud to be representing the force at the annual Navajo Awards Ceremony, an event the force has been involved in for a number of years. The Navajo Charter mark, which the force holds, is awarded in recognition of dedication to improve equality and celebrate diversity and is built into the foundations of the force's Community 1st model."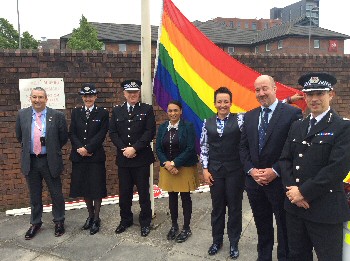 Merseyside Police is continually striving to raise awareness of hate crime in all of its forms. The force continues to encourage victims and witnesses of hate crime to report to its dedicated:- 'SIGMA' staff who will investigate each case with professionalism and sensitivity and provide ongoing support as the case goes to Court.
Detective Constable Tracy O'Hara Chair of Police's LGBT network, said:- "Showing our visible support for International day against Homophobia Biphobia and Transphobia clearly demonstrates our commitment to eradicate crimes perpetrated against Lesbian, Gay, Bisexual and Transgender people. We take all forms of Hate Crime seriously. Hate Crime continues to be under reported and by flying our flag we are encouraging people to report all crimes and incidents to us. It is clear to me that by working with our partner agencies, the PCC, community engagement teams and the CPS we can bring offenders to justice, provide support to victims and continue our work. This is the 9th year we have flown the Rainbow flag and we do this to demonstrate that we are an inclusive diverse workforce where we can all be ourselves. I am proud to work for an organisation that has these values."