5 young superheroes issued challenge by Merseyside's Chief Constable
MERSEYSIDE Police Chief Constable, Andy Cooke, on Friday, 5 May, challenged 5 young superheroes to find the villain Winter Soldier, who is said to have been in Liverpool, as part of Radio City's 'Cash for Kids Superhero Day.'

Chief Constable lent to the his support the radio station's campaign, by briefing the youngsters on their task at Merseyside Police HQ.

All the money raised will from this event go to the:- 'When you Wish upon a Star' who make dreams come true for sick children and their families.

After being issued with their challenge the children were each designated a special vehicle, including supercars and an open top bus, to help them carry out the heroics with the help of a parent.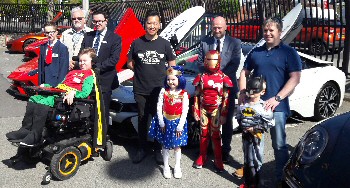 Chief Constable Andy Cooke said:- "I was absolutely delighted to be asked to take part in Superhero Day for such a good cause. It was a privilege to spend time speaking with these brave youngsters and their families, and great fun to issue them with a challenge. Henry, Jack, Logan, Nancy and Ryan are a credit to their families and, in my opinion, they are superheroes every day of the year. 'When you Wish upon a Star' does great work making the dreams of children come true and the force has enjoyed being a part of making that happen."

The superheroes were waved off from Police Headquarters, by the Chief Constable and Police and Crime Commissioner for Merseyside Jane Kennedy, escorted by a Merseyside Fire and Rescue Service Fire Appliance.

You can support the campaign by texting CITY to:- 70808 to make a ₤5 donation (texts are free and 100% of the donation will go to Cash for Kids).

For more information visit:- RadioCity.Co.UK/CashForKids.
3 man have been sentenced for drugs offences
MERSEYSIDE Police have confirmed that Ian Pauline has been jailed for a total of 10 years for drugs offences.

Pauline, 51, from Aigburth, was jailed for 3 years for possession with intent to supply Class A and Class B drugs as part of a Merseyside Police investigation. He was jailed for a further 7 years, to run consecutively, following a National Crime Agency investigation into drugs supply. Pauline was sentenced, on Thursday, 11 May 2017, at Manchester Crown Court.
Also 2 men were sentenced on Tuesday, 21 February 2017, to a total of 22 years and 6 months in Prison for possession with intent to supply Class A and Class B drugs.
Mark Farrell, 45 years, of Greystone Crescent, L14 was sentenced to 9 years, 6 months, in Prison and Timothy Gibbs Stringer, 53 years, of St Malo Road, Wigan was sentenced to 13 years in Prison, at Liverpool Crown Court, after they were found guilty at trial of conspiracy to supply Class A and Class B drugs.

Farrell and Gibbs Stringer were identified as suspects by Officers who had investigated Derek Belshaw and Richard Birtwistle, who were jailed, on 6 May 2015, for possession with intent to supply heroin and cannabis.
Belshaw, 52 years, from Wigan, was sentenced to 10 years in Prison and Richard Birtwistle, 34 years, from Wigan, was sentenced to 30 months in Prison after pleading guilty. Gibbs Stringer was identified at the Wigan based orchestrator of the supply of drugs with Farrell representing the Liverpool sellers.
Detective Chief Inspector Andy O'Connor:- "The sentencing of these 3 men clearly shows how seriously the courts take the supply of Class A and B drugs on the streets of Merseyside and further afield. They, as with others involved in serious and organised crime, never gave a 2nd thought to the effects of their involvement in the supply of Class A drugs, and were consumed by their own greed and the desire to make money off the misery of others. I would like to take this opportunity to appeal to anyone who has any information about serious organised crime to come forward and tell us. If you let us know, I can assure you we will take positive action and help you to improve your community."

Merseyside Police 'Anti Knife Crime Operation' is a success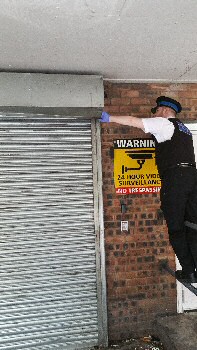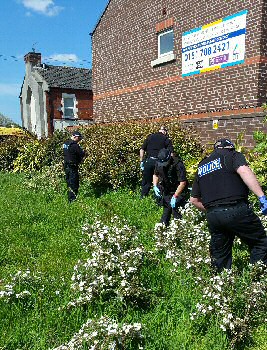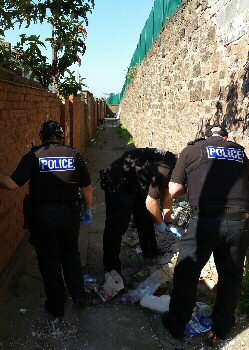 MERSEYSIDE Police has hailed the success of a proactive campaign which aimed to address the issue of knife crime and the ongoing work being done to combat it.

The Force was 1 of a number forces across the UK that took part in a week long operation during the 1st week of May 2017.

As part of the week Officers carried out high visibility patrols in key areas and offered safety, crime reduction and reassurance messages as part of its ongoing work to address the issue of knife crime.

Officers used a variety of tactics in identified hotspot locations across Merseyside, including using knife wands and knife arches, as well as visiting licensed premises, visiting Schools and carrying out knife sweeps and test purchases.

A number of weapons, including:- 24 knives were seized; and a total of 62 arrests were made for a variety of offences including possession of a bladed article.

In Sefton Officers carried out knife sweeps around North Park and South Park. A Police and Community Support Officer (PCSO) recovered a kitchen knife from New Fort Way in Bootle, hidden in bushes, and in separate incidents 1 person was arrested on suspicion of possession of an offensive weapon and 3 were arrested on suspicion of possession of a bladed article.

In Liverpool 2 people were arrested, including:- 1 on suspicion of possession of an offensive weapon, along with 2 knives were seized. Open land searches were also carried out around Alt Park, in Croxteth, the loopline around:- Broadway Walton Park, Admiral Street Park, Princes Park and wasteground in Dingle.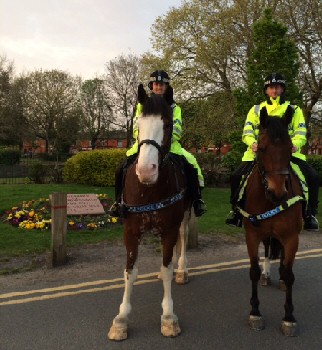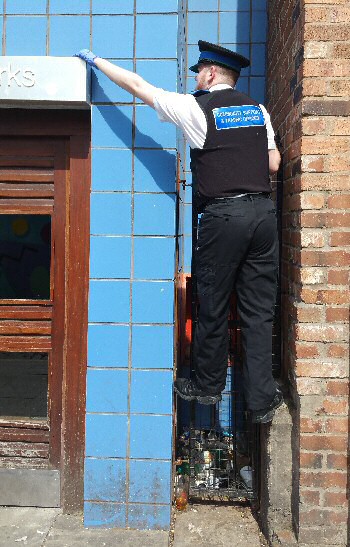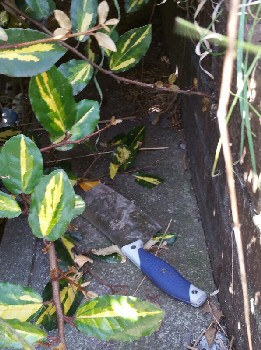 5 Primary Schools were visited; test purchases were carried out at 12 premises and 7 retailers were issued with responsible retailer contracts.

In St Helens Mounted Police Officers visited the Town Centre on 4 occasions to offer reassurance to the public and high visibility Police patrols and knife wands were used at the local train and bus depots.

4 Primary Schools were visited and knife awareness literature distributed and test purchases were carried out at 7 premises.

In total 11 knives were seized. There were 9 arrests for suspicion of possessing a bladed article, 1 arrest on suspicion of possessing a prohibited weapon and 1 arrest on suspicion of possession of an offensive weapon.

In Knowsley 1 knife was seized and 1 person was arrested on suspicion of possessing a bladed article. Officers carried out high visibility patrols in local parks and 21 'walk throughs' at public houses. 29 test purchases were conducted by Police cadets and 12 stores signed up to a responsible retailer agreement.

In Wirral nine knives were seized and 7 people were arrested, including:- 3 people for possession of a bladed article.

Hive Youth Zone in Birkenhead ran a rolling programme regarding knives and their consequences and there were information stalls in the Pyramids shopping centre and New Ferry precinct. A number of Schools were also spoken to.

Chief Inspector Keith McLachlan said:- "he purpose of the week was not as a knee jerk reaction to any individual incident, but to demonstrate the ongoing work that Merseyside Police does on a day to day basis to combat knife crime. We want the public to feel reassured that the Force is committed to reducing violent crime and making sure that our streets remain safe. We are grateful for the support of the community and our partners in carrying out this work and we will continue to work towards removing knives and dangerous weapons from our streets and bringing those responsible for carrying; and using; them to justice. Knives are dangerous and there is no place for them on the streets of Merseyside. Using a knife can have devastating consequences not only for the victim and their family but also the offender. I would urge people to educate themselves, speak to their children and family members and prevent the repeat of any tragedies. We will act on all information reported to us around knife crime. Anyone with information can call Police on:- 101 or the Crimestoppers line anonymously on:- 0800 555 111. Information and advice about knife crime is also available online."