Take That have performed in Liverpool...
Photographs and review by Jo Forrest.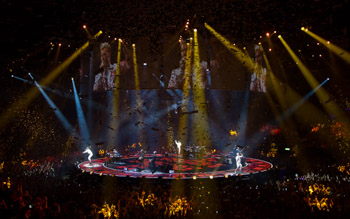 IT was a really warm evening as 10,000 people filled the Echo Arena for the opening night, on Monday, 22 May 2017, of the Liverpool's leg of the Take That's 'Wonderland Tour.' The last time the had performed in Liverpool is was way back in the beginning in 1992, at Aintree Racecourse. Although it has been 25 years since their last performance here, it was well worth the wait.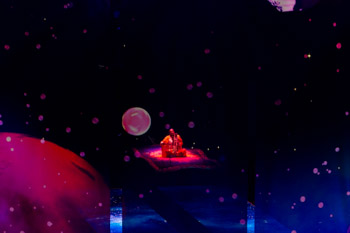 Take That are well known for their performances. This time performing in the round with a noticeably smaller cast than previous shows, this show was no less visually stunning. These boys are masters of putting on spectacular shows and this was no different. A giant circular stage adorned with their now familiar Take That logo was the centre piece for this production.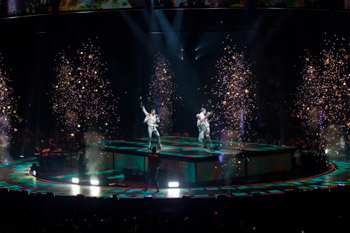 The night opened with a man on a flying carpet surrounded by screens and then the lads appeared from 3 corners of the arena on podiums to start the night with the title track from the new album:- 'Wonderland,' before all getting together on the Centre Stage.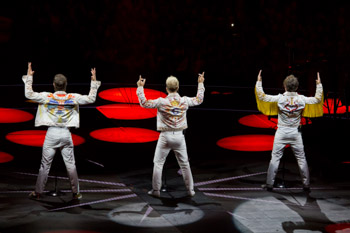 The night continues with the usual Take That flamboyance, there was confetti, lots of it. A giant carousel with a floating bed, a Giant fish hook and a huge rose, amongst other things. The central part of the stage rises and lowers with various projections on it, a beautiful light and water display for the Flood, as well as fire and fireworks.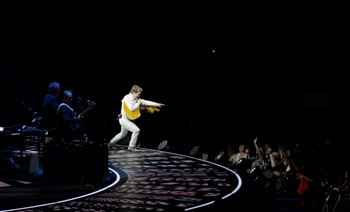 It was great to hear some of the older tracks that they haven't played in a while:- 'How Deep Is Your Love' (Bee Gee's cover) and 'Satisfied' as well as some of the more catchy tunes from lll like 'Lovelife.' As well of some of the classic favourites that everyone loves. The night continues with various elaborate costumes, Howard hanging from the rigging before ending with:- 'Never Forget' and 'Rule The world,' where Gary gets everyone to turn their touches on for a beautiful starry night effect.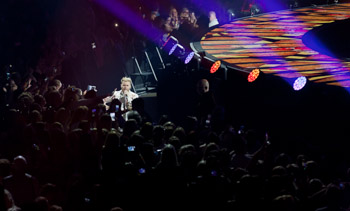 Love them or loathe them, they certainly know how to put on a spectacular visual feast full of colour, you are always left wanting more and wonder how they can top the last production, but they do. Their's is the one show that is always worth seeing once even if you are not their biggest fan. A very mixed audience with the men appearing to enjoy it every bit as much as the ladies, Take That did it again.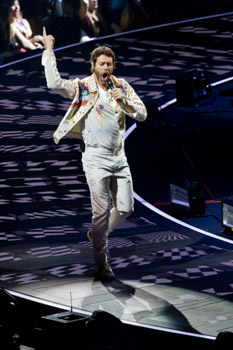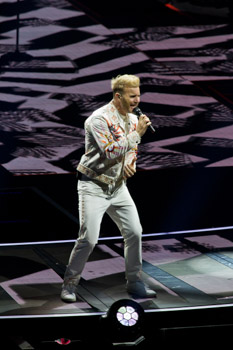 Sadly the nights enjoyment was short lived, when news of what had happened in Manchester came out. Following horrific terror attack, in the bands home Town of Manchester, the lads decided to postponed has been rescheduled the following nights concert, until Friday, 26 May 2017. The band said:- "Out of respect to all of the people and their families that were affected by the horrific incident last night at The Manchester Arena, we have decided to postpone our show in Liverpool. Our thoughts and prayers are with you all."
On Friday, 26 May 2017, the band dedicated a song as part of their tribute to those who died on the Monday night, back in Manchester.
We hope you liked the photos, but please, don't copy them. Please help us to keep our copyright intact and to keep this website newspaper online. Click on here to find out how you can order copies of these photos.

Miss Liverpool 2017, Elli Wilson, interviews Tim Quinn and Jorge Costa ahead of East of Eli concert
AS the acclaimed pop singer songwriter East of Eli (Nathan West) get set to perform a special benefit concert at the Cavern Club in Liverpool, England, Monday, 29 May 2017, the newly crowned Miss Liverpool 2017, Elli Wilson, finds out more. Watch the interview with Tim Quinn and Jorge Costa, from Charity Pulse, who is also the producer for East of Eli, at Liverpool's historic Albert Dock, to find out more about the event.
As you can hear above, the idea for the special benefit originated from the St Vincent's students tuning into the Supergirl TV series. They were so encouraged from the show's message of hope and acceptance, they created a super hero team to help people in need around the world. Working on stirring storylines with top cartoonists, the students are producing an on going comic strip telling of their adventures and also inviting readers to join their team, THE FAB 4000. Inspired in return by their beautiful initiative, Charity Pulse, East of Eli and Chyler Leigh (Alex Danvers in Supergirl) have decided to join the FAB4000 and support them by organizing a double benefit event at the Cavern Club in Liverpool and a t-shirt campaign with the intent to generate awareness and raise funds to make the FAB4000 an on going and sustainable project. The day will begin with an East of Eli concert at 4PM with Chyler Leigh and the St Vincent's choir joining onstage for a few songs.
Following the concert, a special VIP reception will be held with an intimate set/meet and greet with the band and Chyler Leigh as well as an exciting auction. Tickets visit:- CavernClub.Org.
Because it is all about the children, Leigh, East of Eli and the Charity Pulse team will visit the school the following day to spend quality time with kids through artistic activities, including:- a photography course specially designed for the visually impaired by Sight of Emotion, lead by Gina Badenoch, recipient of the British Empire medal for her work.
Kaiser Chiefs at Aintree Racecourse
Review by Jo Forrest.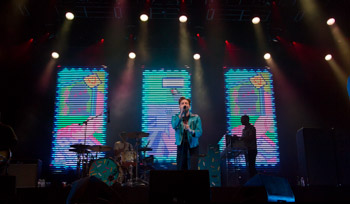 THE Jockey Club Live had an amazing night, as Liverpool Light Night's was taking place at Aintree Racecourse. The historic horse racing venue, not only had some dramatic racing, but also race goers got the chance to end the night with none other than a performance by the English indie rock band from Leeds, the Kaiser Chiefs! Always a crowd pleaser, this was the perfect end to an amazing night's racing and even if you did not do well on the geegees the vast majority could still enjoy this band's amazing sound. If you do not know who the Kaiser Chiefs are, they had been called:- 'Parva' when they originally formed back in 2000, but within that same year they evolved and become the Kaiser Chiefs. Their album:- 'Employment' enjoyed critical and commercial success with over 3 million copies sold. It has won the band 3 Brit Awards, including:- 'Best British Group,' a NME award for:- 'Best Album,' and was shortlisted for the Mercury Prize! All those accolades have establishing them as 1 of the best bands of the new Millennium. Now they can add performing at Aintree Racecourse to their CV. Oddly, this is a very high honour, was only a very small hand-full of bands get invited to do this!

To find out more about these types of events and also what's on offer, visit the Jockey Club Live website these events are not just at Aintree Racecourse, but are run at other beautiful racecourses featuring world class restaurants, lounges and bars, and when it's a Jockey Club Live event, they will also give you a night of open air music on top of the sport delivered by world class performers...