Take That have launched latest tour at the MEM
Photographs and review by Jo Forrest.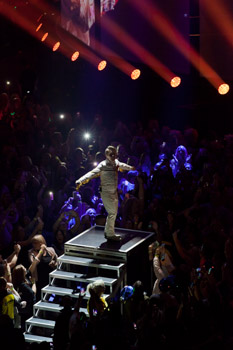 WHAT a show... Take That have stated publicly that:- "We guaranteed a really show," a statement we hear all the time in the media from acts, but this boy band really knows how to deliver, and boy o' boy can they deliver...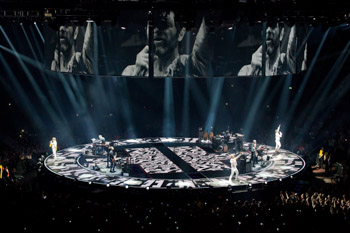 Almost 18,000 Take That fans descended on the MEN, on Thursday, 18 May 2017. The air was heavy with excitement and anticipation as the new:- 'Take That Wonderland Tour' as it kicked off its 1st night of 6 sell out shows, within the City of Manchester.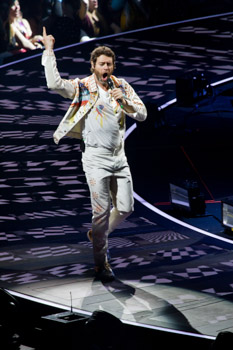 Take That, always aim to give their fans the best night they possibly can and this show was no exception. Although this was not on the same scale as previous shows, it was no less elaborate.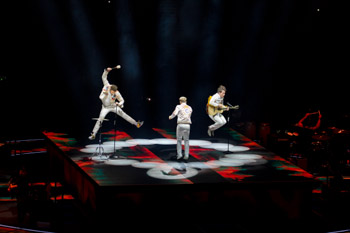 Performing in the round, is not something they have done in the past so this made a pleasant change from the usual stage at 1 end and a gold pit circle... The large stage means that many fans get the chance to get up close with their idols.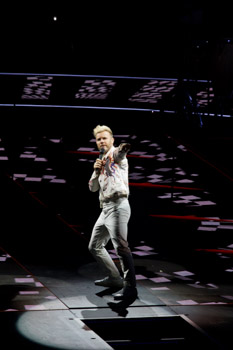 Without giving to much away, as they are heading to Liverpool, on Monday, 22 May 2017, is in for what will be a spectacular treat, that will be repeated on Tuesday, also at the Echo Arena.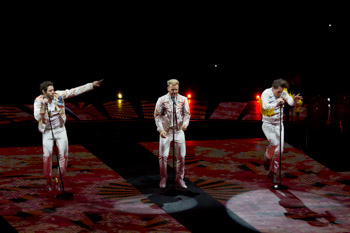 Keep any eye out for the army of dedicated Take That fans descending on the City of Liverpool, from all over the UK and the World! From our sneak preview, you are going to be entertained, even if you're not a Take That Fan...! This timeless English pop group, who formed in 1990, can still put on a show that makes fans of all ages go week at the knees. So if you're lucky to have a ticket, get ready to party hard, in Liverpool!

If you attended, please let us know your views and thought, via emailing us to:- News24@SouthportReporter.com.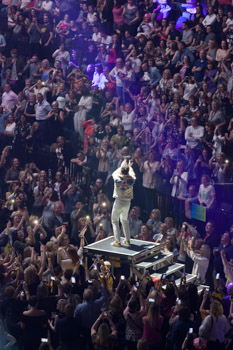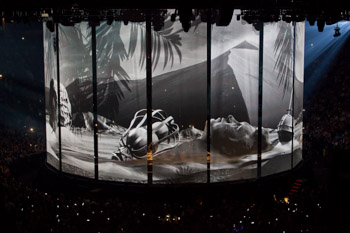 We hope you liked the photos, but please, don't copy them. Please help us to keep our copyright intact and to keep this website newspaper online. Click on here to find out how you can order copies of these photos.

Miss Liverpool 2017
Photographs by Patrick Trollope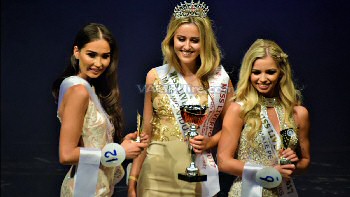 THE stunning and very talented new Miss Liverpool, Elli Wilson, who is just 17 will now go through to the finals of Miss England. That event is due to be held in Birmingham, 14 to 16 July 2017. Going through to the Miss England Semi Finals is the delightful, 19 years old, Lydia Nilsen, who also made a splendid debut on the Miss Liverpool Catwalk. You can expect to see a lot more of the 2 talented young ladies over the next year, as they make lots of cash for charities. At this point we would also like to say well done to Chloe Ludden, who came in 3rd place. To find out all about what took place and to see some fabulous photos taken by the events' official photographer as well as our own Editor's photos in the next issue. So expect lots and lots of pics!!! Plus, if you want to meet Elli Wilson and also Lydia Nilsen, please keep an eye on here, as we have lots of events booked in already for them and even more to follow... Updates on that also within the next issue. If you want to know more about Miss England and what it is really about, please visit the official Miss England website!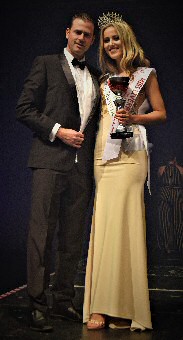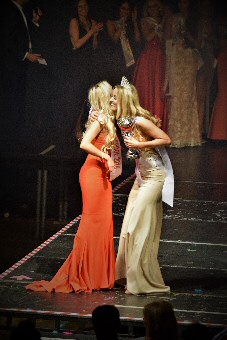 If you attended, please let us know your views and thought, via emailing us to:- News24@SouthportReporter.com. Don't forget to read our report in the last issue about the Eco Dresses, if you haven't red it yet, click on here!

At this point we would like to say a very big thank you to the outgoing Miss Liverpool, Molly McEntee-Morris, Miss Liverpool 2016/17, for her fantastic help over 2016 with the events, including:- Mersey River Festival, Woodvale Rally, Formby Food and Drink Festival. We wish you all the best for the future. You are a credit to the local area and a fantastic role model to others. Molly is a truly inspirational young lady, who did lots of fantastic things for the local area over her reign. We look forward to keeping in contact with her as she concentrates now on her career.
Southport Weekender was at Liverpool Disco Festival and heading for 30th Anniversary with events in London!

ON Saturday, 6 May 2017, the Southport Weekender visited the:- 'Liverpool Disco Festival' as part of its celebration of running for 30 Years. Artists who attended included that amazing:- D-Train (Live) , Ultra Naté (Live), David Morales (Disco Set and After Party House set), DJ Jazzy Jeff, Tony Humphries (4hr Zanzibar set), Joey Negro, Jellybean Benitez, Danny Krivit, John Morales, Nicky Siano, Mr Scruff, DJ Spen, Karizma, Simon Dunmore, Rahaan, Lenny Fontana, Graeme Park, and many more.

A spokesman for the Liverpool Disco Festival said:- "We would like to say a big thank you to Southport Weekender and all those who came to our event. Thousands of you travelled from all over the World to join us at our 2nd Event, which was held within the brilliant little music area, of Liverpool, called the Baltic Triangle. We can't wait to the next one and also we can't wait to see Southport Weekender in London...!"

Yes, you read it correctly, London... Things are moving fast and this event just gets bigger and bigger... Now our Town's name is due to be heard loud and clear in London. This year, if you are not already aware, the iconic Finsbury Park, in London, UK, will be hosting the 30th Anniversary event, of the amazing Southport Weekender. This is a major step for this important event as this area is in the very Centre of London and it's the largest of the 4 Royal Parks. It forms part of the chain of Royal Parks from the entrance of Kensington Palace through Kensington Gardens and Hyde Park... If you don't already know, this park hosts many of the nations most prodigious music events, including the:- 'British Summer Time Hyde Park' and the BBC's 'Proms in the Park' to name just 2.

This year's London event will see the festival amassing some of the world's biggest artists, in what will be one of the finest music events of the year.

Don't miss out on Southport Weekender in London! Click on here or the image below for full information on the e-poster!

Also to book tickets for London click on here now...
Brazilica 10th Annual Carnival Queen Competition to return to Albert Dock, Liverpool!
Photographs by Patrick Trollope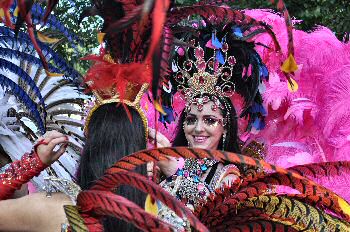 BRAZILICA is delighted to announce that its 10th Annual Carnival Queen Competition will be returning to PANAM on Liverpool's Albert Dock, this July!

2016 saw the Carnival Queen competitors set PANAM alight with their fiery sambas, but this year (2017) the flames will be hotter than ever as a whole host of Brazilian dancers take to the venue, from 9pm, on Friday, 14 July 2017, to perform their most glittering routines in stunning costumes of only the brightest colours.

There can be only 1 winner and with a team of judges facing the task of narrowing down the many carnival hopefuls to just 1 Queen, you can rest assured that only the very best will take home the crown.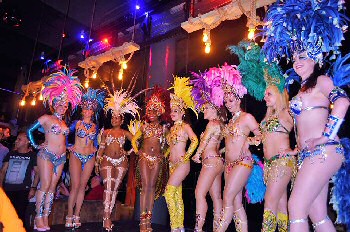 Last year's winner Paris will pass her carnival crown onto the Queen of 2017 whose night will have only just begun as she prepares to carry the celebrations deep into the night. The deserving winner will find herself at the very forefront of the extravagant event that is the night time Carnival Parade. The parade will give festival goers and passersby an opportunity to taste the real flavours of Brazil with bands from across the UK and overseas performing in the streets and lighting up Liverpool with a blaze of Brazilian samba.
Entry is free and the Carnival Queen Competition not only the perfect way to get into the spirit for the rest of the Brazilica Festival, but an explosive start to a weekend which brings the whole City to life with colour, music and samba rhythms. Brazilica runs from 14 July to 16 July 2017. So get yourself down to the famous Albert Dock and experience an authentic Brazilian vibe here in our very own city and see for yourself who takes crowning glory in this year's Carnival Queen Competition.