A kaleidoscopic feast for the senses at Camp Hill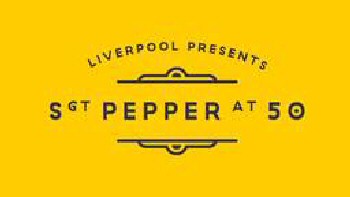 THE Beatles most famous psychedelic track is to be brought to life in an unforgettable Liverpool show. 'Suspended Time'– an event inspired by the song Lucy in the Sky With Diamonds, is set to take over Camp Hill, Woolton Woods, from 8pm, on Thursday, 1 June 2017, in a world premiere event which will transform the area into a magical space of performance, story telling, music, light and pyrotechnics.

Forming part of the City's Sgt Pepper at 50 celebrations, families are encouraged to experience this FREE never before seen performance by bringing a picnic to the park or buying food onsite, enjoying the pre show entertainment staged by local arts organisations, ahead of the main event of 'pyrotechnic poetry' which starts at 10.30pm.

For months, the world's best fireworks company; GroupeF (led by renowned visual expert Christophe Berthonneau and responsible for some of the biggest pyro projects which have taken place across the globe) has been working in partnership with American electronic music composer Scott Gibbons to create a unique piece of work which celebrates both The Beatles and the City.

The soundtrack itself will be made up of Liverpool specific sounds including the Mersey Ferries and recordings from Beatles specific locations such as Strawberry Field. On the night, these will be played along with the Lucy track itself.

Deputy City Mayor, Councillor Wendy Simon, said:- "This is an event the likes of which has not been seen in Liverpool before; and is quite simply unmissable. GroupeF are the world's leading fireworks company and we have been eager to work with them for many years, so we are delighted that they are part of this incredible programme celebrating 50th Anniversary of this seminal album. Every time we talk about the Sgt Pepper festival, our advice is to expect the unexpected – and Suspended Time is no exception. This is not a fireworks display – this is a fire, light and pyro extravaganza which combines The Beatles and Liverpool, creating an unforgettable experience for the thousands of people we hope will descend on Camp Hill."
For full details of the Sgt Pepper at 50 programme please visit:- SGTPepperAt50.Com.

The pre-show entertainment is as follows:-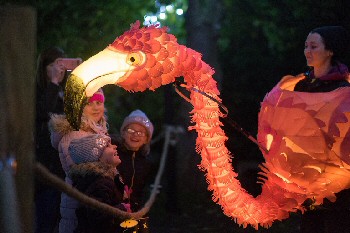 From before dusk through to nightfall, thanks to the Lantern Company, audiences can experience a visual theatrical feast, with an illuminated tribe of surreal and wonderful walkabout characters and giant puppets creating a gentle, humorous and bizarre experience for all the family, as they meander through the Camp Hill site throughout the evening.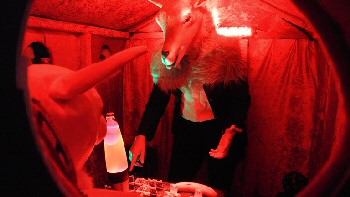 The Cabin will have an unsettling edge around it as they create a location reminiscent of Twin Peaks meets an underground club, meets a whole host of intriguing creatures. Visitors should expect a comedic, surreal and voyeuristic installation in what is essentially an insane asylum for animals who have collided with the human world, inheriting some of our more eccentric traits.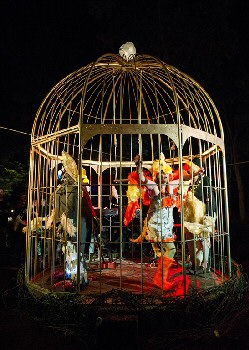 ► A beautiful giant, gilded birdcage will take centre stage as performance group Caustic Widows present a magical illuminated aerial spectacle with costumed characters, aerial hoop, soundscapes and birdsong.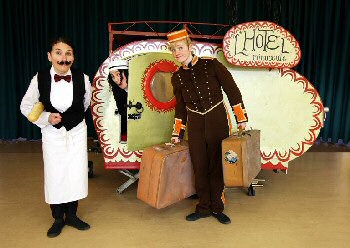 ► The smallest hotel in the world is heading to Camp Hill courtesy of Circo Rum Ba Ba, and it's a hotel with a difference… Visitors can watch as it comes alive: beds are made, tables laid, chamber maids roused, bell boys leap into action and finally the special guests arrive and are ushered up the red carpet to their luxury accommodation. L'Hotel is a glittering cabaret show with dancing, acrobatics and music.

Christophe Berthonneau said:- "The show will focus on elements linked to the City of Liverpool: from splendor, commerce and industry, right through to the blitz, decline and rebirth.Then the fireworks will come with their wonderful awkwardness, to occupy the sky with poetic lights."

Composer Scott Gibbons said:- "The music will trace a path from prehistoric Liverpool through to the present moment, in one single continuous sweep. It will be psychedelic and trippy, and celebrate Liverpudlians and mankind's ability to imaginatively and boldly create the future through delight, and through wonderment. The music will invoke the past but without nostalgia; it will marvel at how the past could have contained the future inside it."

This is the first time the City council has staged a major outdoor event in Woolton, and due to the expected crowd numbers and the late finish time of the event (approximately 11.05pm), people are being advised to plan their journeys carefully to and from the event.

Travel advice for the event:-

Please plan in advance your travel arrangements to Camp Hill, there are a number of options available:

It is possible to walk to the site from a number of South Liverpool locations less than 45 mins away including Allerton Road, Belle Vale Shopping Centre, Booker Avenue, Childwall 'Triangle', Garston Village, Gateacre, Halewood, Netherley, Smithdown Road and Speke.

Free car parking will be provided at Simpsons Ground adjacent to the site – access will be clearly signposted from Menlove Avenue. Please park responsibly only in designated car parks and off road parking spaces. Please be mindful of local residents; do not park in bays or block access to people's driveways.

The 76, 166 and 188 bus routes offer access to the site with additional services available to Woolton Village including the:- 75, 78, 81, 89 approximately 15 minutes from the site. However, please note that the last buses on these routes will depart between 23.10 hrs and 23.30hrs, so there will be limited opportunities to travel home by bus from the event.

The nearest train station is Liverpool South Parkway (approximately 30 minutes walk) please note that the last services from Liverpool South Parkway will be at:- 23.21, 23.45 and 00.27hrs to the City Centre.

Due to the late finish of this event (approximately 23.00hrs) a limited number of additional buses will be available to provide a link to Liverpool South Parkway and then non stop to the City Centre, at 23.15. These will depart from close to the Junction of Woolton Road and Hillfoot Road.