Schools sign up to prevent skin cancer
EVERY primary school in Liverpool is signing up to a scheme aimed at preventing young people from the risks of getting skin cancer later in life. Over the last 25 years, rates of malignant melanoma in Britain have risen faster than any other common cancer and it is now the 2nd most common type among people aged 15 to 34. The number of cases in Liverpool have more than doubled since 2001; that is shockingly up from 47 to 99, and the latest figures from 2014 show there were 14 deaths in the City. Sun exposure in the 1st 15 years of life contributes significantly to the lifetime risk of skin cancer. Young people spend almost half their childhood at school and are often outdoors during peak UV hours from 11am to 3pm. Now Public Health Liverpool has teamed up with national charity Skcin to implement its 'Sun Safe Schools' scheme in all 127 Primary Schools within the City. All Schools have commit to the comprehensive use of sunscreen, sun hats and role models, to promote their use as well as providing shady areas outdoors and lessons on staying safe in the sun. On Wednesday, 24 May 2017, Broadgreen Primary School will become the latest Liverpool School to become accredited, with pupils taking part in a Sun Safe assembly and showing off their sunhats.

Dr Sandra Davies, Director of Public Health in Liverpool, said:- "It is really important that young people get into the habit of protecting themselves when they are out in the sun because their skin is very sensitive but the consequences of getting burned may not become apparent for many years. We know that people are aware of the importance of putting on sun cream when we go on holiday or to the beach, but studies show that we don't necessarily do it when going about our daily routine, and for children this is when they his is when they are playing out at the hottest time of the day in the playground. We are hoping that by working closely with Schools we can make sure that young people get into the correct routine which they will continue through their lives, as well as spreading the message of being sun safe to the rest of their family."

Marie Tudor from Skcin said:- "The Accreditation has been operating for 3 years and we have had amazing success since its launch. Schools in Liverpool are a particular target for us as the area has 1 of the highest incidence rates of skin cancer in the UK. The accreditation helps Schools to fulfil their duty of care to implement a sun safe policy. A total of 86% of skin cancers are caused by overexposure to UV and are therefore preventable. Education is the key to tackling the rising statistics and Skcin are delighted Liverpool City Council are supporting our Sun Safe Schools Accreditation and its nationwide roll out. By planting the seeds of sun safety at a young age together we can help educate and change behaviours and ultimately save lives."

Primary Schools can register to gain their accreditation online and a competition to win free sun cream for Schools is on offer until 30 June 2017. Almost 9 out of 10 skin cancers can be prevented by:-

► Avoiding over exposure to the sun.
► Avoiding burning of the skin (red to blistering).
► Covering up using clothes, hats and sunglasses.
► Seeking shade at the hottest parts of the day (11am to 3pm).
► Using sunscreen – SPF 30+ for both adults and children.

Last year, Cancer Research UK and Liverpool City Council joined forces and signed the 1st ever skin cancer pledge, promising to work together to raise awareness of skin cancer. The City has also previously lobbied government calling for the licensing of sunbed salons, and run a high profile campaign:- 'The Look to Die For' is educating people about the dangers of using sunbeds and encouraging the use of fake tan instead.

Discover a new way of getting your 5 a Day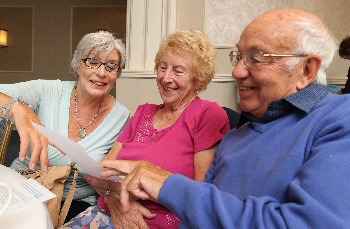 'GET more out of life with our 5 a Day, Every Day' is the latest message from friendly society the Oddfellows in Southport as it reaches out for new recruits this summer.
For more than 2 centuries, the national membership group has been serving up its unique recipe of friendship and support to local members, with the 5 key ingredients of:- regular social events, care and welfare support, travel clubs, discounted offers and historical archive access.

Bonita Hesketh, Secretary of the Oddfellows' Ormskirk and Southport District Branch, said:- "There are many reasons to get involved with our group, but essentially we're about helping people of any age get a bigger kick out of life. We've so much to offer if you take a look. Meeting new people locally, getting more involved in the community through volunteering and fundraising and, most importantly, having reliable people to turn to in good times and bad, is the bedrock of what we offer. And we'd love for new people to come along, give us a try and see how we could bring that extra bit of happiness into their lives."

The Oddfellows is a non profit mutual that believes in a community bonded by friendship, care and charitable support. It is 1 of the largest friendship societies in the UK, with 310,000 members and 132 Branches nationally.
"We're here for everyone from all walks of life and we know that by bringing people together, we can achieve so much more than we could alone." added Bonita.

The Oddfellows' Ormskirk and Southport District Branch, which meets every 1st Wednesday of the month, at 10.30am, in The Royal Clifton Hotel, Southport, runs regular free or inexpensive activities for members including:- day trips, walks and coffee mornings.
Bonita said:- "There's something for everyone here, whoever you are, or whatever your personal circumstance. We have welcomed lots of new people, many who have come along on their own, whose lives have changed for the better with the support of friends around them."

To find out more about the Oddfellows in Ormskirk and Southport, and to receive a membership pack and local events diary, contact Bonita Hesketh on 01695 424149, send an email or visit:- OddFellows.Co.UK/Five for further details. Annual membership costs ₤30 a year (or ₤28 by Direct Debit).