Upcoming highlights at Bluecoat
LOCAL new music ensemble Immix return to the Bluecoat to perform new collaborative works for traditional instruments and modular electronics from Norwich based experimental electronica composer Luke Abbott and Liverpool composer Daniel Thorne.

Luke Abbott has been a leading figure in British electronic music for close to a decade, having released a wide array of output, typically working with modular synthesisers from ambient soundscapes to driving electronica as well as film scores and collaborations with the likes of Mercury Award nominated instrumental group Portico Quartet.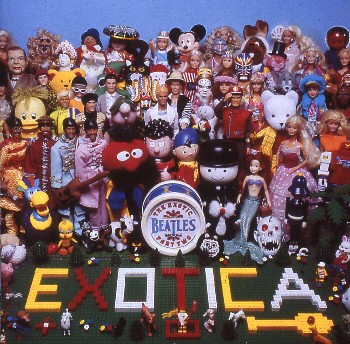 ► Sgt. Pepper at 50: Good Morning, Good Morning... Friday, 9 June, 7.30am... Free, drop in... As part of the City wide celebration Sgt Pepper at 50, we open our building early to salute The Beatles' celebrated album track Good Morning, Good Morning. Come and join this early morning happening featuring a morning raga with live sitar and tabla, yoga in our courtyard, a crowing cockerel video, and DJ set of Pepper versions. Breakfast available from 7.30am.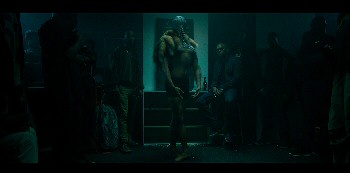 ► Nanny Cam... Sunday, 11 June, 4pm... Free, booking advised... Last summer the art criticism website and research project The White Pube, put an open call for videos made by people without a degree in Fine Art. Join us at Bluecoat for the screening of films by 20 of these alternative artists. Studio based university art education is a privilege that legitimises the artist's career but it is seen by some as expensive, unnecessary, and institutional. 'Nanny Cam' brings together films made by artists in their time working in retail, in the army, and bars. A few are unemployed, while one is a technician and another a nanny. A couple are alumni; but of Geography or Economics; or creative disciplines in which video is a peripheral outcome, such as Textiles or Architecture. All those involved have come to video through alternative epistemologies and cultures. This event will offer people the opportunity to view filmmaking through a different perspective, allowing us to readdress what constitutes an artist. Featuring artists:- Aaqib Hussain; Amartey Golding; Amelia Shivani Hassard; Anisa Jackson; Benjie Cluness; Damo Mac; Deborah Findlater //Freya E. Morris; GIANT BOMB; Golden Harvest Industries - Mineshaft Cruise Dept.; Herb Shellenberger; James St.Findlay; linze_911; Odira Morewabone; Oliver Matich; Ross Hunter; Sharon Lam; Stephanie Sant and Victoria Harrell.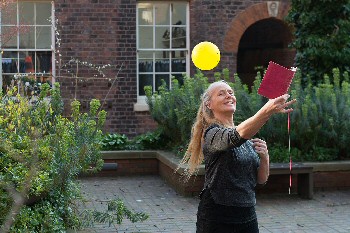 ► On the Way - Question Your Answers... Thursday, 16 June 2017, 7.30pm, Tickets:- ₤6/₤4... Join us for this movement based interdisciplinary performance with Jo Blowers and guests, as they tell stories that resonate on a personal and universal level and offer insights into what might happen as we navigate our way between the 2. The work plays with the idea of people as objects and objects as performers, the re-enchantment of everyday life, and is a tender, playful and quirky exploration of contemporary culture seen through the eyes of a diverse range of people. This performance will reflect material gathered from Jo's Post It sessions, that are taking place at Bluecoat throughout June 2017.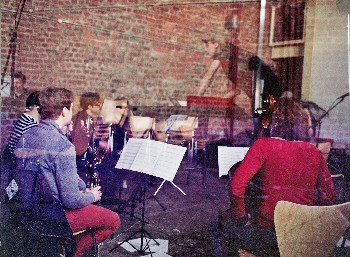 ► Tonight at Noon - New Writing... Friday, 16 June 2017, 7.30pm, Tickets:- ₤10/₤7... The Mersey Sound has had an impact, direct or distant, on several generations of writers and performers. For this poetry reading, 5 poets have been commissioned to write new work in response to the work of:- Adrian Henri, Roger McGough and Brian Patten. Taking part are award winning poets:- Paul Farley, Deryn Rees-Jones, Eleanor Rees, Lizzie Nunnery and Andrew McMillan, with Brian Patten in attendance. This poetry reading is part of Tonight at Noon, a series of events and exhibitions taking place across Liverpool to celebrate the 50th Anniversary of The Mersey Sound.

Go wild in your park with the RSPB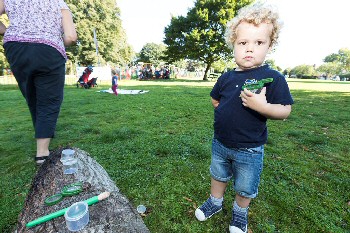 WITH the amount of time children and families are spending outside in nature in decline, Europe's largest conservation charity and discount supermarket ALDI, are challenging families to get out and go wild in their local City Park, this summer with the RSPB. The RSPB Connecting with Nature report has revealed that children in the UK were missing out on a wealth of mental and physical benefits from not spending enough time outside, with only 1 in 5 having a healthy connection to nature. To encourage more children and their families to take a step closer to nature the RSPB has launched Wild Parks aimed at getting people to uncover the wild side of their City.

From now until September 2017, families will be able to join an RSPB expert in parks across Liverpool for a range of fun and engaging activities aimed at helping families take their 1st steps on their own wild adventure. There are a number of activities on offer ranging from minibeast safaris and scavenger hunts to bioblitzing and national treasure hunts, which are all free and do not require pre sign up.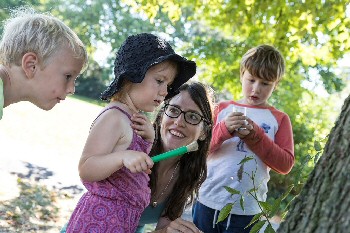 Mary Breeze, RSPB Wild Parks Family Events Officer for Liverpool, said:- "Families gain so much from being outside exploring and discovering nature. Summer is the perfect time to get outside and connect with the natural world. You don't have to travel far from home to embark on your wild adventure; there is loads of wildlife just waiting to be discovered in your local park. From bugs to butterflies, hedgehogs to house sparrows; it's always a thrill to see what wildlife is making its home there. Getting outside and discovering nature is important whether your motivation is happy healthy children, memorable family time or to see our towns and countryside richer in nature. The opportunity to connect with nature should be a part of every child's life and the RSPB Wild Parks project is here to help every family to explore the wild side of their City."

Wild Parks also offers the opportunity for families to start their own wild adventure at home with the RSPB Wild Challenge. With 24 activities to choose from, the Wild Challenge will take you from your own back garden to exploring wildlife within our Towns, Cities, woodlands and even the coast. Participants can then log their achievements on the Wild Challenge website in order to collect their bronze, silver and gold awards.

The RSPB's ambition is for the Wild Challenge to help more families across the country reap the benefits of spending time outside in nature. Research has shown that children who have a healthy connection to nature are more likely to benefit from higher achievement at School, better mental and physical health, and develop stronger social skills.

Jonathan Neale, Joint Managing Director of Corporate Buying at Aldi, said:- "We're proud of what our partnership with the RSPB has achieved so far, and are pleased to help promote the importance of safeguarding the environment, while helping families get closer to nature through this new Wild Parks initiative."

For further information about park events happening near you, visit:- RSPB.Org.UK/WildParks.