Trainee Nursing Associates impress Health Education England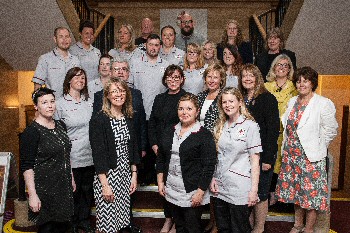 SENIOR NHS leaders have been impressed by nursing associates from across Cheshire and Wirral. Officials from Health Education England were welcomed by local trainee nursing associates service users during a recent visit. Senior staff from the region's Hospitals and the University of Chester explained how the programme had been developed and tailored so that local nursing associates are able to deliver care that fully focuses on the individual needs of each patient.

Lived Experience Connectors; volunteers who have experience of local healthcare services; are playing a key part in nursing associate training. They explained their role of 'buddying up' with trainees to share their own experiences and ensure trainees develop an understanding of positive patient care. Health Education England Chairman Sir Keith Pearson said:- "The visit has enabled us to meet some local trainee nursing associates and hear how partnership working is supporting a successful pilot programme. It's been pleasing to see that the person centred aspect in the initial programme bid has transferred to the people we've been talking to."

CWP director of nursing, therapies and patient partnership, Avril Devaney, who is leading the Cheshire and Wirral Partnership Delivery Group, said:- "It's been great to show Health Education England how person centred we are as a Trust. Today's visit has been a fantastic opportunity to showcase our good partnership working across Cheshire and Wirral."

Cheshire and Wirral is 1 of the original 11 pilot sites across England to pioneer the new nursing associate role with trainees starting in 6 NHS organisations across the region. Local trainees are working alongside registered Nurses and other healthcare staff in Hospital wards and community settings, whilst also receiving thorough support and training from the University of Chester as part of a 2 year course. Once they have finished their training and placements, nursing associates working in a range of clinical and community settings will bridge the gap between care assistants and registered Nurses in a hands on role that ensures patients receive compassionate, person centred care. CWP is the lead organisation for the new programme which was introduced earlier as part of a national initiative to support current Nurses and to provide an additional route for many to become degree registered Nurses. Wirral Community NHS Foundation Trust, North West Boroughs Healthcare NHS Foundation Trust, Warrington and Halton Hospitals NHS Foundation Trust, Wirral University Teaching Hospital NHS Foundation Trust (WUTH) and East Cheshire NHS Trust are also supporting Trainee Nursing Associates as part of the pilot.

Southport teenager follows in Grandmother's fundraising footsteps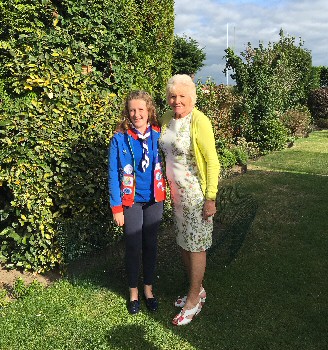 A fundraiser from Southport who works closely with a local cancer research charity has inspired her granddaughter to hold her 1st ever charity cake sale. 13 year old Isobel Cutts, a pupil at Greenbank High School, Southport, will hold the cake sale to raise money for North West Cancer Research, which funds life saving research in the region.

On Sunday, 25 June 2017, Isobel will team up with her grandmother, Olive Cutts, who heads up the Southport based fundraising group for North West Cancer Research. Members of the fundraising group will help by baking a variety of cakes to be sold including lemon Drizzle, chocolate fudge and a range of other delicious flavours.

A committed Girl Guide, Isobel will hold the cake sale as part of her ambition to receive the Baden Powell Challenge Award, which is the highest accolade a Guide can achieve. This is not the 1st time she has joined forces with her grandmother, this Easter she helped to raise ₤100 for North West Cancer Research by selling knitted Easter chicks filled with chocolate. Isobel said:- "I'm really excited for the cake bake on Sunday. Me and my Grandma have been promoting the event over the past few weeks by giving out posters in the local area so we hope lots of people will come. My Grandma and the other members of her fundraising group have helped me out by offering to bake cakes for me to sell. I want as many cakes as possible so I can raise lots of money for the charity."

North West Cancer Research has fundraising groups all over the North West who help the charity continue to fund life saving cancer research. The charity offers funding to the University of Liverpool and over the next 5 years has pledged ₤13 million to research. Sara Cooper, Committee Engagement and Events Executive, North West Cancer Research, said:- "Isobel has put a lot of work into organising her cake bake event, we hope the sale goes well and that she manages to sell lots of cakes. She is a great example of a young person giving up her time to support our charity and we hope others will be encouraged to follow suit."

The cake sale will take place from 10:30am to 1:00pm, on Sunday, 25 June 2017, on Isobel's drive at:- 15 Lynton Road, Hillside in Southport.