Merseyside saddles up to launch 'close pass' operation to better protect cyclists
MERSEYSIDE'S Police Commissioner has applauded the launch of a 'close pass' operation which aims to better protect the region's cyclists.

The Merseyside Road Safety Partnership Safer Roads Team have introduced:- 'Operation Safe Pass' with the aim of educating drivers about the minimum space needed when overtaking cyclists in order to ensure they can use the roads safely.

The Highway Code stipulate that motorists should give cyclists at least the same distance as vehicles when overtaking and anyone encroaching within the safe passing distance; widely considered to be a minimum of 1.5m; runs the risk of being prosecuted for driving without due care and attention.

The operation, which launched in Sefton, saw drivers who failed to give cyclists the minimum safe space pulled over by the Police and given advice about the potential dangers of their driving. During the 3 hour operation, which took place on:- Derby Road, Crosby Road South and Lord Street, in Southport, a total of 21 motorists were pulled over into nearby Fire Stations where an educational cycle mat was used to demonstrate the actual distance they should leave when overtaking a cyclist. Leaflets explaining the importance of safe pass were also handed out and information was provided to passing members of the public and bike users.

The 'close pass operation' was 1st developed by West Midlands Police, in September 2016 and has since been adopted by a number of other Police forces and road safety partnerships.

The initiative has been welcomed by the region's Police Commissioner, Jane Kennedy, who in May 2017 made improving road safety one of her 5 policing priorities. Earlier this month, she also united with new Metro Mayor Steve Rotheram and the Road Safety Partnership to launch a new road safety strategy for the region.

Jane said:- "Since 2010 Merseyside has witnessed an increase in the number of people killed or seriously injured on its roads. Cyclists are particularly vulnerable and that is why more needs to be done to better protect them and ensure other road users are considerate of their needs. This operation is designed to better educate drivers so they are aware of the space they need to allocate when passing cyclists, but it also carries with it a deterrent; those who continue to flout the law will be prosecuted. Our priority must be making the roads a safer place for all who use them and I hope we can reduce the need for enforcement action by increasing awareness and understanding among drivers through initiatives such as this."

Sergeant Ian McPhail who leads Merseyside Road Safety Partnership's Safer Roads problem solving team said:- "We are committed to protecting all road users and that means putting in place measures to better protect those who use the road who are particularly vulnerable, including cyclists. I want to get the message out 'pass safer, not closer.' We know that the failure by some drivers to give cyclists sufficient space when overtaking is a significant factor in why people are put off from using bikes. Drivers need to be aware that by passing a cyclist too closely they are putting an individual in danger. It is not good enough for motorists to simply concentrate on getting from A to B; they need to be aware of those around them and ensure they are driving in a safe manner which does not put endanger anyone else around them. Drivers who fail to do this face being prosecuted for driving carelessly or even dangerously."
---
The Office of National Statistics have released latest crime statistics
ON Thursday, 20 July 2017 The Office of National Statistics released crime statistics for forces across the UK, that showed overall crime has increased in England and Wales by 11.1% compared to a 7.5% increase in the Merseyside area. Statistics, for the year ending March 2017, show that the force has achieved a reduction in:- burglary, drug offences, vehicle crime and possession of offensive weapons offences.

Deputy Chief Constable Carl Foulkes said:- "I want to reassure the public of Merseyside that as a Force we will always do what we can to prevent crime and protect our communities, but we also have many other priorities including combating anti social behaviour, dealing with vulnerable victims and targeting organised criminals, work that isn't always represented in crime statistics. Although overall crime in Merseyside has gone up, this has been significantly less than the national average, and I am pleased to see a reduction in burglary, vehicle crime and drugs offences. There has been increases in the levels of recorded violent crime; in line with the majority of other forces who have recorded a rise; which is representative of the way in which violent offences of all classifications are now being recorded by Merseyside Police and does not reflect a genuine increase in non-domestic violence. The increase in reporting of sexual offences is in line with the national trend. As well as improvements in recording it also reflects a willingness of victims to come forward and evidence has shown that a number of high profile national operations have changed the public perception of and confidence in reporting this type of crime. Offences of robbery have seen an increase, driven by personal robbery offences, but Merseyside Police has, and will continue to run, a number of operations aimed at combating this and enhancing public safety and confidence. I am pleased to see that there has been an 8.4% reduction in non-domestic burglaries and that vehicle crime on Merseyside has seen a 1.7% downturn compared to a national increase of 11.2% in vehicle related theft. Everyone at Merseyside Police is absolutely committed to make every effort to reduce crimes of all types, while delivering an excellent policing service to the people of Merseyside. We continue to listen to the concerns of the public and are advancing our fight against serious and organised crime and supporting and protecting the most vulnerable members of our communities. Our officers are dedicated to responding to incidents with courage, courtesy and professionalism, which we hope will build upon strong public confidence to keep our communities safe. We recognise that we cannot be complacent and will continue to strive to find the most efficient and cost effective way to deliver Policing in Merseyside."

We would like to hear our readers thoughts on this, so please email our newsroom to:- News24@SouthportReporter.Com with your thoughts about Policing on Merseyside and also the crime statistics, on Merseyside and nationally.
---
Let's celebrate love!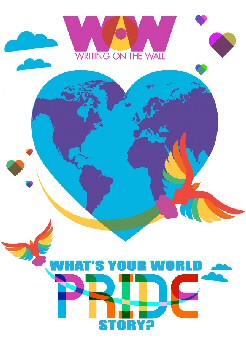 WRITING on the Wall are proud to announce:- 'What's Your World Pride Story,' an anthology of new work by LGBT+ talented writers from across the globe. This is a culmination of a 12 week writing course with Writer and Poet Helen Sandler, 'The Touch Typist' (Diva, 2001) and 'Big Deal' (Sapphire/Virgin, 1999).

Writing on the Wall has once again partnered with Pride, embracing this year's theme of International Love. 2017 marks the 50th Anniversary of the legalisation of homosexuality in the UK. But is this an indication of how accepting the world really is? Many LGBT people still face daily persecution and are forced to flee countries where homosexuality is still illegal.

Many of the 'What's Your World Pride Story' group are refugees seeking asylum in the UK. Their stories are diverse, moving and insightful. The book raises awareness of the issues faced by LGBT+ communities nationally and internationally ranging across multiple themes:- fear, struggle, love and acceptance. This remarkable collection of short stories and poetry features work from authors making their debut and aims to help participants regain their personal narratives.

Join us at the 'What's Your World Pride Story' book launch at the 'Garden Stage,' as part of Pride. We're thrilled and proud to showcase their work so meet the authors, listen to their readings and help celebrate the stunning talent of these ground breaking authors.

WoW Project Manager, Emma Hulme says:- "Liverpool Pride's theme of international love resonated with us this year and presented an opportunity to work with our most diverse group yet. Often, the struggles that people face for acceptance within their own LGBT+ communities goes ignored, the struggles within this community are not a single story and this project has helped empower and represent those voices. The anthology shares writing from trans females, refugees and asylum seekers and BRM communities making it not just a collection of creative writing but an important piece of activism too."

Find out more about 'What's Your World Pride Story' and other projects via the Writing on the Wall's website. 'What's Your World Pride Story Book Launch' is on 'The Garden Stage,' from 1:40pm to 2:10pm also 2:50pm to 3:20pm, on Saturday, 29 July 2017.
---
Lost medication in the Waterloo area
ON Tuesday, 18 July 2017, Merseyside Police issued a warning to the public and asked them to be on the look out for lost medication, within the Marina Park area of Waterloo. The medication is believed to comprise of 3 x 28 5mg Diazepam tablets. These tablets should not be taken under any circumstances unless presrcibed. Officers are warning that people that take any medication which has not been presrcibed can be very dangerous and, in some circumstances fatal. Anyone who finds the medication should immediately hand it into any Pharmacy or Police Station or call Officers on:- 101.

Liverpool Pride 2017 - "Come Out Of The Shadows"

MERSEYSIDE Police have be light up its force Headquarters at Canning Place in rainbow colours to support the:- "Come Out Of The Shadows" event, Liverpool Pride 2017 (#LiverpoolPride #InternationalLove) on Saturday, 29 July 2017, the building will be illuminated until Sunday, 30 July 2017, the last day of the Liverpool Pride celebrations.

Headquarters will be illuminated in support of our LGBT community along with a host of iconic landmarks across Merseyside, including:- St George's Hall, Liverpool Central Library, the Royal Court, Liverpool John Lennon Airport, the Kop at Anfield, and the World Museum in Liverpool; The Atkinson in Southport; Crosby Library; the Floral Pavilion in New Brighton and the Steve Prescott Bridge in St Helens.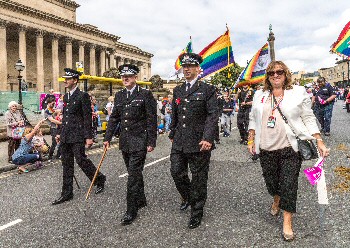 In 9 days' time the Chief Constable of Merseyside, Andy Cooke and the Police and Crime Commissioner Jane Kennedy will be joining officers and staff from across the force at Liverpool Pride and he will be joined by Deputy Chief Constable Carl Foulkes, Assistant Chief Constable Ian Critchley, the Black Police Association, Police Chaplain Lee McCullough and the Dog Section.

Officers taking part in the carnival style parade, which has gone from strength to strength since it 1st started in 2010, will be in uniform for the march through the City Centre, with support staff, friends, families, lesbian, gay, bisexual and trans (LGBT) allies, as well as partner agencies and other organisations. In 2016 more than 5,000 people attended Liverpool Pride and this year the organisers are expecting an even bigger record attendance.

This is the eighth year that officers and staff from the force will be taking part. The force's LGBT support network is organising the attendance of Police officers and staff taking part and they will march under the banner of "Police with Pride."

The theme of this year's Liverpool Pride is International Love and the organisers are hoping that people will take time to reflect on the 72 nations who have not yet legalised homosexuality and do not recognise LGBT+ communities - the flags of those 72 nations will be flown alongside Pride flags during the parade. This year will also see fun packed family day on Sunday, 30 July, in St Johns Gardens and St George's Plateau, when there will be a programme of events supplemented with a community zone, childrens' activities, market stalls and a festival stage featuring live entertainment.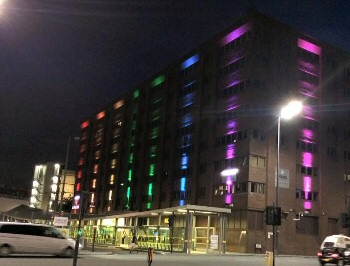 The march is due to begin at St George's Hall Plateau, at 12pm, with people arriving from 10.30am, and will process through the City Centre before finishing at St George's Hall Plateau where an afternoon of events will be held.

The Merseyside Police with Pride car will also be out and proud, and officers from Community Engagement will have a stall in the marketplace area at St George's plateau, where they will be available to talk to members of the public who want to find out more about hate crime, recruitment and the force's insight scheme where people can join the Police for a day to see what happens.

Chief Superintendent Peter Costello, who is policing the event, said:- "We're really looking forward to policing Liverpool Pride 2017 and welcoming everyone taking part and ensuring they enjoy the event and their time in the City. Officers will be visible throughout the event to help make sure everyone has a great time and enjoys it safely, but as with any event there are also some simple steps people can take to help protect themselves and their belongings:-

► Be aware of your surroundings and those around you as Pride will be a really busy event.

► Take care of your property and keep valuables close; don't leave bags and mobile phones unattended at any time.

► Keep wallets, purses and cash safe and out of sight.

► Pride is very much a family event so keep children close by as there will be large crowds.

► If you are going to enjoy the city's renowned pubs, bars and clubs, please do so safely. Drink responsibly, stick with your friends and plan your route home and you should have a great time.

Liverpool Pride 2017 promises to be a fantastic day for all and is just 1 of a host of big events for Liverpool during the summer and I'm confident it will be a success."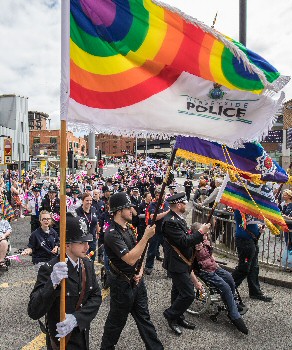 Merseyside Police Chief Constable, Andy Cooke said:- "This will be the second time I will have taken part in Liverpool Pride and after last year I know it will be a fantastic event and I'm looking forward to marching alongside LGBT colleagues from Merseyside Police. It is an opportunity to show our commitment to helping the communities we serve become places where people can truly be themselves, free from prejudice and disrcimination. It must be remembered that Liverpool Pride was first held in memory of Whiston teenager Michael Causer, who was murdered because he was gay in August 2008. To this day the Liverpool Pride event is still organised in Michael's memory and is a reminder that we cannot allow the minority of people, who are motivated by hate because they resent, disapprove of or are ignorant of diversity, to intimidate or hurt other people just because they perceive them to be different. By celebrating diversity through events like Liverpool Pride we can make it clear that Merseyside Police will not tolerate hate crime of any kind and that those who commit hate crimes have no place in our communities. I'm looking forward to taking part in the parade and we will continue to support and work with our LGBT partners to raise awareness and promote inclusive communities. I hope everyone enjoys what will undoubtedly will be a very safe and successful Liverpool Pride 2017."

"Merseyside's Police Commissioner Jane Kennedy, said:- "I'm delighted to be supporting both the Come out the Shadows initiative and the wider Liverpool Pride 2017 celebrations again this year. These festivities are a great way of demonstrating what an inclusive, diverse and tolerant community we live in. By lighting our most recognisable buildings in the iconic rainbow flag we are sending out a powerful message that we celebrate equality and will not tolerate disrcimination in any form. This message will resonate even more loudly during the weekend of Pride when thousands of people will line the streets of Liverpool to publicly demonstrate their support for the LGBT community and their commitment to saying no to hatred. We are remembering a young man who was murdered because he was different. Sadly, members of the LGBT community still face hate crime on a daily basis and Pride is an opportunity to say that no-one should ever be targeted or abused because of their sexuality. I hope Pride helps to give people the confidence to know that if they have been subjected to abuse or hate that they can speak out in the knowledge they will be listened to, understood and supported."

Chair of Merseyside Police LGBT Network, Tracy O'Hara, said:- "Since 2010 our Police with Pride contingent has grown. More people want to march and be visible and proud. I am proud to work for an organisation where I can truly be me. I know for some this is still not the case and that is why visibility is so important. Love is love and this year's theme is important when we look at the lack of rights for LGBT people across the world. That is why I march at Pride for all those unable or in fear."

More information about the event is available on:- LiverpoolPride.Co.UK.