New ₤1.5million 'Lakesider' buses make special guest appearance in Liverpool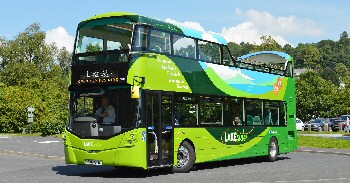 PEOPLE across Liverpool will be given a taste of the Lake District next week, when a fleet of new luxury 'Lakesider' buses take to popular routes in the city to promote short breaks in the Lakes.

The Lakesider buses will be in Liverpool, on Tuesday, 25 July 2017. They will run on popular routes, with staff from Stagecoach Cumbria and North Lancashire on board to offer free tickets and travel advice about visiting the Lake District for days out and short breaks.

The 'Lakesider' buses have launched in the UK's newest World Heritage site to run on the established 599 route between Grasmere and Bowness on Windermere. They will offer a new travel experience including open top views, free Wi-Fi, USB charging points and spaces for bicycles and buggies.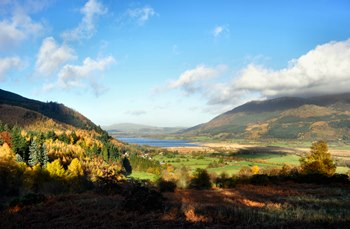 The buses all have cleaner, greener engines to help reduce carbon emissions, and are part of Stagecoach's wider efforts to promote more sustainable transport around the Lake District.

The Lakesider fleet will give people access to Grasmere, Rydal and Ambleside as well as stopping at Brockhole Visitor Centre and Bowness Pier. The buses will also stop at Windermere rail station, connecting passengers to the Lakes line to Oxenholme and beyond. There are a range of discounts at top tourist attractions in Stagecoach's The Lakes Connection timetable brochure too, including:- Tree Top Nets at Brockhole, Windermere Lake Cruises and Wray Castle.

The buses will run every 20 minutes, 7 days a week from now until Saturday, 30 September 2017. A 30 minute service will then continue until Tuesday, 31 October 2017 and then hourly through the winter.

Matthew Cranwell, Managing Director at Stagecoach Cumbria and North Lancashire said:- "The luxury Lakesider buses will provide new, greener ways for people to experience this globally acclaimed scenic landscape as they travel through it. We aim to give passengers realistic alternatives to jumping in the car, so they can explore the Lake District without having to worry about driving and parking along the way."

To check timetables or to find out more about getting around the Lake District by bus, visit:- StageCoachBus.com/LakesConnection.
---
Search for a Star is now on with Foot in the Door Films
BUDDING actors looking for their big break could be one step closer as 'Foot In The Door Films' launches its national search for a new star. Auditions for a main role in its next feature film are now open where 1 lucky winner will not only become a star of the big srceen, but will walk away with a wage packet of up to ₤25,000. With auditions also open for secondary roles, the pioneering new project will see a total of five new productions filmed across Liverpool and Merseyside over the next 3 to 5 years. Michelle Billington Founder and Director of 'Foot In The Door Films CIC' who has been a casting agent for 22 years said:- "The UK boasts a wealth of untapped talent and this is their chance to shine as we open the doors to artists from across the UK. We are looking for raw talent who may or may not have already starred in a film, making this an open platform for all ages." Foot in the Door Films has committed to creating a stage that allows both artistes and crew alike to play a part in the creative sector in Merseyside, but will be attracting talent from across the UK. Michelle added:- "This platform will see us srceen annual major film premiers that our City can be proud of. We aim to srceen at film festivals across the world, promoting the UK's talent. Our goal is to put this local Liverpool film production company on the map as a permanent fixture which celebrates home grown actors." 'Foot In The Door Films Community Interest Company' is casting for dedicated people with potential talent from all backgrounds. Aspiring artistes have an opportunity to audition for locally produced feature films as the firm identifies and celebrates people's strengths and developing their skills. Auditions for the 2017 to 2018 next:- 'Big Feature Film Project' are open. For details and an application form please send an email to:- info@footinthedoorfilms.co.uk.

Child burial and cremation charges scrapped in Liverpool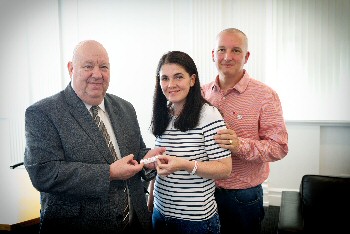 LIVERPOOL City Council is waiving charges for child burial and cremations. It follows a request from Love, Jasmine; 1 of the Council's corporate charities, which supports families following the death of a child. The City Council currently carries out around 100 cremations and 34 burials of children under the age of 16 each year. Previously it cost ₤66 for a cremation and ₤145 for a burial. Mayor of Liverpool Joe Anderson said:- "The loss of a child is a traumatic time for any parent and it is right and proper that we do all we can to support families at what is a very difficult moment. Having to find the money for a burial or cremation can add additional stress and a financial burden when their grief is still raw, and that is why we have agreed to this excellent suggestion from Love, Jasmine."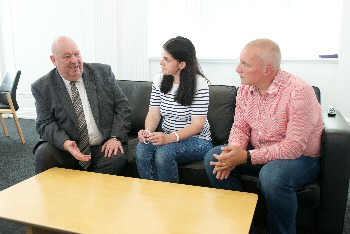 Love, Jasmine was set up by Kathy and Rob Lapsley from Anfield in memory of their daughter Jasmine, who passed away suddenly in 2014. The charity aims to support families who have suffered the loss of a child by providing dedicated support groups, complimentary therapies, advice and guidance. Rob Lapsley said:- "We'd like to thank Liverpool City Council for waiving burial and cremation costs for children. Nobody expects to have to plan their own child's funeral and many families often find themselves in financial difficulty after losing a child. The decision to waive burial and cremation costs will help ease that financial burden."

A child grave is already offered to families at no cost, although there will still be a charge for those wanting a full size family grave where other relatives can be buried.
More information about the work of Love, Jasmine can be found online.
---
Early help scheme for families to continue
SCHOOLS are to help fund an early intervention programme for families in difficulty in Liverpool. The 'School Family Support Service' began work in 2014, and assists where there are issues affecting a child's wellbeing, educational attendance and attainment, but which are not serious enough to meet the threshold for social work intervention. The 22 strong team of support workers have provided support for 1,450 families to date, including:- improving parenting, helping strengthen family life and relieving pressures. Triggers for support include children with poor attendance or exclusions at school, or issues with adolescent behaviour and parenting.

The scheme has so far been funded entirely through the Liverpool Families Programme which is paid for by a Government grant. A move towards a more sustainable model where schools contribute by paying for services they receive has been planned since the outset. So far, 63 Schools have expressed an interest in paying for an initial 12 month period from September 2017, meaning they would contribute around half (₤360k) of the ₤773k cost of the service.

Councillor Barry Kushner, Cabinet member for Children's Services, said:- "The School Family Support Service is widely recognised as a real success story, helping build relationships between families, schools and social care and health services to tackle problems before they become crises. Our schools know their children and their families extremely well and teachers are best placed to spot when something is wrong at home and work with us to fix it, which brings benefits for everyone involved. The fact they are willing to help pay for it shows they value the work of the service. It is vital we make sure our children get the possible start in life, and it makes far more sense to support families in their hour of need, rather than letting issues grow or get out of control."

In 2014/15, a study of a sample of families demonstrated an increase in school attendance and improving behaviour. The report recommending the move to the so called 'traded service' will be considered by the Cabinet, on Friday, 21 July 2017.