French bulldog most desired designer dog to buy online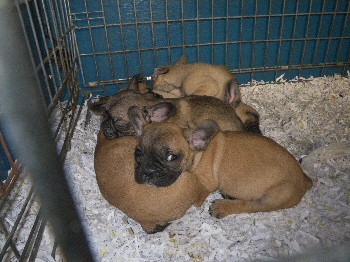 NEW figures reveal sheer scale of online puppy market; and increasing problems of unsrcupulous breeders and dealers. French bulldogs are the most searched for breed for sale online, new figures released by Gumtree and the RSPCA reveal. As new figures show there were more than 66,000 searches for the fashionable breed in just 1 month (February 2017) on the popular classified online marketplace, closely followed by Labradors and pugs, the RSPCA is highlighting the risks and realities of buying puppies on the internet. The figures also reveal that the use of online websites to sell and rehome dogs has exploded within the last decade as Gumtree recorded a 785% increase in the number of dogs being listed on its site in Great Britain in the past 10 years (2007 to 2016). Teaming up with Gumtree, the RSPCA has warned buyers to take care when looking for dogs online as the internet can provide the perfect marketplace for the unsrcupulous puppy trade which puts profit over welfare.

Justine Williams, from the RSPCA, said:- "These figures are hugely concerning as they show the sheer number of people using the internet to buy and sell dogs. These are living, sentient creatures, which are being traded as easily as a 2nd hand car or a piece of furniture. While classified websites, if used responsibly, can be an effective method of advertising for responsible breeders and rescue organisations, sadly, far too many people abuse the internet and this has led to many animal welfare issues arising. The web provides the perfect marketplace for unsrcupulous breeders and dealers to advertise puppies without arousing suspicion. And traders are finding clever and cunning ways to fool not only the buyers, but also the websites themselves. The RSPCA has found that 87% of calls it receives on puppy trade issues are those where the puppy was bought online."

Gumtree's research shows that in just one month (February 2017), almost 10,000 listings were posted on the site advertising dogs, while there were more than 286,000 searches by prospective buyers for 'puppies for sale'. And over a year, 204,182 adverts for dogs were posted on the classified site.

Morten Heuing, general manager at Gumtree UK, said:- "Whilst most people have safe and successful experiences rehoming dogs on Gumtree, there are a minority of unsrcupulous breeders and dealers who put profit ahead of the health and welfare of the animals. We take the welfare of animals very seriously and work hard to ensure our site is a safe place to find pets in need of rehoming. Our dedicated safety team takes steps to make it as hard as possible for illegal traders to operate on the site. For example, we do not allow 'wanted' ads in our 'Pets' category and we delete any ads we believe are encouraging or indicate signs of animal cruelty. If users have concerns about an ad on our site, they can use the 'Report an Ad' button on our website and our safety team will then investigate it. Furthermore, Gumtree works closely with the RSPCA and the Pet Advertising Advisory Group (PAAG) to help educate users on how to buy pets safely and responsibly. Gumtree's own Pet Advice Hub includes lots of useful advice for people looking to buy a new pet or find a home for a pet they already own."
Top 10 searched breeds - (Based on data from Gumtree, February 2017):-
| | |
| --- | --- |
| Search term | Number of searches |
| French bulldog | 66,439 |
| Labrador | 57,771 |
| Jack Russell | 55,013 |
| Pug | 48,296 |
| German shepherd | 47,406 |
| Chihuahua | 47,110 |
| Dachshund | 44,341 |
| Pomeranian | 37,690 |
| Yorkshire Terrier | 35,829 |
| Shih Tzu | 33,109 |
The most searched for breeds included pugs, chihuahuas, dachshunds, Pomeranians and Yorkshire terriers, each attracting more than 35,000 searches. The RSPCA fears the soaring demand for these fashionable breeds is fuelling the puppy trade as demand drastically outstrips the numbers coming to market via legitimate and responsible sources. In 2016, the UK's largest and oldest animal welfare charity saw its busiest year tackling the underground puppy trade, receiving more calls than ever from people reporting questionable breeders and dealers. The RSPCA is seeing a steady rise in the number of complaints coming in about the illegal puppy trade and, in 2016, dealt with 6% more calls than the previous year, and 132% more than 5 years before.

RSPCA chief inspector Ian Briggs, who leads the charity's special investigations into the puppy trade, said:- "There's huge demand for certain breeds of dogs that have been popularised and, as responsible breeders struggle to keep up with demand, underground breeders and traders are filling the gap in the market and are offering buyers the chance to buy puppies at cheaper prices and without waiting lists; often with disastrous consequences. This is the price of poor puppy breeding; buyers faced with sick and dying puppies who need intensive treatment or lifelong behavioural support; a surge in these breeds coming into the care of rescue centres from people who did not do their research before taking on a dog that requires a lot of time and commitment; and an increase in the number of these breeds being abandoned either because, as puppies, they didn't sell or became poorly, or as breeding stock they couldn't produce litters anymore. Organisations like the RSPCA are left picking up the pieces, and the animals are paying the ultimate price; often with their lives. That's why we're urging families considering getting a puppy over the summer holidays to be cautious when choosing who and where to buy from and as hard as it may be; to walk away and contact the RSPCA or the local authority if something doesn't seem right. Anyone looking to buy a puppy should use the Puppy Contract to help ensure they are buying a happy and healthy dog."

The RSPCA has released a video warning buyers what to look out for, and is encouraging prospective buyers to consider re-homing a dog from a Rescue Centre.

If you're concerned about a breeder, please contact the RSPCA's 24 hour emergency hotline on:- 0300 1234 999. And to help the RSPCA continue investigating the illegal puppy trade and rescuing, rehabilitating and re-homing dogs saved from puppy farms please visit:- RSPCA.Org.UK/Give or text:- 'LOVE' to 87023 to give ₤3 (Text costs ₤3 + 1 standard network rate message).
---
Fundraisers bring some sparkle to Southport for life saving cancer research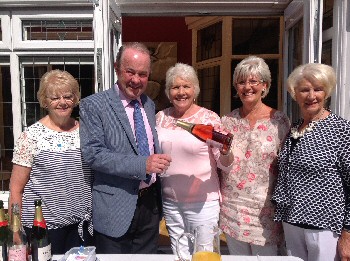 A group of Southport fundraisers have held a summer event to raise more than ₤1,500 for local charity North West Cancer Research. More than 100 guests gathered on 5 July at the annual Summer Sparkle organised by the charity's Southport based fundraising group. Tickets to the event cost ₤10, which included a chilled glass of bubbly upon arrival and a selection of canapes handmade made by the fundraising group. Held in the residential garden of Alan and Heather Sidebottom on Brocklebank Road, the event featured variety of stalls, allowing guests to browse through silk arrangements, jewellery and homemade produce. A raffle which featured prizes such as award winning wines and gift vouchers contributed ₤400 to the final fundraising totals. The afternoon, which has been running for over 2 decades, is the most popular event organised by the Southport fundraising group each year. This year their efforts helped to raise a total of ₤1,570 which has been donated to North West Cancer Research. Olive Cutts, chair of the Southport fundraising group for North West Cancer Research, said:- "The Summer Sparkle is our most popular event and every year we see more and more people come along to support us and the charity. I'd like to thank the whole team involved who all contributed to the delicious homemade canapes and sourcing the wine on offer. We're all very grateful to Alan and Heather who kindly let us use their beautiful garden."

North West Cancer Research funds life saving cancer research across the North West and has committed to funding more than ₤13million worth of research over the next 5 years. Sara Cooper, Committee Engagement and Events Executive, North West Cancer Research, said:- "The Southport community love the Summer Sparkle and every year the amount they raise for us just seems to grow which is phenomenal. We'd like to thank the Southport fundraising group for their continuous support and hard work in the events they put on."

The next event to be hosted by the Southport group with be the annual Afternoon Tea, at Hillside Golf Club, on 16 August 2017. Tickets are ₤12 and the event will run from 13:30 to 14:00 and tables of 6, 8 and 10 are available. For more information and to purchase a ticket, please contact Olive Cutts on:- 01704 807857.

A&E nurse volunteering for 6 months in Philippines clinic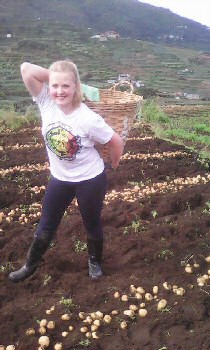 A nurse has swapped the blue lights of A&E for a summer volunteering with a charity in the Philippines. Harriet Lawrance, 24, who is a staff nurse in the emergency department at Southport hospital, is working for the E-CARE Foundation in Benguet, 6 hours drive north of the capital Manila. The church founded charity supports self help by local communities so they can move away from simple economic survival or subsistence to self-reliance and sustainability. "I'll be working for six months in the local clinic and with the farmers involved in the charity..." said Harriet, who is a member of Holy Trinity Church in Southport. She is living underneath a barn with electricity available for only part of the day and no running water.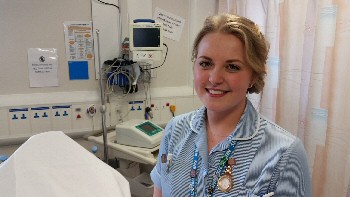 "I've always wanted to work abroad. Working in Benguet should give me a new perspective on life while helping people along the way."

For ½ the time she work the farms, writing reports to help the workers manage their finances to become self sufficient. The other half is spent in the clinic with three other nurses that cater to around 2,500 people.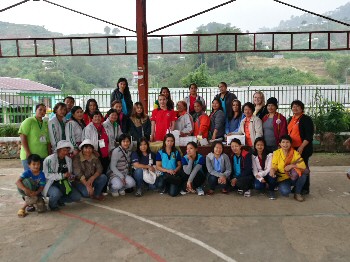 "We provide maternity care, minor injuries, minor surgeries and dental care. The equipment is very basic and due to cost they cannot afford basic equipment. Gauze comes wrapped in newspaper. There is no NHS here and I am coming to terms with how people choose which care or treatment they will have or not have. The people here are wonderful and their sense of community and care for each other is inspiring. They have made me so welcome." said Harriet.

After completing her six months in the Philippines, Harriet will travel in Australia before returning to Southport Hospital. The former student at Edge Hill University in Ormskirk then wants to study to become an advanced nurse practitioner while continuing working in A&E.
---
Merseyside University teams up with charity to help tackle abuse in sport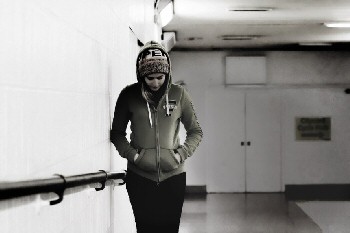 A Merseyside University and a national charity have joined forces with European partners in a unique research project to help tackle child sexual exploitation in sport across the continent. Edge Hill University is partnering with the charity, the National Working Group (NWG), in the VOICE project which aims to raise awareness of sexual abuse in sport and produce a consistent approach to identifying and tackling it. The research comes at a time of widespread publicity over child sexual abuse in football, along with an increase in the number of victims coming forward with allegations of non recent abuse in sport. Edge Hill, which over the past 15 years has become a research specialist centre in child maltreatment in sport, is leading the UK research with partnership from NWG and UK Coaching.
The 2 year VOICE project, funded with a near ₤500,000 EU grant from the Erasmus+ Programme 2015, is the brainchild of Dr Mike Hartill, Reader in the sociology of sport at Edge Hill, who is also helping the current FA inquiry into sex abuse allegations in football. Edge Hill has joined with Universities in:- Germany, Spain, Belgium, Denmark, Austria and Slovenia to generate crucial and powerful research data on sexual violence in sport by recording evidence from those affected by it.

The victims' recorded accounts are central to the VOICE project and will help sports organisations to develop a deeper understanding of the problem and an opportunity to prevent it within their own areas. The project steering committee includes Spain's former Olympic gymnast Gloria Viseras who has previously spoken out about her childhood experiences of sexual abuse within sport. "Our aim through the interviews has been to collect in depth life histories and use them to develop authentic, practical educational resources. These can then be used by sports organisations, clubs, coaches and volunteers to raise awareness about sexual violence and exploitation. The scale of the project also means that we can get out consistent messages to the sports community beyond the UK." said Dr Hartill.

NWG, which is at the heart of the UK's response to child sexual exploitation (CSE) and trafficking, is supporting individual victims who have been part of the VOICE project, as well as offering its wider experience and consistency in dealing with the issue. Kevin Murphy, NWG's Response Unit lead on CSE in sport, said abuse in sport needs tackling at a lot of different levels but it is important to make people aware of how it happens; and not for people to just deny that it happens. "Awareness needs to be all the way down from national level, local level right down to those who play sport in the park..." said Mr Murphy. All European partner countries have held seminars giving abuse victims the chance to talk to audiences of sports sector professionals about how they suffered; as well as how it was dealt with. The UK event, organised by NWG, was held in Nottingham and among the responses from the speakers was:- "The experience has actually helped me change and develop."

Dr Hartill said victims' experiences in sport have not previously been sufficiently included in abuse prevention policies and education strategies. "We need to hear much more about the realities of abuse and ensure victims' stories are not whitewashed from the picture. Those professionals attending the VOICE seminars and forums learnt more about child sexual abuse in those few hours than they have from their normal training. The personal stories they heard will stay with them forever because they were so powerful and effective."

The next step in the VOICE project, which finishes in June 2018, is to develop educational resources which potentially will include:- audio visual material, film, animation and booklets. "We're particularly keen on reaching a younger audience, and the resources will also be aimed at sports specialists, the professionals and their organisations. We want to bring some of the reality of these experiences into the public domain." said Dr Hartill.

The project is also aimed at others who are struggling to cope with their own experiences, especially those that may not recognise that they are being subjected to sexual exploitation. He says sports bodies had in the past shied away from acknowledging sexual violence in sport, and had not been proactive in working with the survivors of that abuse. The VOICE project was changing that by prioritising the views and personal histories of survivors. NWG's Kevin Murphy said it was important having people trained and competent in recognising what abuse in sport is. Murphy added:- "It is all about having an open and honest culture so if something isn't right it is easily identifiable. A lot of the children themselves won't tell, so it is all about the coaches and parents being aware of the signs."

Mr Murphy said abuse in sport often had a long-term effect on individuals who might bottle it up and then, 10-15 years later when it finally comes out, experience an outpouring of grief and emotion. The culture of sport can often be part of the problem because it is not always conducive to speaking out about problems - coupled with the extreme sensitivity and stigma attached to sexual victimisation. Murphy commented:- "We ask ourselves what damage that abuse has done to the person through that time and how it has affected their lives and their ability to participate in sport or society... It can be like dropping a penny in a puddle; the ripple effect can reverberate very wide for generations."