"We'd rather have a bowl of Coco Pops!"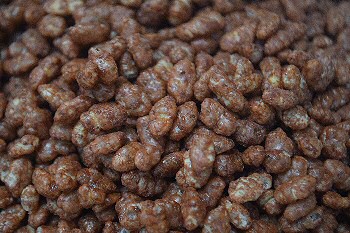 THIS is just another example of how the media is finding it hard to work out just how the Brixit Referendum really is affecting our nation. Yes, lots of products have been affected by exchange rate pressure, but knowing just how many is very hard to find out, as is demonstrating it. The latest Brexit story that has been debunked is around a chocolaty breakfast time cereal is made by Kellogg's, called:- 'Coco Pops.' Coco Pops brand has been in family homes in the UK for over 50 years and has recently been brought into the Brixit debate after many of the national media outlets spotted that before the Brexit referendum, a large box was 800g and a small box was 550g, but after the Brixit Referendum, the 800g became 720g and the 550g become 510g. This has lead to reports claiming that the reduction has been down to foreign exchange pressures, due to significant currency fluctuations. The reality, we are told by Kellogg's, that they have been repeatedly misrepresented in these articles about shrinkflation and in reports about manufacturers reducing the size of products as a result of Brexit and the pound decreasing in value.

Kellogg's said that:- "After seeing Coco Pops repeatedly misrepresented this week across national and regional media, we'd like to share our statement to clear up any confusion and expect this to be included in any piece relating to the weight reduction. We'd like to clarify 2 points:-

► Coco Pops are made in Manchester. They are not imported and therefore we are not incurring import costs as a result of the falling value of the pound.
► The weight change was due to a recipe change to remove some sugar, in response to consumer feedback. We now actually put more Coco Pops in the box."

Another Kellogg's spokesperson added:- "Kellogg's Coco Pops packs reduced in weight due to a recipe change, which removed sugar and changed the coating. Although the packs now weigh less, the number of Coco Pops in each box increased by more than 10%. It would be misrepresentative to claim that these changes were for any other reason. We are extremely proud of our sugar renovation programme and as an open and honest press office, we'd welcome a chat with any journalist needing detail for future pieces."

This is a good example of why fact checking is so important, no matter what your views are about the argument that for Britain:- "no deal would be better than a bad deal" when it comes to the EU. Please email us your views on this to:- News24@SouthportReporter.Com.

New plans for CityBIKE scheme
LIVERPOOL'S CityBIKE scheme is to be brought under Council control as part of a plan which could also see it expanded to neighbouring boroughs. The cycle rental scheme has grown considerably since it was launched in 2014 and there are now around 1,000 bikes available for hire from 140 docking stations across Liverpool.

There have been around 300,000 rentals to date, with usage up significantly year on year, and those using the bikes have cycled a total of 1.4 million miles so far. But the size and scale of the operation means that, in common with other bike hire schemes, it requires an annual subsidy to cover the costs of repairs and maintenance; and data shows that 80% of the hires come from just 20% of the docking stations.

Now the Cabinet is being asked to reduce the subsidy by bringing the scheme in house from operator Hourbike; saving ₤100k a year; and look at further offsetting them by removing the least popular docking stations, expanding its use to other parts of the City Region and seeking sponsorship.

Councillor Steve Munby, Cabinet member for highways, said:- "CityBIKE has been a huge success in terms of the number of people using the cycles to get around Liverpool, evidenced by the number of people we see riding around on them, particularly in the City Centre. We know the scheme brings huge benefits and that people use them to get to work or for leisure and that they are great for tourists to explore our City. It is a much better environmental option than any other method of transport and it is great for people's health. There is a fine balance between making the scheme attractive and affordable to users against the ongoing costs of maintenance of the bikes and the docking stations and that is why, in common with other local authorities that run bike hire schemes, we have had to subsidise the scheme. We are committed to keeping it running, but given the financial pressures we are under, we need to look hard at making savings where we can such as by removing docking stations which are not used and other ideas such as expanding it to neighbouring areas. Council borders are artificial, so it is sensible to look at giving people the option of being able to cycle up the coast to Sefton or take the Mersey Ferry across to Wirral and leave the bikes there without needing to worry about bringing them back."

The report will be considered by the Cabinet, on Friday, 4 August 2017.

CityBIKE In Numbers:-

► 34 - average rental time in minutes.

► 140 - docking stations.

► 1,000 – bikes.

► 32,000 - active users.

► 300,000 – rentals to date.

► 1.4 million – miles cycled to date.

► 9am and 5pm weekdays / 12pm to 4pm weekends; most popular rental times.