3 arrested following ATM thefts in both Merseyside and West Midlands
FOLLOWING a theft from an ATM in Crosby and further offences in the West Midlands area Merseyside Police Detectives have arrested 3 males. We are told that at around midnight, on Thursday, 10 August 2017, an alarm was activated at Esso Filling Station, on College Road, Crosby. Following enquiries, a cash trap device was found to have been used at the ATM with a small amount of cash taken, and CCTV enquiries identified a blue Vauxhall Astra seen acting suspiciously, at the time of the offence. Officers from Sefton sighted and stopped the car on the M6 Southbound. During the stop, 5 strip devices were found, suspected of having been used in offences. A 22 year old man, from Swansea, a 19 year old man, from Enfield, and a 26 year old man, of no fixed abode, were arrested on suspicion of going equipped for theft and attempted theft. They have also been arrested in relation to offences in the West Midlands area. A spokesperson for Merseyside Police Economic Crime Team said:- "These arrests should act as a deterrent to anyone considering such a crude method of attempting to steal small amounts of money from ATM machines. High quality CCTV and vehicle enquiries will always allow our officers the chance to identify those suspected as being responsible, working closely with businesses, other forces and our partners. It isn't worth the risk." Anyone with information on theft from ATMs is encouraged to call Police on:- 101 or the Crimestoppers line anonymously on:- 0800 555 111 or via their online form.
---
Cannabis Farm found in Southport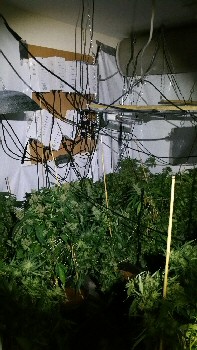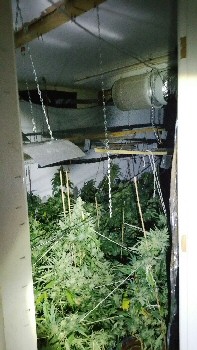 MERSEYSIDE Police executed a warrant, at about 5.15pm, on Friday, 4 August 2017, at an address on Mount Street and a cannabis farm discovered inside, spread across 3 rooms. The cannabis farm we are told by Merseyside Police had 148 plants within the rooms that had been adapted for the growing. Police have removed the plants, associated growing equipment and sophisticated hydroponic growing equipment. We are also told that they had fond out that electricity was also found to have been illegally bypassed.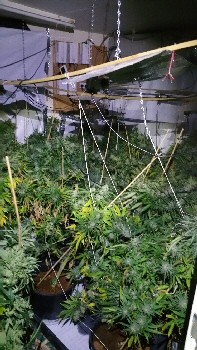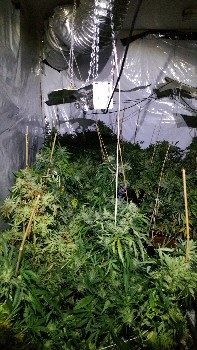 Acting Inspector Andy Dentith said:- "Cannabis cultivation by criminal gangs can cause serious harm in our communities. Criminal groups involved in the cultivation of cannabis are usually involved in other serious organised crime and they often rent residential properties such as this. Our communities can help us stop these groups, who are only interested in making money, from turning houses and flats into potential death traps. Nobody wants to live next door to these houses and we would ask that if you believe someone is using a property for this purpose, please tell us so we can take positive action and find those responsible for setting them up. The people who set up these farms often tamper with the electricity meters to steal electricity, and there will generally be a number of hot lamps hooked to overloaded electricity sockets as well as an extensive watering system. Electricity and water are never a good combination, and the fire service have seen an increase in the number of fires they have been called to as a result of fires caused by the crude systems put in place by the people who set up these farms."

Some of the signs that cannabis is being grown are:-

► Strange smells and sounds.
► Frequent and varied visitors to a property, often at unusual times.
► Gardening equipment being taken into a property, such as plant pots, fertiliser, fans and industrial lighting/
► Windows are sealed and covered or the curtains are permanently closed.
► Heat from an adjoining property.
► Birds gathering on a roof in cold weather.
► Individually these activities may seem commonplace, however, together may indicate something more sinister.

Anyone with any information can call Police on:- 101, or Crimestoppers, anonymously, on:- 0800 555 111.

Everton star Wayne Rooney backs City's bid for 2022 Commonwealth Games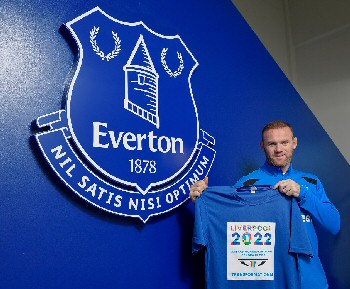 ENGLAND'S all time leading goalscorer Wayne Rooney has joined his boyhood club Everton in backing Liverpool's transformational bid for the 2022 Commonwealth Games. Rooney, born and bred in the Liverpool suburb of Croxteth, has thrown his weight behind the bid which promises to transform the City and accelerate up to ₤1bn of investment in the docklands area.

Central to the Games vision is a brand new stadium for Rooney's current club Everton in Bramley Moore Dock, which will provide a stunning setting for the Commonwealth athletics as well as an intimate, atmospheric Premier League arena.

Rooney joins a host of famous faces already backing the bid, including World boxing champion Tony Bellew, Olympic heptathlete Katarina Johnson Thompson and Commonwealth and Olympic Games medallists Steve Parry and Beth Tweddle.

The news of Rooney's support follows just days after Liverpool FC legend and Rooney's former England teammate Steven Gerrard gave his backing to the bid, alongside both Jamie Carragher and Robbie Fowler. Both of the City's world famous clubs have come together in support for the bid and go to prove Liverpool's united appetite for the Games in 2022.

Discussing the bid, Wayne Rooney said:- "I'm proud to be in a position to back our City's bid to host the Commonwealth Games in 2022 and I have no doubt that Liverpool would be the perfect host City. People's passion for football within the City is recognised around the world but we also have a rich sporting tradition in the boxing ring, on our golf courses which have staged Open Championships, in athletics and gymnastics and, of course, Liverpool stages the jewel in the crown of National Hunt horseracing every year at Aintree, the Grand National. Bringing the Commonwealth Games to the City would be fantastic and fitting, showcasing again to the world what a great City Liverpool is and I support the bid wholeheartedly."

Liverpool 2022 bid chair, Brian Barwick, added:- "I am really delighted Wayne has shown his support for the Liverpool Bid for the 2022 Commonwealth Games. As a world famous record breaking footballer Wayne has proved to be a winner throughout his career and as a true Scouser his endorsement for the Bid is very special. Everton Football Club's support for the Bid has been simply outstanding, their commitment fantastic; yet another world-famous Merseyside sporting institution getting behind the Liverpool 2022 Commonwealth Games Bid."

Liverpool's Mayor Joe Anderson said:- "The opportunity for Everton's new home to play a key role in the Commonwealth Games is a very exciting 1 for our City and the club, and presents a unique platform to showcase our sporting pedigree, our waterfront and all our City has to offer to audiences across the world. We're delighted to have the support of everyone at Everton. Having players like Wayne back our bid means a great deal and underlines how much everyone is determined for Liverpool to be chosen as England's host City."
---
Motorcyclist seriously injured in road traffic collision in Thornton
A motorcyclist has been left with serious leg and chest injuries, on Sunday, 6 August 2017, following a road traffic collision in Thornton. The 35 year old male, who was on a black Harley Davidson Sportster bike, is said to have collided with a grey Suzuki car, on Lydiate Lane, Thornton, at around 2.35pm. The rider has been taken to Hospital with serious injuries to his leg and chest. His condition is described as critical. The driver of the car was uninjured, but badly shaken. As a result Officers have closed Lydiate Lane, form its junction with Water Street, to its Junction with Runnells Lane, in both directions to carry out investigation work. CCTV enquiries being carried out to see if the collision was captured on camera and people are being asked to check their dashcam if you where in the area at the time, and have footage of the Harley Davidson or the grey Suzuki car. Anyone with any information on this incident can call MSOC Roads Policing Officers on:- 0151 777 5747. Alternatively, call the:- 101 number or Crimestoppers, anonymously, on:- 0800 555 111.
---
₤2.5m and ₤3m worth of cannabis discovered in Burscough
3 males have charged over supply of a controlled drug following the discovery of cannabis within an address in Burscough. We are told that the cannabis, with an estimated street value of between ₤2.5m and ₤3m, was discovered after Police Officers executed a search warrant. Anthony Hill, 30 years, and John Hill, 32 years, from West Derby, and Michael Peremans, 26 years, of no fixed abode, have since appeared at Ormskirk Magistrates Court, on Monday 7 August 2017. Their next appearance in Court will be at Preston Crown Court, on 4 September 2017.