Miss Liverpool City Region visits:- 'The Danger Tree'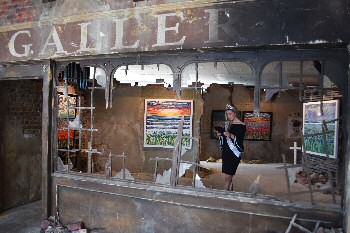 THE current Miss Liverpool City Region, Elli Wilson, has visited the World War 1 exhibition:- 'The Danger Tree' that is located until 3 September 2017, at Mann Island, Liverpool. If you have not already been, this is a very powerful exhibition that uses art work which comes to life using augmentive reality, to help tell the story being the Great War. The paintings also carry soil in them, taken from the battlefields, in France. This is work shows the human costs of war in a very unusual and emotive way that is extremely engaging. This exhibition is located opposite the Museum of Liverpool, on the Pier Head. It is open from 11am to 6pm, 7 days a week.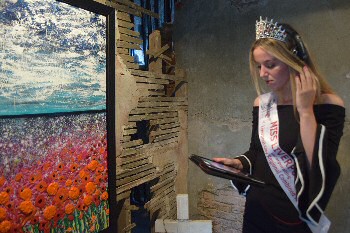 The 15 painting exhibition is a collaboration, Scarlett Raven and Marc Marot, which opened in Liverpool, in November 2016, to mark 100 Anniversary Year of 'The End of The Battle of the Somme.'

Scarlett painted the images inspired by the works of several legendary World War 1 poets including Wilfred Owen, Siegfried Sassoon and Rupert Brooke. Marc has created the integrated animations and digital art that includes:- archive photographs and audio recordings of soldiers from World War 1. The moving renditions of the poetry were read out by leading British actors:- Stephen Graham, Christopher Eccleston, Sean Bean and Sophie Okonedo. Marc also blended these into the visuals text and animated graphics, along with archive film footage. To add more atmosphere to each of the works, bespoke music was written for each piece composed by Marc accompanied by sound effects.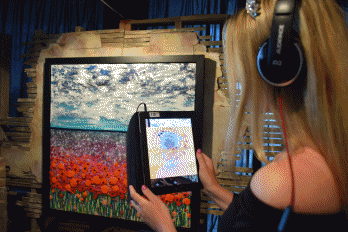 The paintings within this exhibition are not displayed like in most art galleries, as they are housed within a specifically created installation, designed by award winning film set designer Kave Quinn, where you are met with a recreated replica of a bombed out gallery on the French / Belgium borders of 1916.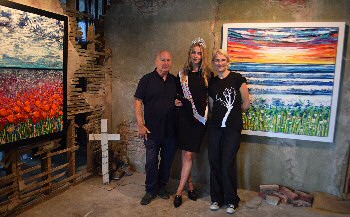 Don't worry if you are visiting that you don't have any tec to see these pictures come to life, as all the visitors are given iPads and headphones. They have all been set up to use a free app 'Blippar' which triggers the AR to engage with the paintings.

The Danger Tree is redefining how you interpret and engage fully with visual art. It is worth noting that this is a world first as no other exhibition has done this type of integration of art and augmentive reality.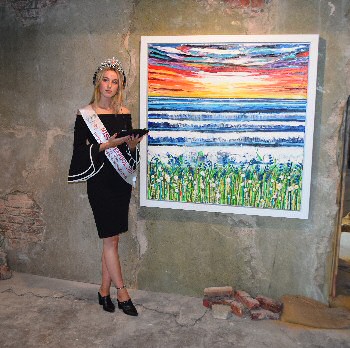 In our next issue we will be bringing you an announcement that is connected to this visit, but in the mean time, if you are in the area, especially for the Clipper Race, it is worth going in to take a look, before is moves on to another City.

A collection of limited edition fine art and exhibition merchandise will accompany the show available online exclusively at:- TheDangerTree.com.

Only 33% of trainee GPs plan to work in NHS general practice
A new study by the University of Warwick indicates that only 2 in 3 doctors who are completing their training to become GPs plan to work in NHS general practice. Of those intending to remain in the NHS most propose working as locums or salaried GPs rather than entering a GP partnership. The study Factors influencing career intentions on completion of general practice vocational training in England, a cross sectional study was conducted by a team led by Professor Jeremy Dale at the University's Warwick Medical School and is published in BMJ Open. An online survey was completed by 178 GP trainees employed in the West Midlands who were within 3 months of achieving their certificate of completion of training (CCT). The quality of general practice experience during all training (including student years) was reported as influencing personal career plans, and in particular perceptions about workload pressure and morale within training practices.

Professor Dale said:- "The study highlighted a number of potentially modifiable factors related to GP training programs that are detrimentally influencing the career plans of newly trained GPs. Many of these relate to how general practice had been experienced across undergraduate, foundation and vocational training, and in particular perceptions about workload pressure and morale within practice placements. The negative portrayal of general practice by politicians and the media was experienced as having had a detrimental effect on personal career intentions. Also sociodemographic factors, such as age, gender, and having children, influenced career plans indicating a need for these to be considered within workforce planning. A sizeable proportion of individuals did not describe their future career plans, perhaps expressing ambiguity about career direction."

62.8% of respondents, stated that they expected to be working in 6 months as a salaried, locum or other non principal NHS GP, dropping to 33.9% at 5 years. Conversely, the proportion expecting to become a GP principal increased from less than 5% at 6 months to 33.9% at 5 years. As well as experience during training the study found three other factors that were influencing respondents' career plans for the following 5 years. These were the:- GP workload and work / life balance; practice morale; and media and political commentary. The survey results are published in the face of increasing practice workloads, declining GP recruitment, retention and morale. There are major concerns about the capaCity of general practice in the UK to safely and effectively meet patients' needs. National policy has set a target for ½ of UK medical school graduates to enter general practice training but recruitment continues to fall short with 10% of GP training places in England unfilled in 2016. The attractiveness to recently qualified doctors of general practice as a career is at an all-time low, with workload, uncertainty about the future of General Practice and lack of respect for GPs often identified as important factors. The research team found that there was an association between participants' rating of how well their specialist training had prepared them for a career in general practice and intended career plans for the next 3 years. Those who felt well prepared were more likely to plan to become partners (28.0% compared to 12.5% who did not feel well prepared). Those who felt ill prepared were more likely to anticipate becoming locums (37.5% compared to 10.0% of those who felt well prepared). In terms of 5 year intentions, those who felt their GP training had prepared them well were more likely to aspire to becoming a GP partner (59.8% compared to 7.7% of those who didn't indicate either way) whereas those who responded neutrally about how well prepared they felt were more likely to anticipate being a salaried GP in 5 years (84.6% compared to 38.1% who were well prepared) Those who had experienced work/life balance problems were more likely to agree that their experience of practice workload was influencing career plans. 54.5% of participants reported having experienced work/life balance problems during their final year of GP training (ST3) and the majority of respondents agreed or strongly agreed that the workload in their final year in practice has influenced their career intentions. Experience of heavy practice workload discouraged respondents from considering applying for partnerships. Instead it encouraged respondents to seek the flexibility of locums or salaried positions, part-time work and employment opportunities that were outside standard clinical sessions, such as teaching, developing special interests and gaining diplomas, CCG work and out of hours services. 56.4% felt that the current political and media comment about general practice was having a negative influence on their career intentions. Those who were negatively affected by the media's portrayal of general practice were more likely to report their morale as low and this was exacerbating their disillusionment with general practice as a career. Professor Dale added:- "General practice is experiencing a growing crisis with the numbers of doctors who are training and then entering the profession in the UK failing to keep pace with workforce needs. With ever increasing workload in general practice, there is an urgent need to understand and where possible address these issues at national and local level."
---
The seasonal perks Liverpudlians want to help get them through a hot summer's day
THE Great British summer time can be unpredictable, but our early summer heat wave has led to questions around dress codes and working temperatures, with the majority of workers in Liverpool (84.1%) agreeing that businesses should offer a more relaxed dress code over the hotter months. That's according to CV Library, the UK's leading independent job board. The survey, which asked 1,100 workers about seasonal perks in their workplace, found that 41.9% of Liverpool's workers are allowed to adapt their wardrobe over the summer, with 18.2% stating that they receive summer perks such as more relaxed dress. That's despite 56.8% believing that all businesses should offer these as standard.

When asked what they currently receive, respondents in the City cited the following:-

► Leaving early on a Friday to enjoy the sun – 50%.
► Allowed to wear what we want – 49.8%.
► Free ice creams and chilled drinks – 25.1%.
► Being able to work outside – 25%.
► Summer social activities e.g drinks after work – 12.5%.

Lee Biggins, founder and managing director of CV-Library, comments:- "Britain's summer months can be a real struggle whatever level you're working at. It's hot 1 minute, raining the next, and all staff really want to be doing is jetting off somewhere exotic. It's no surprise then that our data found that many professionals in Liverpool are keen to receive seasonal perks, yet only a small percentage are. Now could be a great time to consider the extra perks that you can put in place to help keep workers motivated."

Furthermore, the study revealed that despite the majority (77.8%) enjoying air con over the warmer months, 27.9% offices in Liverpool go without it. This, along with the usual culprits (shorter working hours, ice creams, cold drinks etc.), all made the list of the most desirable summer perks. However, Liverpudlians were also asked to share what they'd most like to receive, if they could have any summer perk possible. Some of the top responses included:- 6 weeks off in line with school summer holidays, 3 day working weeks, free beers in the office and time off to watch sporting events such as the Euros. Biggins concludes:- "While it may not be feasible to give every team member 6 weeks off over the summer, or to provide staff with free beer, there are some basic and inexpensive perks you can offer to keep staff from feeling the heat. Air-con is a great way to keep the office cool and providing chilled refreshments can really help staff when the higher temperatures hit. Remember, these perks can also be a great way to attract talented new recruits as well as improve current staff retention rates. Whatever you choose, be sure to offer perks that reflect your company culture, to ensure you keep staff happy and cool during the summer months!"