Leading restaurant cooks up a massive donation to The Clatterbridge Cancer Charity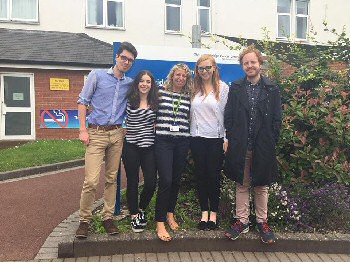 GENEROUS diners at one of Liverpool's top curry restaurants have donated ₤50,600 to The Clatterbridge Cancer Charity.
Mowgli Street Food, in Bold Street, introduced a discretionary ₤1 donation to all bills in January 2016 to help transform cancer care.
Not only have thousands of customers agreed to the donation, some have gone even further with their contribution when learning about the work of The Clatterbridge Cancer Centre NHS Foundation Trust.
Mowgli owner Nisha Katona is passionate about the relationship between her Bold Street eatery and the specialist treatment and Research Centre based in Wirral. And she praised staff at the hugely popular restaurant for helping collect the impressive amount for The Clatterbridge Cancer Centre.

TV chef Nisha, who regularly appears on ITV's Lorraine show and is the author of several cookbooks, said:- "Mowgli absolutely thrives on strong community, therefore we recognise that we should give our local community something more than just good food. Charity lies at the heart of our ethos and we are all honoured to support The Clatterbridge Cancer Centre. My Bold Street team have grown alongside the centre and it has really helped them understand how they contribute and make a difference through their own hard work."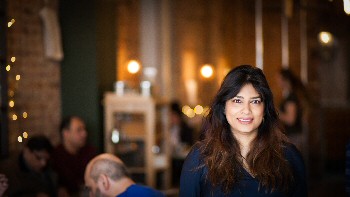 A group of staff recently visited the Hospital in Wirral to learn more about patient care and the cutting edge research taking place on new treatments.
Among them was Nick Blair, Business Development Coordinator. He said:- "The Clatterbridge Cancer Centre has become a massive part of our Mowgli Bold Street family. We believe strongly that charitable giving should be a central pillar of business. Our Bold Street team have regular site visits where they see for themselves the invaluable work done by everybody at the Centre. They grow alongside their much loved charitable sibling."

The Clatterbridge Cancer charity is currently working to raise ₤15 million towards the building of a new specialist Hospital in Liverpool City Centre and improvements to the Wirral site.
Christine Done, Capital Appeals Manager at The Clatterbridge Cancer Charity, said:- "We could not be more proud of the team at Mowgli, Bold Street, for all their efforts on our behalf. The staff have visited our Wirral site to see for themselves what a difference their partnership makes to the 27,000 individual patients we see each year. Every 1 of them is an ambassador for our charity and can speak from a position of knowledge having seen 1st hand what we do. It's a simple and effective way of fundraising and all the money raised will support the building of a brand new dedicated cancer Hospital in Liverpool; the City's 1st."
---
½ of older patients' families struggle to complain about poor care in Hospital
OLDER vulnerable people are often reliant on relatives to raise concerns when things go wrong in Hospital, yet 51% of family members with a concern say it is difficult to complain about the Hospital care or treatment of an older relative, according to a new survey.
The survey, published by Gransnet and the Parliamentary and Health Service Ombudsman, asked Gransnet members about their experiences of complaining to the NHS on behalf of an older relative in Hospital.

The Parliamentary and Health Service Ombudsman sees far fewer complaints from older people than would be expected given older people's high usage of NHS services.
A previous report by the Ombudsman Service has highlighted that many older people are afraid to raise the alarm when something goes wrong in their care and worry about what will happen to them if they do.

The survey of over 600 Gransnet members reveals that:- of those who were concerned about the treatment of their older relative, 58% complained; 67% of those who complained do not believe complaining makes a difference; 35% respondents said there were occasions where they were concerned about the care or treatment of their older relative in Hospital; and 31% felt that the Hospital staff did not have an adequate understanding of their older relative's condition or care needs.
The survey also reveals wider concerns about communication with older patients and their families:- 40% participants did not feel they were kept informed about their older relative's condition in Hospital and were not given enough opportunities to discuss their care and treatment; and 33% respondents felt they were not adequately involved in decisions about their older relative's care and treatment. Poor communication is a factor in around ⅛ of all complaints the Ombudsman service investigates about the NHS in England.

Rob Behrens, Parliamentary and Health Service Ombudsman, said:- "The NHS is a life line for many vulnerable older people, but when things go wrong, too many are suffering in silence. I want people to be confident to complain, know their rights, and speak up when things go wrong so that the NHS can learn from mistakes and improve services for others. NHS staff should make patients and their loved ones aware of how to complain, point them to available support, and make it absolutely clear that their future care will not be compromised."

Lara Crisp, Editor of Gransnet, said:- "Patients deserve better than this. While we appreciate that services are stretched, communication with patients and their families must be improved. They should feel that their concerns are taken seriously and addressed properly. It's simply not acceptable that over ½ of people with a concern feel they can't complain or that it won't make any difference if they do. Hospital staff need to be supported and enabled to communicate better with patients so that everyone is clear about the complaints procedure and patients are reassured that this will not affect their future care."

The types of issues respondents experienced included their older relative not being given enough help with their personal care needs, such as going to the bathroom and washing themselves, which affected 28%.
19% of those surveyed said that their older relative had not been treated with dignity and respect during their time in Hospital.