Liverpool Lottery Winner Lends Helping Hand at Baby Hospice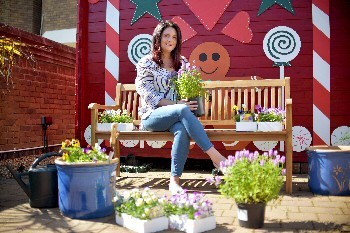 EUROMILLIONS winner, Emma Dunkley from Formby, is helping to create a new outdoor relaxation area for a local Baby Hospice. Emma, who scooped ₤6.5M in November 2009, spent the day at Zoe's Place Baby Hospice in West Derby, unveiling a new bench and planting autumn flowers.

Zoe's Place is very close to Emma's heart. In 2016 she joined other National Lottery winners and helped to build a giant Gingerbread playhouse for the children. She has also made numerous personal donations since her win. Emma said:- "Zoe's Place is a truly remarkable charity that does extraordinary things for young children and their families. Every time I visit, I am so overwhelmed by the work that they do. As a mother myself, nothing gives me greater joy than seeing children with a smile on their faces. I hope this new outdoor area will provide many happy moments both for the children and their families."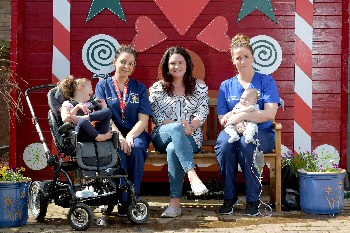 Zoe's Place Baby Hospice looks after children from birth to the age of 5 who have life limiting or life threatening conditions, providing them with palliative, respite and end of life care. Zoe's Place has received over ₤195,000 from the Big Lottery Fund to pay for 3 additional Nurses; all thanks to National Lottery players.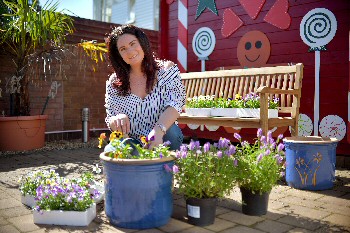 Carol Kirkham, Fundraising Manger at Zoe's Place said:- "As a charity, we rely solely on the generosity of others. We are so grateful to have had the support of Emma and The National Lottery over the last year in helping transform our outdoor space. We have many young children and families that use this area daily. It has become a great spot for them to spend quality together."

Zoe's Place is just one of thousands of projects in the North West to benefit from National Lottery funding. For more information on National Lottery funding please visit:- LotteryGoodCauses.Org.UK.

Level crossing safety roadshow has made its 1st stop at Southport Station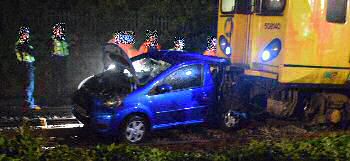 A level crossing safety roadshow was held at Southport Railway Station to heighten awareness of the risks posed by level crossings and to keep people safe. The event was hosted by Network Rail, with the support of Merseyrail, Merseytravel, British Transport Police and the Samaritans.

Sally Ralston, Corporate Social Responsibility Manager at Merseyrail, said:- "We want to keep as many people safe as possible; passengers as well as car drivers and remind them of the danger of level crossings. This is the 1st of a series of projects designed to promote safety at level crossings and we are hoping to work closely with local Schools on some further projects later in the year."

Nick Jordan, community safety manager from Network Rail, said:- "Friday was a great start to our level crossing safety roadshow. We were able to speak to hundreds of people at Southport station. Being distracted or rushing when using a level crossing can mean that people don't pay enough attention, which can put them at risk. These events are a great way to remind people how to stay safe on the railway. We look forward to working with our industry partners again in the future at similar events. We want to hold the events on busy days as this is such an important message and we want to reach as many people as possible."

The event took place on Friday, 18 August 2017, as part of a new campaign being rolled out across the Liverpool City Region.

How to use level crossings safely as a car driver:-

► Be prepared to stop at the crossing.

► Understand the warnings (lights, barriers, alarms). Download the document or view the interactive guide below.

► If the warnings activate, stop; unless it's unsafe to do so.

► Remain stationary until all the warnings stop.

► Check that our exit is clear before driving across.
---
HMRC reminds parents to update their children's details as exam results revealed
AS GCSE exam results are released in England, Wales and Northern Ireland, HM Revenue and Customs (HMRC) is reminding parents in the North West who receive 'Child Benefit' and 'Child Tax Credits' to inform them of their child's educational status ahead of 31 August 2017, otherwise payments will stop. Parents can use their Personal Tax Account (PTA) to update both their 'Child Benefit' and 'Child Tax Credit' information online in a matter of minutes; it's quick and easy, and more than 12 million customers have registered for the PTA so far. Parents must let HMRC know if any of their children are aged 16+ and continuing in full time education or are undertaking an apprenticeship. Alternatively, if a young person leaves education or training; for example to start full time work or because their course has ended; claimants must report this change straight away to prevent the build-up of overpayments which they will have to pay back.
Angela MacDonald, Director General of Customer Services, said:- "Congratulations to all students getting their results today. Once parents or guardians know what their child has decided to do it's really important they let us know as soon as possible, so they continue to get the right benefits and credits. This can be done quickly and simply using the Personal Tax Account, which is available 24 hours a day, 7 days a week. That means that parents can let us know their child's education status, at a time that suits them ahead of the 31 August 2017 deadline."