Patients benefit from pioneering hi tech home consultations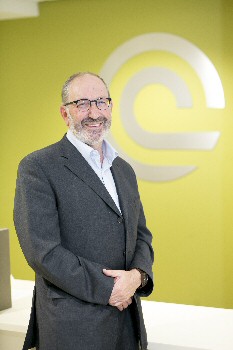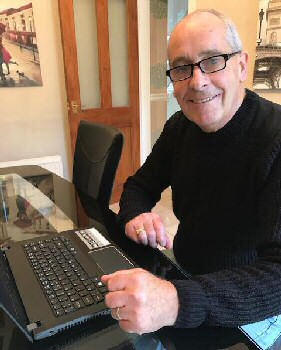 PEOPLE with cancer are benefitting from pioneering technology that allows them to take part in appointments from the comfort of their own home. The Telehealth Clinic is being used at:- The Clatterbridge Cancer Centre NHS Foundation Trust, in Merseyside, 1 of the UK's leading cancer centres. It has been piloted for almost a year by a small group of lung cancer patients who are able to have an appointment with their specialist Nurse via a video call.

Professor Michael Brada, Consultant in Clinical Oncology, helped to develop existing system iKonsult for use at the centre in Wirral. Prof Brada said:- "I have long been interested in making life easier for people who travel either short or long distances and then have to sit and wait in clinics, sometimes taking time off work or requiring their family to do so. This is a way of trying to make life easier for them. We want to deliver care that is close to patients and this is the ultimate way to do that."

Sarah Cubbin, Macmillan Lung Cancer Clinical Nurse Specialist, who uses the technology for appointments with patients, said:- "There are strict guidelines for who is allowed to take part and we have been very careful to ensure suitability. It isn't the right approach for everyone, some people actually want to attend face to face appointments. Others like the system as it allows them to keep in touch, ensure their needs are being met, but they can avoid travel and possible waiting times."
Patients are still required to attend the Centre, in Wirral, or 1 of its networked clinics, for scans and specialist clinic appointments with their consultant every 3 months. The group taking part all have a stable disease and are on nurse led treatment plans, taking oral treatments. They were given the choice of using the service or attending appointments in person. The format is the same as the traditional face to face consultation. Their condition is assessed, questions answered and a plan formulated to follow up on what is required. If the nurse is concerned about their appearance or any symptoms, they will refer them immediately to their nearest acute Hospital or make an appointment for them at:- The Clatterbridge Cancer Centre. If a prescription is required it is delivered by the:- 'Blood Bikes' service which operates at the Hospital. Security and confidentiality have been a big part of developing the system.
Terry Dickinson, from Fazakerley in Liverpool, has been having appointments via the Telehealth Clinic for 5 months. Terry, 66, who has lung cancer, said:- "This is saving me time, effort and money on travelling expenses. I used to travel to Clatterbridge twice a month, now it is twice every 3 months. I have blood tests at Hospital in Aintree which is local, the nurse has my results ready for the appointment and then my medication is delivered by the Blood Bikes. It is so easy. I was amazed on the very first call at how clear the picture was. I could have been in the same room at the nurse. This is definitely the way forward."
---
NHS Trust launches Big Book of Best Practice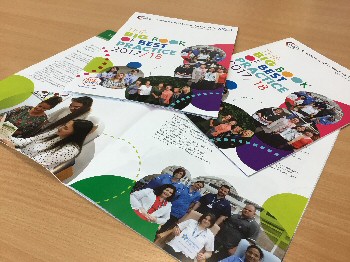 LOCAL Health Trust CWP has published a new book highlighting some of the organisation's finest work over the last year. The Big Book of Best Practice 2017/18; developed by staff, at Cheshire and Wirral Partnership NHS Foundation Trust (CWP); demonstrates examples of the trust's leading clinical practice that have achieved particularly positive outcomes for people accessing the trust's services, their carers and families. We are told that it aims not only to celebrate the work of CWP staff, but also to encourage the sharing of innovative ideas across different teams and organisations to help improve health and wellbeing for the wider region. The book, which is CWP's 5th annual publication, was launched at a recent exhibition event, at Macclesfield Town Hall, which saw over 200 patients, staff, partners and members of the public come together to share:- 'what good looks like' in healthcare.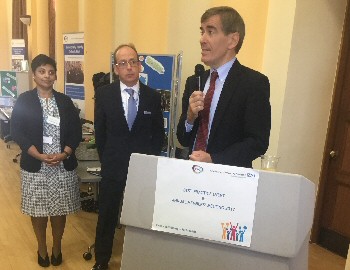 Dr Anushta Sivananthan, CWP Medical Director, said:- "Our staff have wholeheartedly embraced the values that the Big Book of Best Practice represents. Sharing good practice and learning from experience is a huge part of our culture at CWP. The book is one of our highlights of the year that showcases continuous quality improvement of services. I'd recommend anyone interested in how we can further improve care for the people we serve to read it and see the inspiring work of our staff and people who access our services. Our launch event this year in Macclesfield was another huge success and I'd like to thank all staff, partners, families and carers who made it such a wonderful day."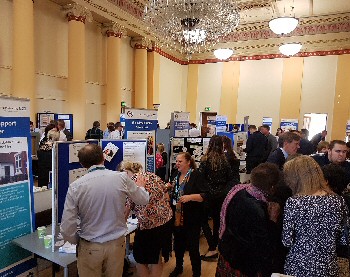 To help kick off the Big Book's launch event, CWP were joined by local MP David Rutley. Mr Rutley said:- "It was an honour to open this year's CWP Best Practice Showcase and to learn more about the wide range of important services the organisation offers. There were impressive case studies that showed how CWP staff are working hard to provide high quality mental health care. I look forward to continuing to work with CWP in the months ahead, to help respond to these important health challenges in our community."

CWP's Big Book of Best Practice is inspired by the Trust's Zero Harm campaign. Zero Harm's key message is:- 'Stop. Think. Listen', which involves supporting everyone to deliver the best care possible, as safely as possible to reduce avoidable harm. CWP delivers mental health, substance misuse, learning disability and community physical health services to the people of Cheshire, Wirral and wider region. You can read the Trust's Big Book of Best Practice 2017/18 online.

1st volunteers start helping Nursery children become ready to read on Merseyside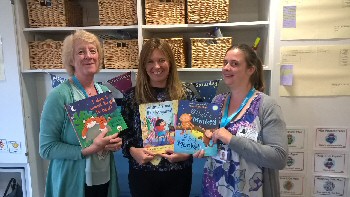 INTERNATIONAL superstar and philanthropist Dolly Parton has released a new film to encourage more people to get involved with:- 'Story Starters;' a new volunteer led programme that provides 1 to 1 language and communication support to early years' children. The programme has recently been launched in Merseyside and has its 1st 'Story Starter' volunteers placed in local settings to help ensure that children have the skills to start Primary School ready to read. 'Story Starters' is a new collaborative project between national children's literacy charity Beanstalk, Dolly Parton's Imagination Library and LuCid (The ESRC International Centre for Language and Communicative Development) which aims to give children the support they need to develop their language and reading skills. Research has shown that children who benefit from high quality support in their early years start School on average three months ahead in their literacy and language skills, compared with children who don't. The programme has been made possible by players of People's Postcode Lottery, whose 'Dream Fund' chose 'Story Starters' to receive ₤1 million in funding in January 2017. The 1st setting to join the programme on Merseyside and to receive its trained 'Story Starter' volunteer is Northway Primary in Wavertree. Natalie Kent, Early Years Lead at Northway Primary in Liverpool, says:- "We have welcomed the 'Story Starters' project into our School with open arms. Our children and their families are delighted to be receiving books each month from the Dolly Parton Imagination Library. This will certainly promote a love of reading and books."

Joanne Tait is the 1st Story Starter volunteer to be placed on Merseyside:- "I am thrilled to be the 1st Story Starter volunteer in Liverpool and to get started in Northway Primary. I am really excited to have the opportunity to help the Nursery children get into the world of books."

'Story Starter' volunteers will visit children twice a week and support three children for 20 minutes each. The sessions are fun, interactive and hugely beneficial to the children receiving extra support. Dolly Parton's Imagination Library will provide every 'Story Starter' child with:- high quality, professionally selected, age appropriate books. These books will be sent directly to both the early years setting and the home of each 'Story Starter' child, ensuring that they can enjoy the magic of stories at home as well as when they are with their 'Story Starter.' Sue Warren, Beanstalk Team Leader for Merseyside, says:- "Beanstalk is excited to be working with our partners and local Nurseries across Merseyside on our new programme 'Story Starters.' We know how important it is for children in the early years of their education to receive support with their language development, as this enables them to start Primary School ready to read and able to thrive throughout their lives. We have already recruited a marvellous group of volunteers, who are really committed to providing top class support in Schools across Merseyside, and are looking for many more to come on board. So if you think you can help and become Story Starter, please get in touch with Beanstalk!"

Kirsteen Watson, UK Regional Director, says:- "The Dollywood Foundation UK has thoroughly enjoyed being part of this exciting new partnership, with a great mix of different professional backgrounds all adding to the development of 'Story Starters.' Most refreshing of all is the pragmatic approach of all partners who are each willing to roll up their sleeves and just give it a go! Ultimately, we're working together to give children the gift of reading for pleasure. We know that our monthly book deliveries get children excited about books from a young age and with volunteers helping children alongside their parents/carers at home, this will help boost children's language development even more. We're looking forward to the next chapter of this story."

Find out more about becoming a Story Starter volunteer, visit their website today....!
---

Sound City 2018 Artist Applications Now Open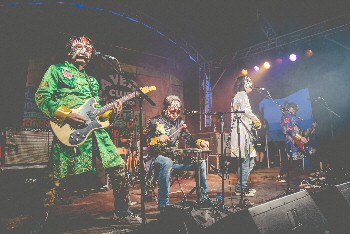 ARTISTS can now apply to play at Sound City 2018, which will take place, from 4 May to 6 May 2018, in the heart of Liverpool. Voted the UK's best metropolitan festival and best festival for emerging talent at the UK Festival Awards, Sound City combines two days of incredible live music and arts with a 1 day music and digital industry conference. The event has grown over the past 20 years into one of the most important events on the music calendar attended by 20,000 music fans and industry players. Thousands of artists apply to play the festival every year and the Sound City team listens to each and every application to unearth the best new music.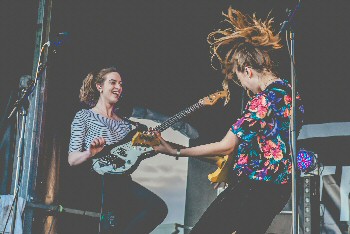 With almost, 7,000 bands having applied to play at Sound City 2017, next year will see a panel of acclaimed regional, national and international curators bolster the selection process, including:- Domino, Heavenly, Hospital Records, Moshi Moshi, Sentric, Sire Records, Silver Hayes and many more. Past apply to play applicants have included:- Catfish and The Bottlemen, Grimes, Ed Sheeran, Dan Croll, Eliza And The Bear, Christine and The Queens and many more.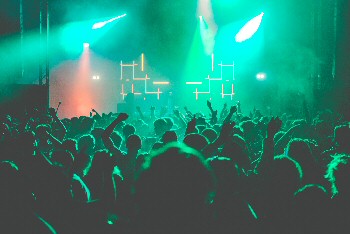 The artist application process is completely free of charge and is open until midnight on Friday, 19 January 2018. Artist applications for Sound City 2018 are through Gigmit:- https://goo.gl/8mmhAx.