Charity launches free 'Write a Will Month'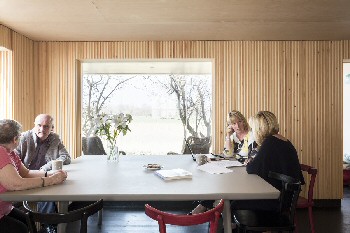 PEOPLE across Merseyside are invited to write or update their will for no fee this November as part of Maggie's Centres 'Write a Will Month.' Maggie's, the charity that provides free practical, emotional and social support for people with cancer and their family and friends, is partnering with local Solicitors who will waive their will writing fee this November, including:- Kirwan's and McClure Solicitors. Instead clients will be able to write or update their will for free by making a donation to one of the Maggie's Centres. Wills can cost anything up to ₤150 for a basic will, and Maggie's Centres receives up to ₤1,000,000 from gifts left in wills each year.

Kathy Wright, Centre Head at Maggie's Merseyside, said:- "We're really pleased to be offering will writing in our Centre free of charge, with any donations that people choose to make being very gratefully received. Our Centre is warm and welcoming and a relaxed setting to speak to 1 of our great partner Solicitors about estate planning. Maggie's Merseyside is completely funded by donations, fundraising and gifts in wills, so schemes like this are so important to enable us to provide vital support to people affected by cancer in Merseyside."

Appointments are available at the Centre, located next to Clatterbridge Cancer Centre, on the following days:-
► Friday, 3 November 2017 - AM.
► Tuesday, 14 November 2017 - all day.
► Friday, 17 November 2017 - AM.
► Tuesday, 19 December 2017 - all day.

Home visits and appointments at our partner's offices are also available. To find out more or to book an appointment call:- 0151 334 4301 or send them an email. Maggie's relies on voluntary donations to support and grow its network of Centres and to develop its unique, high quality programme of support. The charity's aim is to make the biggest difference possible to people living with cancer and their family and friends. To find out more about Maggie's Merseyside and the programme of support the Centre offers or to get involved with fundraising online.
---
Parks and green spaces contract set to be taken over by Council company
THE contract to maintain Liverpool's parks and green spaces is set to be handed to the Council owned company which operates the refuse, recycling and street cleansing service. A report to the Cabinet, on Friday, 27 October 2017, recommend that Liverpool Street Scene Services Limited; a wholly owned Local Authority Trading Company (LATco); takes over the ₤6.8 million annual parks and grounds maintenance arrangement.
The work includes:- the development, management and maintenance of parks, trees, playgrounds, outdoor sports and leisure facilities, cemeteries, crematoria gardens and playgrounds. The contract is currently run by a joint venture between the City Council and Glendale, Glendale Liverpool Ltd. which is due to end in October 2018. It is estimated that the proposed 10 year deal could save up to ₤7 million by doing away with management fees, integrating management and supervisory functions and making efficiencies on the purchase and hire of equipment.
Following a soft market testing exercise, the City Council has decided against holding a competitive tender process, because it is not believed it would deliver a better or timelier outcome. This is allowed under a rule known as the 'Teckal Exemption,' which enables public authorities to enter into service contracts with wholly owned companies without going out to the market.

Councillor Steve Munby, Cabinet member for City Services, said:- "We've taken a long hard look at whether we should go out to tender on this, but believe that that the time and cost of doing so would wipe out any efficiency savings and not deliver anything better. Liverpool Street Scene Services Limited has already delivered efficiency savings in in refuse, recycling and street cleansing and because it is owned by the Council and not shareholders we are able to reinvest the cash and make our money go further, such as by clearing fly tipping or increasing street cleansing. We believe we can do the same with the grounds maintenance contract, and deliver efficiencies ourselves better than the private sector could do. We already face finding huge savings across the Council in the next few years due to reductions in Government funding, so it is vital we make the most of every single penny that we have."

A separate report to the Cabinet is recommending that the City Council extends its existing contracts with Liverpool Street Scene Services Limited for refuse, recycling and street cleansing to 10 years. It follows improvements in refuse and recycling such as:- Bank Holiday working, increased productivity due to the introduction of new vehicles and a rise in recycling rates. Street cleansing has seen similar improvements, including new working patterns which have increased peak time working along with additional cleansing in the City Centre and a drop in staff absenteeism. The extended contract will see the implementation of 7 day working across the City and investment in vehicles, infrastructure and premises.

Students show talent for construction in Gleeds challenge
STUDENTS from Holly Lodge Girls College in Liverpool got the chance to see what life in the construction industry is really like when a team from the building consultancy responsible for the Olympic Stadium, Pinewood film studios and Daytona Speedway joined them in the classroom this week.

Property and construction consultancy Gleeds, teamed up with educational charity The Transformation Trust, to organise a curriculum aligned challenge which saw 63 students aged 11 to 14 take part in a specially devised workshop. The participants were split into groups of five and spent the day planning every aspect of a hypothetical construction project at Windsor Castle.

The initiative has been mirrored in Secondary Schools across the country as part of the business' annual Global Challenge volunteering event. In 2017, staff from across its 68 offices, worldwide, will be donating a total of 7500 hours; the equivalent of over 3 working years; of their time in a bid to inspire the next generation of construction professionals.

The best entries from the 64 UK workshops will now be put forward into a national final, with winners selected by a top panel including:- Gleeds Chairman, Richard Steer and Partner at Make Architects, Ken Shuttleworth, with the successful team winning a tour around Windsor Castle.

Lord Andrew Stunell, the peer heading up a review of challenges faced by the construction industry post Brexit, has lent his support to the programme, saying:- "To meet the current skills shortage the UK construction sector must recruit 1 person every 77 2nds until the year 2021. If we are even going to come close to that we first need to engage with young people and I think this is a really fantastic way of showing off everything construction has to offer."

Chris Seddon, director of Gleeds in Liverpool went on to say:- "Our industry is facing a huge challenge in terms of recruiting new staff and it is up to us to try and change the misinformed perceptions, encouraging the next generation to take up Careers in our industry. Having seen the imagination, creativity and raw talent on display during our workshop I am confident that this year's Global Challenge can inspire students everywhere to look at construction in a new light."
---
Cost of childcare has risen more than 4 times faster than wages in North West
THE cost of childcare for young children has risen 4.3 times faster than wages in the North West since 2008, according to new analysis published by the TUC. The analysis reveals that in the North West the average wages of those with a 1 year old child rose by 11% in cash terms; although pay is still falling in real terms; between 2008 and 2016. However, over the same period, childcare costs shot up by 47%. London; where childcare has risen 7.4 times more quickly than pay; has seen the biggest increase in childcare costs compared to wages, followed by the East Midlands (7 times), and the West Midlands (4.8 times). The average increase across England is 4 times. While there is Government support for childcare for children aged 2 and older, most working parents with 1 year olds do not get any state help with childcare costs. And as around 950,000 working parents across the UK have a child aged 1, these rising costs have huge implications for family budgets, warns the TUC, as parents are spending an increasing portion of their pay on childcare.

In the North West:-

► A single parent working full time, with a 1 year old in Nursery for 21 hours a week (21 hours is the median amount of childcare used per week for Pre-School age children) spent 23% of their wages on childcare in 2016, up from 15% in 2008.
► 1 parent working full time and 1 parent working part time, with a 1 year old in Nursery for 21 hours a week, spent 15% of their salary on childcare in 2016, up from 10% in 2008.
► 1 parents working full time with a 1 year old, in Nursery for 21 hours a week, spent 12% of their wages, on childcare in 2016, up from 7% in 2008.
The analysis also shows pressure is even greater on parents working full time, especially single parents. A single mum or dad in the North West with a young child in Nursery for 40 hours a week would need to spend 45% of their pay on childcare; showing how difficult it is to balance work and family life without working fewer hours or getting support from friends and family.

TUC Regional Secretary Lynn Collins said:- "The cost of childcare is spiralling, but wages aren't keeping pace. Parents are spending more and more of their salaries on childcare, and the picture is even worse for single parents. Nearly a million working parents with 1 year old kids have eye watering childcare bills. There is a real gap in childcare support for 1 year olds until Government assistance kicks in at age 2. Parents need subsidised, affordable childcare from as soon as maternity leave finishes to enable them to continue working, and so mums don't continue to have to make that choice between having a family and a career."

To address this increasing pressure on working families, the TUC would like to see:-

► Universal free childcare from the end of maternity leave. This would help single parents and families; especially younger mums and dads with less seniority and lower pay; to stay in work and progress their Careers after having children.
► More Government funding for local authorities to provide Nurseries and child care.
► A greater role for employers in funding childcare. Either through direct subsidy to employees or the provision of on site childcare facilities.