Lancashire Care wins College of Mental Health Pharmacy Award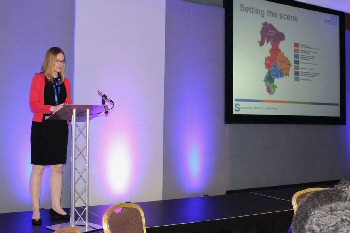 LANCASHIRE Care NHS Foundation Trust's Pharmacy Team won the oral presentation award for their newly developed Virtual Learning Environment (VLE), at the international College of Mental Health Pharmacy (CMHP) Conference. The Trust's Pharmacy Team received the oral presentation award at the 8th international CMHP Conference for their work in developing an in house virtual learning community for mental health pharmacists enabling them to share knowledge in order to improve care. The team recognised that pharmacists working in isolation had limited opportunity to exchange knowledge and ideas and decided to develop the programme to enable senior pharmacists to share their knowledge with junior pharmacists. Regular face to face sessions were not a feasible option and therefore an online Virtual Learning Environment (VLE) was developed using free open source Moodle© software. The tool provides staff with the ability to take part in peer to peer learning, collaborative tasks and discussion forums and allow access to formative feedback from senior peers. Lisa Ainsworth, Medicines Management Education and Training Lead at Lancashire Care NHS Foundation Trust said:- "It was an honour to be chosen to speak at such a prestigious event and share the innovative work the Pharmacy team has been involved in. I was delighted to win best oral presentation as the calibre of the other presentations was very high. The creation of the Virtual Learning Environment has allowed for the sharing of clinical expertise within the team which ultimately leads to improved patient care and experience for those accessing our services."

The 2017 event, that took place at The Midland Hotel, in Manchester, theme was 'A Wider Perspective' and looked at how mental health can be affected by outside influences such as physical health.
---
Disturbance on the pitch during Everton and Lyon at Goodison Park
MERSEYSIDE Police have confirmed that Officers from the Force are now investigating following a disturbance, on the pitch, during a football match between Everton and Lyon at Goodison Park, on Thursday, 19 October 2017. Merseyside Police Detectives will be reviewing footage and speaking to witnesses to establish what, if any, offenses have been committed. Anyone with information which could assist the investigation is asked to contact Merseyside Police, on:- 0151 777 4065 or Crimestoppers anonymously, on:- 0800 555 111.
---
Wirral Council wins road safety honour at National Transport Awards
WIRRAL was among the winners at the prestigious National Transport awards, with the Councils:- 'Mind Your Business' scheme coming out on top in the:- 'Road Safety' category. Judges were looking for initiatives designed to reduce casualties and congestion on our roads and the entry fought off stiff competition from across the UK. The 'Mind Your Business' initiative was launched 3 years ago to remind company bosses of their responsibilities and duty of care to employees who drive as part of their work. Cllr Stuart Whittingham, Cabinet member for Highways and Transport said:- "Our Road Safety team has worked tirelessly to improve road safety in Wirral and this award is testament to that. 'The Mind your Business' initiative has gone from strength to strength and I am really pleased that our forward thinking and innovative team is now being recognised at a national level."

Wirral Council's Road Safety Team invite representatives from local businesses to attend an annual conference to discuss issues and concerns about road safety. Business leaders also attended a 'mock trial' to demonstrate the potential consequences for a company if 1 of their drivers is involved in a collision. To find out more about the 'Mind Your Business' initiative visit their website. Alternatively, you can also send them an email to:- roadsafety@wirral.gov.uk or ring Paul Leatherbarrow from Wirral Council's Road Safety Team, on:- 0151 606 2397.
---
4 Merseyside Police Officers heading to British Virgin Islands to help with Relief Efforts
MERSEYSIDE Police Officers have flown to the British Virgin Islands (BVI) as part of the international relief effort following the devastation left by Hurricane Irma. More than 120 people were killed when Hurricane Irma hit the Caribbean in August and thousands of people have been left homeless and without basics such as food and clean water. We are told that 4 Merseyside Police Officers; 2 Constables, a Sergeant and a Chief Inspector; will form part of a North West contingent of Police Officers who are the latest to fly out and assist on the hurricane hit islands. The 4 departed on Friday, 20 October 2017, from RAF Brize Norton, in co-operation with the Ministry of Defence. Whilst there they will work with the Local Police Force to maintain law and order, as well as helping to find missing people including British Nationals. All the officers have volunteered their own time and will work up to 12 hour shifts for up to 4 weeks. Deputy Chief Constable Carl Foulkes said:- "Nobody could fail to be moved by the images of the devastation left after Hurricane Irma hit the Caribbean, 2 months ago and the people who were left homeless and destitute. Our Officers have volunteered to give up their own time to fly out to the British Virgin Islands to offer their help and share their invaluable experience as Police Officers. Whilst there they will be supporting the BVI Police and Military colleagues in returning stability to the islands and provide reassurance and support to those who have been directly affected. I have no doubt that they will have to face some difficult and challenging circumstances, but I am confident that they will bring a wealth of experience and professionalism to the task in the weeks ahead."

OMD phone box - connection restored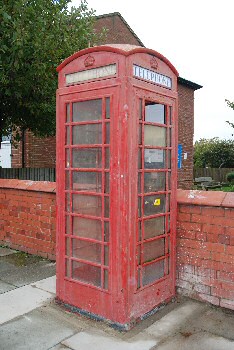 AN old red telephone box that had become synonymous with Wirral chart toppers, OMD, is now back on the street thanks to a campaign led by fans. The telephone kiosk on Greenwood Road, Meols, is beloved by OMD fans as it is the subject of the band's 2nd single release:- "Red Frame/White Light" in 1980. The band used to make calls to organise their early gigs in the late 1970's and the number of the telephone:- 632 3003, is a key feature of the song lyrics. The telephone box was removed earlier this year as part of BT's payphone removal programme, with no objections having been received as part of the public consultation process towards the end of 2016. However, once fans realised that the kiosk had been removed, they quickly organised themselves into a campaign group to call for its reinstatement, if not as a public telephone, as a kind of tourist attraction for OMD fans, from near and far, who regularly visited the site as part of their travels. Their lobbying quickly drew support within Wirral Council and particularly from the Cabinet member for Transport and Infrastructure, Cllr Stuart Whittingham. Officers from within the council's highways team and Wirral West Constituency Committee liaised with colleagues from BT and the box was secured and placed into quarantine while arrangements for its recovery were put in place. The campaigners originally named themselves:- 'Save 632 3003,' but have now become the:- 'Friends of 632 3003' and as a properly constituted:- 'Friends' group have committed to maintenance and management of the telephone box, now it is back in place. 1 of their 1st tasks will be to give the kiosk a lick of paint, in that famous 'currant red' colour, with a supply of paint provided free of charge by BT.

Steph McCahill, Chairperson of the Friends of 632 3003 said:- "Seeing the phone box returned and installed today is a significant milestone in the work of the Friends of 632 group who campaigned hard to get it back into its rightful place. The OMD fans have been with us every step of the way and, like the Friends Group, are ecstatic about the box being reinstalled. Many overseas fans will be visiting the phone box when they are in the area for the OMD gig, that takes place on 29 October 2017."

Cllr Stuart Whittingham added:- "We're just really happy to have been able to play a part in rescuing this significant local landmark before it was lost forever. It has been an unusual thing to have been part of; both BT and the Council followed the correct process in managing the proposed phone box removals and indeed some of the 26 planned removals were refused after public objections. But in the case of 632 3003, its cultural status is unofficial and the objections didn't come until later. The important thing was we acted quickly and decisively and, having made suitable arrangements with the new Friends group, we have been able to work together to find a way of satisfying all parties."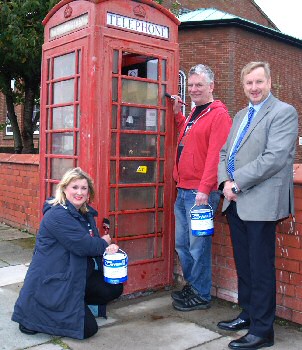 Mark Johnson, BT payphone manager, said:- "We're pleased that we've been able to work with Wirral Council to reinstate this phone box that has captured the hearts of OMD fans across the world, and that the Council are adopting it to keep a piece of local pop music history alive."

Andy McCluskey from the band also welcomed the return of the telephone box, saying:- "The old telephone box at the corner of Greenwood Road was our communication centre to the rest of the world in the very early days of the band when neither Paul Humphreys nor I lived in houses that had a telephone. It had a nostalgic connection for both of us as we needed it to call School friends and girlfriends and seemed an appropriate subject for a song by a band that specialises in the interaction of humans and machines. Using 632 3003 we arranged concerts, phoned music newspapers and kept in contact with our manager and record label. It was here that I heard the news that we had our 1st Top 20 single. I was sad to see it removed, but frankly amazed at the level of support that the 'Friends' gathered in having it reinstated. Many thanks to all who have taken part in preserving this small piece of our history. I am delighted to see it back because I am still playing music and touring 40 years after our 'little red office' started us on the journey!"

The Friends Group are now focusing their efforts on getting the box refurbished and will be organising fundraising events to help them with the upkeep of the phone box, such as an 80's disco, to be held on 24 November 2017, at Melrose Hall, Hoylake.

Tickets for this event can be purchased by contacting the team at 'Friends of 632 3003' on Facebook and more information can be found on the group's Twitter account.