Stay safely dressed this Halloween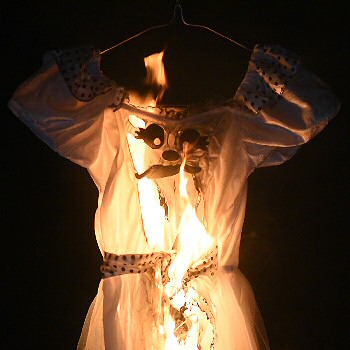 MERSEYSIDE Fire and Rescue Service is urging families to think safe this Halloween and be alert to the fire risks from wearing Halloween costumes. Wearing a Halloween costume is great fun but remember the outfit you have on could easily catch fire from naked flames you may be near such as candles, fires, lighters and matches. This is especially important with fancy dress costumes as many are currently not manufactured to the same safety standards as normal clothing. This can cause them to ignite almost instantly and burn far faster. It is crucial therefore to make sure children wearing Halloween costumes are kept well away from naked flames and other sources of heat at all times. If you are using Halloween pumpkins you should take extra care in lighting them and ensure that no loose clothing is near them at any time, particularly when they are being moved or carried. If you are putting up Halloween decorations make sure they are placed well away from naked flames or heat sources. Also make sure that children are never left alone with candles and if using an open fire during Halloween festivities always use a fire guard. If at all possible always make sure you use an LED battery operated tea light, which do not have a live flame, as opposed to normal tea lights and candles.

Station Manager Paul Kay, Arson Reduction Co-ordinator for Merseyside Fire and Rescue Service said:- "Merseyside Fire and Rescue Service would like everyone to enjoy Halloween and Bonfire Night as safely as possible. We urge people to be careful of how they dress on Halloween; some costumes bought in shops can be flammable so labels should be checked to see how fire resistant the costumes are. Costumes should not be used to genuinely frighten people, particularly those who may be elderly and vulnerable... Keep clear of all flames such as candles and lit pumpkins, which could cause burns or costumes to catch fire. Ideally, use battery operated lights in pumpkins instead of candles. Never leave children alone with lit candles and make sure they are extinguished before leaving the room. If clothing does catch fire remember to STOP, DROP and ROLL; STOP where you are, do not run. DROP to the ground and lie down flat. ROLL over and over on the ground until the flames are out. Fireworks should be enjoyed at organised events as they provide safe, controlled displays in places that are suitable. We would encourage people to take advantage of organised events rather than risking the safety of themselves, their family and friends by using fireworks at home."

For fire safety advice for Halloween call Merseyside and Rescue Service on:- 0800 731 5958. It is outside office hours, please leave a message with your details and a contact number:- 0800 731 5958.

Hairlucinations is a winner in the National Apprenticeship Awards 2017
Photograph with thanks to Gavin Trafford.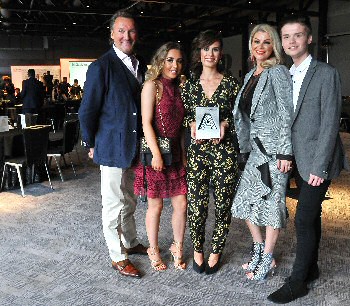 THE awards took place at the prestigious and spectacular Titanic Hotel, situated at the Stanley Dock, part of Liverpool's World Heritage site. Hairlucinations was one of the winners at the North West Regional final of the National Apprenticeship Awards 2017 and was announced the winner of the small employees category 1 to 24.

The awards, now in their 14th year, are run by the National Apprenticeship Service and recognise excellence in 2 areas:-

A) Businesses that grow their own talent with apprentices

B) Apprentices who have made a significant contribution to their workplace.

On being announced as winner, Barry Cochrane MD said:- "Hairlucinations is 1 of the longest standing tenants in the New Strand Shopping Centre near Liverpool City Centre, having opened our doors in the early 1970's. As a local salon with a team of talented and enthusiastic stylist we are, and always have been, totally committed to taking apprentices through our doors. I have team members that have been with me for over 25 years who themselves went through the process of joining our ranks as an apprentice at Hairlucinations. This I find helps us to integrate each intake of new apprentices as we have working examples of those that know what it takes to go to the next level of hairdressing. Winning The 2017 National Apprenticeship Awards Area Final has meant recognition after 48 years of creating world class hairdressers within our region. This puts us alongside the biggest apprenticeship providers in the country. We offer careers not jobs and this proves even small businesses can deliver award winning training."

Hairlucinations won the award in recognition of the contribution to producing continuous outstanding support and training for all of the apprentices they employ. This in conjunction with Micheal John Training Academy Liverpool has been a winning formula for many years. Sue Husband, Director of the National Apprenticeship Service, said:- "The National Apprenticeship Awards allow talented apprentices and committed employers from across our regions to receive well-deserved recognition for their apprenticeship achievements. Winners recognised at these awards show the range of sectors and variety of job roles apprenticeships are available in, and how they can deliver the skills employers need. I congratulate all winners on their success so far and the very best of luck in the next stage of the competition."

To find out more about the benefits of apprenticeships click on here now...