Brexit no deal is relegation from Premier League to 3rd Division - EU Trade Chair Karim
TRADE Chief MEP, Sajjad Karim, on 20 October 2017, has challenged the Brexit no deal advocates saying they effectively want to relegate the UK to 3rd division status. The comments by Mr Karim; who Chairs the International Trade Committee's Monitoring Group for South Asia within the European Parliament; echo a leaked treasury report that emphasizes the high risk to Britain's economy if it was to exit the EU without a deal. The document states that all the countries that have a free trade agreement with the EU or preferential access as a developing country would have better access to the single market than the UK. This would mean that Britain would have less access to the single market than countries, such as Pakistan, Sri Lanka or Bangladesh. Pakistan's trade status; which was delivered as a British Government initiative under David Cameron; with the EU, the Generalised System of Preferences (GSP+), allows originating products to be imported into the EU at a reduced or zero rate of duty. The scheme helps developing countries manage the new responsibilities that come from ratifying and implementing 27 core international conventions on human and labour rights, environmental protection and good governance.
Speaking in Brussels, Mr Karim said:- "There is great irony in the situation we find ourselves in where the countries we, the UK, have helped gain greater access to the EU could now end up having better access than us. The UK has always been the best friend for Commonwealth countries in terms of pursuing their EU interests, but without a deal, we would leave ourselves with less access than many of those countries who we used to advocate for in the EU. The EU is the largest trading partner of virtually every non-EU Commonwealth country we willingly supported at an EU level. Naturally, they will have to drift towards the remaining EU27 countries to protect their interests and this will have a detrimental effect on our bilateral relations with such Commonwealth countries also. Why then would we put ourselves in this situation? We cannot allow the no deal preachers to effectively relegate the UK from the top tier of trade to the lowest league. It simply should not be an option."

Did you know that:- Mr Karim was instrumental in Pakistan gaining its coveted GSP+ trade status and in 2015 was awarded the Sitara-i-Qaid-i-Azam; the highest national honour to non-Pakistanis for services that have helped the country; joining ranks with the British Queen and Nelson Mandela.
---
Cost of childcare has risen more than 4 times faster than wages in North West
THE cost of childcare for young children has risen 4.3 times faster than wages in the North West since 2008, according to new analysis published by the TUC. The analysis reveals that in the North West the average wages of those with a 1 year old child rose by 11% in cash terms; although pay is still falling in real terms; between 2008 and 2016. However, over the same period, childcare costs shot up by 47%. London; where childcare has risen 7.4 times more quickly than pay; has seen the biggest increase in childcare costs compared to wages, followed by the East Midlands (7 times), and the West Midlands (4.8 times). The average increase across England is 4 times. While there is Government support for childcare for children aged 2 and older, most working parents with 1 year olds do not get any state help with childcare costs. And as around 950,000 working parents across the UK have a child aged 1, these rising costs have huge implications for family budgets, warns the TUC, as parents are spending an increasing portion of their pay on childcare.

In the North West:-

► A single parent working full time, with a 1 year old in Nursery for 21 hours a week (21 hours is the median amount of childcare used per week for Pre-School age children) spent 23% of their wages on childcare in 2016, up from 15% in 2008.
► 1 parent working full time and 1 parent working part time, with a 1 year old in Nursery for 21 hours a week, spent 15% of their salary on childcare in 2016, up from 10% in 2008.
► 1 parents working full time with a 1 year old, in Nursery for 21 hours a week, spent 12% of their wages, on childcare in 2016, up from 7% in 2008.
The analysis also shows pressure is even greater on parents working full time, especially single parents. A single mum or dad in the North West with a young child in Nursery for 40 hours a week would need to spend 45% of their pay on childcare; showing how difficult it is to balance work and family life without working fewer hours or getting support from friends and family.

TUC Regional Secretary Lynn Collins said:- "The cost of childcare is spiralling, but wages aren't keeping pace. Parents are spending more and more of their salaries on childcare, and the picture is even worse for single parents. Nearly a million working parents with 1 year old kids have eye watering childcare bills. There is a real gap in childcare support for 1 year olds until Government assistance kicks in at age 2. Parents need subsidised, affordable childcare from as soon as maternity leave finishes to enable them to continue working, and so mums don't continue to have to make that choice between having a family and a career."

To address this increasing pressure on working families, the TUC would like to see:-

► Universal free childcare from the end of maternity leave. This would help single parents and families; especially younger mums and dads with less seniority and lower pay; to stay in work and progress their Careers after having children.
► More Government funding for local authorities to provide Nurseries and child care.
► A greater role for employers in funding childcare. Either through direct subsidy to employees or the provision of on site childcare facilities.

New developments for Walrus smartcard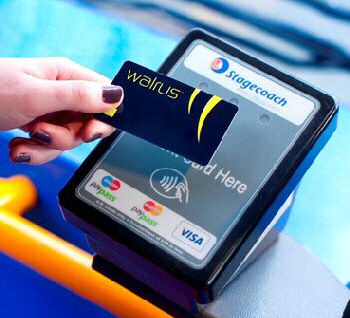 FROM 30 October 2017, people who use the bus frequently, but not often enough to make it worth buying a season ticket, will be able to buy 'bundles' of 1 day Adult (19 years and over) Solo tickets, which can be used to make unlimited journeys on any bus across Merseyside, at any time of day.

Following the successful launch earlier this year of the One Day Adult Solo ticket, the ability to buy tickets in advance for 1, 3 or 5 days will now make ticket buying more convenient. The tickets will be accepted by all bus operators across Merseyside and each valid day ticket can be used for a whole days travel, so long as it is within a 12 month period of when the last ticket was sold. They can be loaded onto a Walrus card from PayPoint stores and Merseytravel Centres.

Cllr Liam Robinson, Chair of the Liverpool City Region Combined Authority Transport Committee which oversees the work of Merseytravel said:- "We are continually looking to develop our smart ticketing offer, working with operators most notably through the Liverpool City Region Bus Alliance, to ensure that tickets best suit the journeys people want to make, offering choice, value and simplicity. As well as Merseytravel tickets, some operator tickets can now be bought on Walrus too, making Walrus the chosen smart ticketing scheme for the Liverpool City Region. We've made significant progress since 2014, with 2.5m smart tickets sold, but we've still got more to do. We are working to introduce the ability to purchase tickets online as well as ensuring we're plugged in to wider smart ticketing developments being taken forward through Transport for the North."

Since 2015, just over 500,000 Walrus smartcards have been issued free of charge to customers by Merseytravel. However, it was always intended that once the scheme was established an activation fee would be implemented for any new cards to cover production and distribution charges. The ₤1 fee will be introduced, on 30 October 2017, so passengers are encouraged to keep hold of their existing Walrus cards and reuse them each time they buy smart travel tickets.

For further details about the range of ticketing options visit:- Merseytravel.Gov.UK/Tickets.
---
Sight risk warning over Halloween contact lenses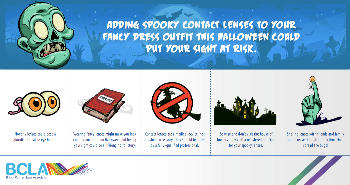 PEOPLE are being warned not to play "Russian roulette" with their vision by "changing it" with Halloween themed contact lenses.
The alert comes in response to a growing trend of people buying these novelty items from market stalls or over the internet, potentially putting their eye health at risk.
The British Contact Lens Association (BCLA) has advised that people should speak to their registered practitioner if they want to add 'spooky' contact lenses to your fancy dress outfit.

BCLA President Keith Tempany said:- "Wearing fancy lenses might make you look cool for 1 night on Halloween, but losing your sight could be a lifelong horror story. Cosmetic colored lenses are a medical device and should be prescribed by an eye care professional. These lenses should only be purchased from and fitted by, a registered practitioner. By sharing colored contact lenses young people are playing Russian roulette and changing it with their eye health and putting their sight at risk."

The lenses, which alter eye colour and have been made popular by smash hit TV series and films, like Twilight, are often shared around amongst friends, and this increases the risk of corneal ulcers and infections.
The campaign is warning against buying lenses from fashion outlets, market stalls, and unregistered online sellers and will stress the importance of visiting an eye care professional to ensure lenses fit properly and receive expert advice on how to wear and store them safely.
For more details about the British Contact Lens Association, visit:- BCLA.Org.UK.