Scouse 5k is a sea of green for The Clatterbridge Cancer Charity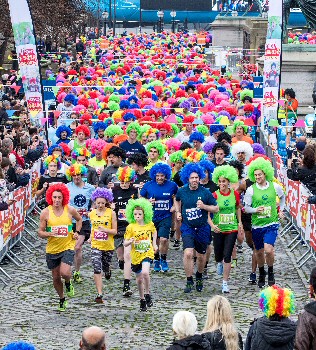 HUNDREDS of runners donned their curly wigs and took to the streets of Liverpool to raise money for The Clatterbridge Cancer Charity in the Echo Scouse 5k. Among the thousands who set off from St George's Hall were 500 runners decked out in green for Clatterbridge. The charity's team included Olympic Hockey star Sam Quek, who was running with partner Tom Mairs.
Sam, from Wirral, said:- "It was great to see all the runners in their curly wigs having fun while raising money for Clatterbridge. I loved it and was very happy to do my bit to help people who are living with cancer, and raise much needed funds for a new specialist Hospital in Liverpool."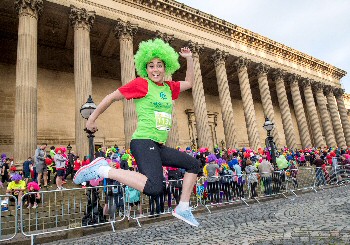 As well as curly wigs some runners donned shell suits, all in the style of the Scousers from the Harry Enfield sketches of the 1990's. The route took them past some of Liverpool's most iconic landmarks including:- The Metropolitan Cathedral, The Cavern and the Town Hall.
The Clatterbridge Cancer Charity was the official charity partner for the event which is in its 2nd year. The charity is striving to raise ₤15 million towards the construction of a new specialist Hospital in Liverpool City Centre and improvements to the Wirral Site.
For fundraising ideas or to take part in an event for The Clatterbridge Cancer Charity call:- 0151 556 5566 or go to the charity's website.

Majority of workers in Liverpool are sleep deprived and stressed
A staggering 92.9% of workers in Liverpool admit that having a bad night's sleep negatively impacts their working day, with 26.5% claiming that they feel exhausted on a daily basis. That's according to the latest research from leading independent job board, CV Library. The study explored the attitudes of 1,300 workers around the topic of sleep and the workplace and was conducted with input from Sleep Neuroscientist, Professor Jim Horne. The research has found that 75.7% of workers in Liverpool cite workplace stress as a key cause of their disrupted sleep, with a further 92.9% admitting that stress related disrupted sleep negatively affects their emotions.

Lee Biggins, founder and managing director of CV Library comments:- "There are many factors that can affect your performance at work and I'm sure we're all familiar with the negative feelings that can follow a bad night's sleep. While this is manageable every now and again, it can quickly become all consuming if not dealt with properly and it's concerning to learn that many workers aren't sleeping well because of workplace stress. If you're suffering particularly badly, it could be worth talking to your employer to see if there's anything that can be done to make the working day that little bit easier for you. For example, being able to work from home if you're not feeling 100%, or to take an earlier lunch break if you're in desperate need of some fresh air, are just small steps that can make a big difference."

What's more, while the majority of workers in Liverpool (61.2%) would like to get 7 to 8 hours of sleep a night, only 38.8% currently achieve this, with most people (49%) actually receiving 5 to 7 hours. The research found that sleep deprivation is most likely to affect employees in Liverpool's ability to stay focused (69.4%), to deal with challenging situations (51%) and to make important decisions (42.9%). Professor Jim Horne comments:- "Most work situations require individuals to make critical decisions, remain focussed and complete tasks within a timely and efficient manner. However, it's clear from these findings that sleep loss can impair attention to detail amongst workers. The longer a person is awake, the more likely their mood is to be negatively affected, as well as their willingness to take risks in the workplace. Again, this could be cause for concern."

The study also explored the topic of night workers, and found that a staggering 75% of individuals who work night shifts in Liverpool suffer from excessive sleepiness during their working hours, with a further 37.5% then driving between 15 and 20 miles home afterwards. Worryingly, 87.5% admit that their employer has not provided any advice on how to cope with night shifts. Professor Jim Horne adds:- "By the end of the first night on a 12 hour night-shift, an individual may have been awake for up to 24 hours, potentially leading to impairments when it comes to dealing with unexpected challenging situations. If you do work night shifts, try and get into a routine when it comes to sleep: at the end of your shift, drink a couple of cups of coffee and aim to get your longest sleep during the afternoon, rather than when you get home in the morning. It is difficult to sleep in the morning as the body clock wants you to wake up, whereas in the afternoon it has a natural dip and allows for better sleep, and a less sleepy night shift. Similarly, people that work jobs which require driving during the night should take precautions. During breaks, have a couple of cups of coffee (or another caffeinated drink), then immediately find a quiet place for a short 15 minute nap as it will take 20 minutes before the caffeine will kick in. Then take a brief walk to freshen up. This combination has been tried and tested by us, confirmed by others, and is now included in the UK 'Highway Code'."

Individuals that work outdoors receive the longest amount of sleep each night (33.7% received 7 to 8 hours) and were the most likely to sleep well. Managers on the other hand were the most likely to rarely sleep well at night, as well as being the most likely to reference workplace stress as their main cause for sleep deprivation.