Award win prompts happiness coach to take business global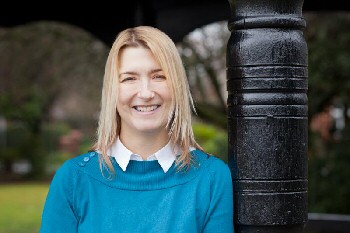 A mum of 2 is feeling more than 'happy' after winning a top business award at a national ceremony. Jo Howarth, owner of The Happiness Club, which is committed to improving people's mental wellbeing was crowned Health and Beauty Mum of the Year at the Bizmums Conference and Awards 2017. The 45 year old, from Rainhill, had also been shortlisted in three other categories at the awards, which recognises the achievements of mothers in business.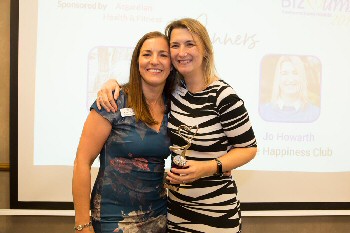 Happiness coach Jo said:- "For me this award means the world, because when we use the phrase health and beauty generally, the 1st thing people think about, is physical health and beauty. There is much more to be being happy than just physical appearances. Your confidence, wellbeing and energy levels can all be affected by your mental state of mind. We work with our clients to achieve happiness on all levels, but in particular we focus on achieving a positive mindset and I am absolutely over the moon that mental health and beauty has been recognised in this way; it shows there has been a real shift in thinking in today's world."

Jo admits she was up against a tough line up of businesses in the health and beauty category and didn't expect to win. She added:- "There were so many inspirational women shortlisted for this award, so to win it feels incredible. Being recognised by my peers for the work that I do is amazing."
Jo set up The Happiness Club two years ago. Members of the club receive a daily message from Jo to help them approach life with a more positive attitude. She also runs a live monthly webinar on different themes and uses social media in particular Facebook to give members direct access.Winning the Bizmums award has now prompted Jo to think about the future of the business. She said:- "I'm amazed with how successful The Happiness Club has become over the last 2 years. We already have members from across all areas of the UK and my next step is to take the club global. It's an online club, which means it's not confined to any one particular geographical boundary so I'm currently working on ways and methods to achieve a more global following. I'll also be continuing to build my career as an inspirational speaker and author."

For further information or to sign up to The Happiness Club online.
---
Cologne awards Liverpool prestigious honour for 65 year friendship
LIVERPOOL is to receive a prestigious award from its twin City of Cologne, for offering the hand of friendship following World War 2, and its role in strengthening ties with Europe. Lord Mayor, Cllr Malcolm Kennedy, is in the German City on Friday 20 October to collect the Konrad Adenauer Prize 2017; named after the 1st Chancellor of the Federal Republic of Germany, who was Mayor of the City of Cologne from 1917 to 1933 and again in 1945. The award; which is usually given to an individual; recognises work that contributes:- "Towards the development of a liveable conurbation worldwide, towards European integration or towards preserving and strengthening local Government in a tighter knit Europe." It is thought the twinning of Liverpool and Cologne in 1952 was the 1st of its kind between a British and German City, in the post war period. It has led to many collaborations between the institutions of the 2 Cities, particularly arts organisations and faith groups, including a performance of Benjamin Britten's War Requiem, in both Cities, by the cathedral choirs. The award will be presented at a ceremony in the historic City Hall, with the citation thanking Liverpool for its "magnificent gesture of friendship", noting that the City "opened the door to a common Europe for us then. In these difficult times for Europe we would like to continue to pursue the effort of European integration together with you and extend and intensify our close relationship and our City's friendship with Liverpool, now more than ever. As European Capital of culture in 2008 and member of EuroCities, Liverpool has for many years been actively engaged in shaping the common European house." The Lord Mayor said:- "For Liverpool to be awarded this honour is an extraordinary accolade and I am proud and honoured to receive it. This will be the 1st time I have been to the City since I was a 15 year old boy standing on the platform at Cologne railway station, seeing the Cathedral spire for the 1st time as I was on my way to share a holiday with my classmates. The friendship between Cologne and Liverpool precedes the UK's entry into the EEC and should and will last long after the UK leaves the EU. Liverpool has never been a City that was inward looking. It is situated on the River Mersey close to its opening to the Irish Sea and the Atlantic Ocean. The award is, I think, to some extent a plea that whatever the future brings we retain the value of those connections born in 1952 . As always we have much to learn from each other. Liverpool remains committed to the friendship between our 2 great Cities which can bring us through the uncertain times we are going through at the moment."

Black and White Ball gives The Clatterbridge Cancer Charity ₤122K boost
Pictures with thanks to Gavin Trafford.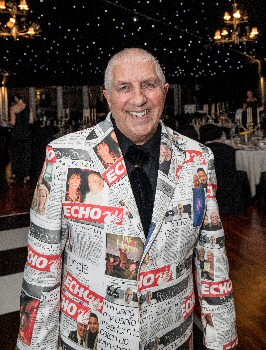 THE Clatterbridge Cancer Charity Black and White Ball saw a staggering ₤122,347 raised to help transform cancer care. The glittering event, at The Hillbark Hotel in Wirral, was hosted by radio presenter Pete Price and attended by famous names including the BBC's Victoria Derbyshire and Louise Minchin. Photographer Mike McCartney was among the guests and saw a picture he took of his brother Paul with band mate John Lennon as young musicians auctioned on the night. Meanwhile Liverpool Football Club's Chief Executive Peter Moore took the bids for a money can't buy opportunity to be his guest for a match at Anfield, including a tour of the famous ground, and the chance to go pitch side and meet the team.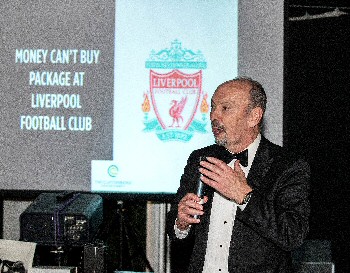 Other fantastic prizes on offer included a ₤4000 jewellery set donated by Boodles, the chance to have a dress designed and fitted by Phillip Armstrong, a bottle of specially designed Spectre Bollinger champagne from the film of the same name and signed by 007 Daniel Craig, and a make-over by hair stylists to the stars Andrew and Liz Collinge. Hospitality for a top flight match at Manchester United was very kindly donated by the club for auction, and another lucky bidder will be the proud owner of a piece specially made for them by world acclaimed sculptor Emma Rogers. There was also a week in a French chateau in the auction, tickets for The X Factor live shows and Hospitality at Tranmere Rovers. Leading Liverpool restaurant Panoramic34 gave 2 successful bidders the unique chance to have their chefs come into their home and cook for 10 people. Guests enjoyed a Perrier-Jouet Champagne reception before a sumptuous 3 course meal. There was entertainment from The Three Waiters and the night was rounded off with a disco. The Clatterbridge Cancer Charity is working to raise ₤15 million towards the construction of a new specialist Hospital in Liverpool and improvements to the Wirral site. The ₤122,347 raised will fund a stem cell and bone marrow transplant suite in the new Hospital.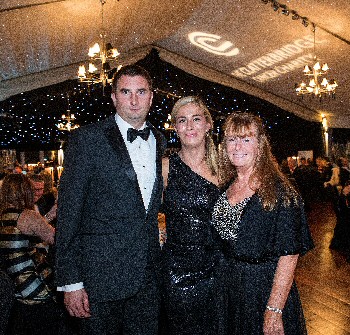 1 person who understands the need for the unit is patient Hannah Martin who spoke to guests on the night, and was the feature of a film shown after dinner.
Hannah, 33, from Southport, has Hodgkin's Lymphoma and has had 2 stem cell transplants, 1 using her own cells and another with a donation from her sister. Hannah said:- "This suite is so important because it saves lives. It isn't a nice thing to go through, but to have the best facilities will be a big help to patients like me."

Katrina Bury, Head of The Clatterbridge Cancer Charity, said:- "I would like to thank all our guests and sponsors for ensuring The Black and White Ball was such a fantastic success. Our host Pete Price was fabulous and the generous guests who bought raffle tickets, bid for auction prizes or bought a ticket for the tombola should be very proud of themselves for helping The Clatterbridge Centre carry out its important work. The money raised on the night will go a long way to transforming cancer care for 2.3m people in Merseyside and Cheshire. I would like to thank our sponsors and supporters PCM in partnership with BenQ and Fujitsu, A&B Engineering, The Johnson Foundation, Panoramic 34, Boodles, Perrier Jouet and ANS. A special mention must also go to our Appeal Board. Their energy and generosity knows no bounds and without them the night would not have been possible."