₤2.5 million M53 Roundabout repairs start at the weekend
A ₤2.5 million Highways England project to deliver wear and tear repairs along the M53 in Merseyside is to start on Saturday, 4 November 2017. The project will see the 2 bridges, which carry the Junction 3 Roundabout, over the motorway, near Woodchurch, Wirral, repaired and improved, within an 8 month project. Apart from a handful of overnight Carriageway and Roundabout closures, mainly for the installation of traffic management, the Motorway and Roundabout will be kept open at all times.

Highways England project manager Mark Mosley said:- "This is a routine maintenance and repairs project but is also an important investment in the M53 to ensure the Junction can serve commuters and other drivers for many years to come. We've worked hard to design the work so we can keep drivers on the move with as little disruption as possible. Roundabout and Carriageway closures will be done overnight and also kept to an absolute minimum."

The work, which is due to be completed in July 2018, involves concrete repairs, re-waterproofing the bridge decks and resurfacing. A lot of the work will be done under the Roundabout Bridges, over the Northbound and Southbound Carriageways of the M53. For this to be done safely, narrow lanes and a 50mph speed limit will be installed along the 2 Carriageways, as up to 25 people will be working on the bridge at any 1 time.

The Northbound Carriageway, between Junction 4 and Junction 3, will be closed between 9pm and 5am, on Saturday, 4 November 2017, with the Southbound Carriageway closed; again from 9pm to 5am; between Junction 2 and Junction 3, on Sunday, 5 November 2017.

Clearly signed diversions will be in place on both nights.

In 2018, the bridge decks will need to be propped up to continue the repairs, but with the Motorway and Roundabout kept open after a couple of overnight closures to install new traffic management. This will include a weight restriction, on the North Roundabout Bridge, as well as narrow lanes and a 30mph speed limit around the Roundabout. Further occasional overnight closures of sections of the Roundabout only will be needed for resurfacing and waterproofing work.

Did you know that:- The bridges are 34 metres long, 5.2 metres above the Motorway Carriageways and were constructed in 1970?
---
Liverpool's City Historian retires
LIVERPOOL'S City Historian has been presented with a unique 3D model of the Town Hall at a special retirement presentation. Steve Binns, who has been blind since birth; has run guided tours of the Town Hall and St George's Hall since 1990; explaining in vivid descriptive detail the history of buildings that he has never actually seen. He relies on memory and a precise knowledge of a building's positioning, layout and design features when doing his tours. His work led to him receiving an MBE, from HRH Prince Charles, in 2004, and an Honorary Degree, from Liverpool John Moores University, for History, in 2007.
Lord Mayor, Councillor Malcolm Kennedy, gave him a model of the original Town Hall in a surprise presentation this afternoon. He said:- "Steve is as much a Liverpool institution as any of the famous buildings that he gives tours of, and we are very sad to see him retire. He has entertained thousands of visitors and tourists over many years, giving them an in depth picture of the history of our amazing City. What is so remarkable is that he has done all of that without actually seeing any of the buildings that he knows every inch of. He has been a fantastic servant to the City and I am delighted to have been able to present him with a unique momento of the original Town Hall on the occasion of his retirement."

The model that has been created is of the Town Hall that preceded the current building and was built in the late 1600's. It was sited where the Royal Bank of Scotland is now located, at the Junction of Dale Street and Exchange Street East, and was known as the Exchange, because the Ground Floor had an open Colonnade for merchants and market traders to carry out their business. The model has been created by architectural firm Arup, Senior Technician Chris Jackson, said:- "We've been pleased to use our 3D print technology at Arup to create the model presented to Steve today. We used photogrammetry to create the 3D mesh, which allowed us to develop a digital recreation of the original model without removing it from its enclosure. It is so accurate that the print even includes the same imperfections of the original building; allowing Steve to not only better understand the form of the old Town Hall building, but also allowing him to feel the history of the model created by J.R. Cafferata in 1851."
---
2nd man charged in connection with shotgun recovery in Maghull
MERSEYSIDE Police Detectives investigating the recovery of a shotgun from Maghull, on Friday, 6 October 2017, , have charged a 2nd man in connection with the offence. According to Merseyside Police, at around 1.50pm, on Friday, 6 October 2017, a call was received of a road traffic collision on Ormonde Drive, Maghull involving an Audi A1 colliding with a van and a BMW, causing damage to both vehicles, but no injuries. Armed Police attended the location and found a bag containing a shotgun. Following enquiries, 22 year old, Dean Colquhoun, of no fixed abode, was arrested on Thursday, 26 October 2017. He has been charged with possession of a shotgun and appeared on Saturday, 28 October 2017, at South Sefton Magistrates Court. Colquhoun has been remanded in custody to appear for trial at Liverpool Crown Court, on Monday, 6 November 2017. Anyone with information on the storage and use of firearms can contact the gun crime hotline on:- 0800 230 0600, or Crimestoppers anonymously on:- 0800 555 111.

Local NHS Trust Gives Recognition to its Best and Brightest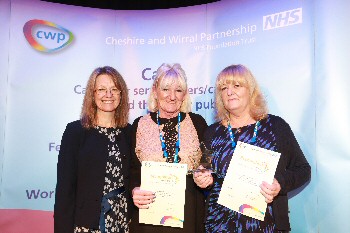 ON Thursday, 26 October, Cheshire and Wirral Partnership NHS Foundation Trust (CWP) hosted its inaugural CWP Recognition Awards at Ellesmere Port Civic Hall. A fantastic occasion, the event aimed to give well deserved acclaim to members of staff who had gone above and beyond in their provision of care for our service users. It was also a way of the Trust saying thank you to our staff for their incredible hard work over the last year. The awards ceremony also sought to give an extra special thanks to those staff members who had given extraordinary long service, not just to CWP, but to the NHS as a whole.

As well as the awards presented to staff, there was also some fantastic live entertainment on show, as part of a wonderful evening. One performance was by Paul Mcgee (aka the SUMO guy) who provided his unique brand of "Mancunian motivation" whilst invigorating the audience. His 1 hour show was full of laughs and insight. He encouraged the audience to:- "Seize the day" and advised that:- "Seeking support is not a sign of weakness, it is a sign of wisdom."

Those in attendance were also treated to a musical performance by the Cheshire branch of the national Rock Choir, who displayed their unique versions of songs such as:- 'Uptown Girl by Billy Joel' and 'Don't Stop Believin' by Journey.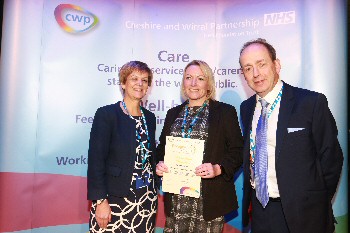 Awards were presented in a number of new and exciting categories. They were:-

► Excellence in supporting patient care.
► Excellence in patient care.
► Outstanding contribution to our communities.
► Outstanding contribution to research and development.
► Outstanding contribution to volunteering and involvement.
► Outstanding contribution to leadership.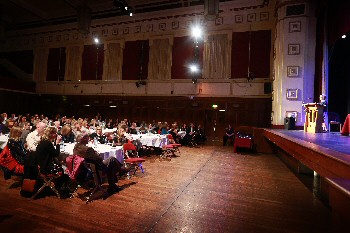 In addition, there were gongs presented to our overall Going the Extra Mile Winners (our Trust's employee of the month award) in both individual and team categories. Certificates were also presented to those members of staff who had given 20, 30 and 40 years of service respectively in our Recognition of Service category.

The Wirral Homeless Team were one of our lucky winners from the night. They picked up the award for "Excellence in Patient Care." Represented by Gaynor Parry and Kerry Greenop, their nomination was glowing in its praise for the pair. Their citation read:- "Gaynor and Kerry work with the most hard to reach, marginalised and disadvantaged people in Wirral. They never give up on people who most of society has given up on. There is no doubt that they keep homeless people alive through their interventions and protect those who are vulnerable."

CWP chief executive, Sheena Cumiskey, was thrilled with proceedings. She said:- "I was delighted to attend our awards night, along with so many people who really do make CWP what it is. I'm incredibly proud to be Chief Executive of an organisation that puts people at the heart of everything we do, providing person-centred care to our service users. These awards were just one way to recognise and celebrate the people who provide and support the provision of that care. I would especially like to extend a huge thank you to everyone who supports CWP, through their work, involvement or volunteering."