Liverpool City Region Long Term Rail Strategy update review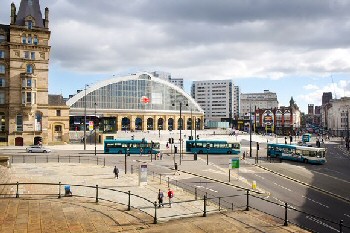 AN updated Long Term Rail Strategy was presented to the Liverpool City Region Transport Committee, on Thursday, 2 November 2017, for its endorsement. Taking into account national and local developments which will impact the future delivery of the Strategy, the update reviews the overall programme of projects, takes stock of what has already been achieved, and considers how new projects might be prioritised.
It is also an opportunity to incorporate a number of projects which were not started prior to the initial Strategy, including:- HS2 and Northern Powerhouse Rail, and to ensure that the growing importance of cross border transport demand is incorporated. The capacity challenge at Liverpool Central Station and the significance of the station in relation to developments on the Merseyrail and wider rail network is also emphasised.

The update highlights the significant progress that has already been made over the last 3 years with projects either delivered, or in the process of being delivered, by Liverpool City Region and other external parties, including:- the Halton Curve upgrade, a new Station, at Maghull North, a Station upgrade at Newton-le-Willows, commitment for a new rolling stock fleet and the redevelopment of Liverpool Lime Street Station.

Cllr Liam Robinson, chair of The Combined Authority Transport Committee, which oversees the work of Merseytravel, said:- "It's important that we are realistic about our long term rail aspirations and our ambitious plans to provide an improved network for the future, meeting passenger needs and boosting economic opportunity. Whilst we already enjoy good levels of service there is more that we can do to provide increased capacity and frequencies, which would support projected economic growth and maximise the economic Benefits of the City Region's assets and potential."

The Liverpool City Region Long Term Rail Strategy was adopted by the Combined Authority in September 2014 with the objective of ensuring that the rail network meets the region's needs over the next 30 years and beyond. It presents a clear vision for the development of the network and the important role that rail will play in the economic development of Liverpool City Region and its surrounding areas, maximising its contribution to the wider UK economy and acting as a catalyst for growth.
What are your views on this topic? Hoe do you think Transport should work in the likes of Southport, Formby and also the likes of West Kirby and Birkenhead? Please email your thoughts to News24@SouthportReporter.com and let us know as we want to hear for our readers on this topic.

Metro Mayor demands the Government end cover up culture
METRO Mayor Steve Rotheram has called on the Prime Minister to implement, in full, the proposed Public Authorities (Accountabilities) Bill, also known as:- 'the Hillsborough Law.' The Bill, if passed, would compel those in Public Office to act with candour and in a way that is truthful when responding to investigations into their conduct. The Bill would introduce the option of punishment by prison sentence for those who lie or try to hide the truth. The Bill was brought before Parliament, on 29 March 2017, by the Rt Hon Andy Burnham and was approved at 1st reading. Mayor Rotheram was 1 of the Bill's 12 sponsors. It was due to have its 2nd reading on 12 May 2017, however due to the announcement of the 2017 General Election, the Bill fell following the dissolution of Parliament. Speaking ahead of the expected release tomorrow of former Bishop James Jones's report into the experience of the Hillsborough families, Mayor Rotheram said:- "Today, there is a clear and unambiguous call by HM Opposition, and those associated with the Hillsborough campaigns for Justice, for implementation of the Hillsborough Law as an instrument in restoring trust and confidence in our public institutions. In the 28 years that have passed since the Hillsborough tragedy, there have been too many occasions where cover up and secrecy have pervaded our public life when things have gone wrong. Governments of all colours have been too slow to respond to this culture, which has no place in our modern democracy. The Prime Minister must commit to the full implementation of the Hillsborough Law. With enquiries on going into historic child sexual abuse, and more recently the Grenfell Tower disaster, this law is needed now, just as it was needed 28 years ago."
---
Hundreds caught in Taxi Enforcement operations
TAXI licensing officials in Liverpool have issued scores of cautions and defect notices to Private Hire and Hackney drivers over the last month, in a bid to improve standards and enforce the law. Operations by Council Officers and Merseyside Police have identified drivers from:- Liverpool, Sefton, Knowsley and Wirral who were committing a range of offences. A total of 14 drivers were fined a total of ₤4,655, at Liverpool Magistrates Court, on Thursday, 26 October 2017, for offences including tyre defects, trying to pick up passengers who had not booked and driving without insurance. In addition, 118 vehicle defect notices and 57 cautions have been issued for offences such as cherry picking, parking a Private Hire on a Hackney Taxi stand, having an illegal tyre and not having their plates firmly fixed on; while a further 7 vehicles were ordered off the road immediately. And 160 fixed penalty notices have been issued to the drivers of private cars who parked illegally on Taxi Stands, taking up space meant for Hackneys. 2 other drivers; 1 private Hire and 1 Hackney; have had their licences revoked for drug related offences. Councillor Christine Banks, Chair of the Licensing Committee, said:- "We want to make sure that our taxi industry is fair, and we are determined to crack down on those drivers who are flouting the rules. Our aim is to make the playing field for all drivers as level as it can be. Unfortunately, there are a very small minority who breach regulations, and we are committed to taking action and in doing so, send a clear message out that it is not acceptable. Passengers should always ensure they only use properly Licensed Taxis or pre-book Private Hire vehicles, otherwise they are placing themselves in danger." The prosecutions are part of a series of measures being undertaken by the Council and Police to crackdown on taxi and private hire drivers breaking the law. The Council works with Police Officers who have been through a specialist Taxi Licensing course to help them spot vehicles that aren't compliant with the law.