It's Set To Be A White Christmas As Panto Stars Johnny Vegas, Lucy-Jo Hudson And Full Cast Launch Snow White
Photographs by David Munn Photography and Dave The Pap.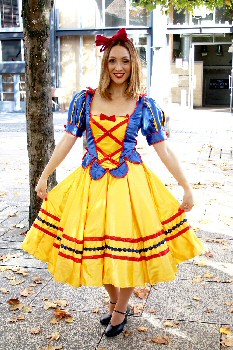 CHRISTMAS came early at the press launch for Regal Entertainments' panto Snow White and the Seven Dwarfs, which comes to St Helens Theatre Royal, from Saturday, 2 December 2017 to Sunday, 7 January 2018. The paparazzi were out in full force to snap this year's all star cast at the lunchtime launch, which took place at Liverpool's Arthouse Hotel. Leading this year's cast in the title role as Snow White is Coronation Street and Wild at Heart's Lucy-Jo Hudson. The star this year competed in the ITV show Dance Dance Dance where she reached the final, and will no doubt bring her fancy footwork to the Theatre Royal stage this Christmas.

Lucy-Jo first appeared on TV screens as "killer Katy" in the ITV soap before spending 5 seasons in the hit drama Wild at Heart playing series lead Rosie Trevanion. She then made her big screen debut in Ken Loach's acclaimed feature film Looking For Eric and recently played Rhiannon Davis in a long running and dramatic storyline in Doctors for the BBC.

With over fifteen years of gracing the nation's television screens, including as Geoff 'The Oracle' on ITV's Benidorm, St Helens' own born and bred comedy favourite Johnny Vegas will be revealing who the fairest of them all is as the Magic Mirror.

Johnny will be appearing via the power of video projection, and does not appear in person each night. The star also revealed that he will be donating his fee from the panto to Willowbrook Hospice, a charity organisation close to his heart.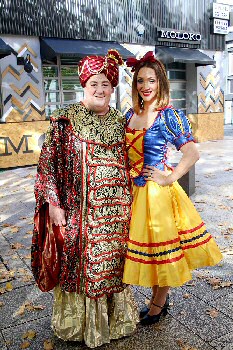 Every panto needs a handsome hero and this year that will be LIPA graduate Jack Rigby who is sure to break a heart or two as the Prince; Richard Hazlewood is back as Herman the Henchman; and providing lots of jovial hilarity will be Lewis Devine as Muddles.
Completing the all star cast is the addition of Seven Dwarfs including:- mother and son Harry Potter actors Josh Bennet and Sarah Bennet; Danny Blackner who appeared in box office hits Star Wars VI - Return of The Jedi, Labyrinth and Muppet Treasure Island; Lucy Blenkiron, Jay Lusted who appeared in the BBC One Wales documentary Born Small: The Wedding; Charlote Lyons; and finally, Peter Sunter.

Throughout the afternoon guests got to hear from the cast with a Q+A lead by host Jay Hynd, before they put their panto knowledge to the test in a special Christmas panto quiz. With Lucy-Jo and Johnny as team captains the two teams battled it out to be crowned the fairest panto pro of them all.

Chantelle Nolan, Theatre Manager said:- "This has been a great event and a real treat to bring all the cast together, it has made us all even more excited for the show to open! Panto always marks the start of Christmas, it is such a strong tradition especially to the audiences at St Helens Theatre Royal, so we always try to come back bigger and better each year. 2017 is going to be truly magical, we have an amazing cast and lots of surprises up our sleeve!"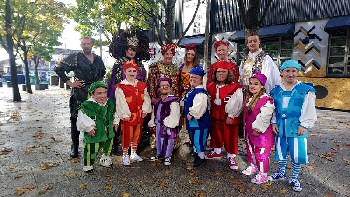 This year, for the first time ever on the Theatre Royal stage, sees the introduction of an all new magical 3D interactive scene. The action will jump right off the stage and is guaranteed to leave audiences amazed.

With magic mirrors, wicked queens and poisoned apples aplenty, you can expect all the slapstick comedy capers you have come to know and love from all Regal Entertainments' pantos.

So be sure to book early and enjoy one the world's best fairy tale classics this festive season.

Snow White and the Seven Dwarfs runs from Saturday, 2 December 2017 until Sunday, 7 January 2018... Tickets are on sale now! Be sure to book early to avoid disappointment. For more information, please visit:- STHelensTheatreRoyal.Com.
---
UK's record of tackling child poverty at risk unless Chancellor lifts the Benefits freeze
RESPONDING to the IFS report Living standards, poverty and inequality in the UK: 2017 to 2018 to 2021 to 2022, showing that relative child poverty is set to increase from 30% to 37% by 2021, Campbell Robb, chief executive at the independent Joseph Rowntree Foundation (JRF), said:- "These shocking figures show the UK's proud record of reducing child poverty is at risk of unravelling: it could mean an additional 1.2 million children in poverty by the end of the Parliament. 20 years of progress is at stake unless the Government takes urgent action in the next Budget. The biggest drivers of the increase in child poverty are changes to Benefits and Tax Credits, especially the freeze on most working age Benefits. This will leave families struggling to cover the rising cost of essentials as Benefits fail to top up low pay and for those out of work incomes stay the same while prices rise. The Chancellor must lift the freeze in the Budget so these projections do not become reality."

National acclaim for Wirral harm reduction project
Photo by Barney Newman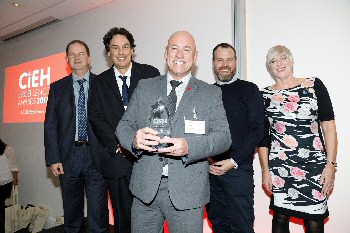 WIRRAL'S approach to reducing the harm caused by super strength alcohol has been judged the best in the country. At an awards ceremony in London, the Chartered Institute of Environmental Health (CIEH) have presented its 'Best Project Award' to the people behind Wirral's 'Reducing the Strength and Custodians' scheme. The initiative is a partnership between Wirral Council's Environmental Health, Trading Standards and Public Health teams, working with the Wirral Ways To Recovery service. The award is recognition of its collaborative approach as well as its success in achieving a number of challenging targets.

'Reducing the Strength' is now embedded in:- Birkenhead, Tranmere, Rock Ferry and New Ferry working with local Off Licences encouraging them to stop the sale of super strength, low cost beers and ciders. The scheme is now expanding into Seacombe and other areas. As an extension to the project, the team also developed the 'Custodians' scheme which trains staff in Off Licences in how to signpost problem drinker customers to the drug and alcohol service, Wirral Ways to Recovery. This is also proving successful and has been well received by businesses.

In naming the Wirral project as the national award winner, the judges said:- "This project stood out because of its ambition and its success in tackling this important social and public health problem. The project delivered a range of tangible outcomes through excellent planning, a multi agency approach and the very effective use of Environmental Health skills, which were at its core. Officers capitalised on opportunities during the project to enhance delivery and this enabled the initial, already challenging targets to be exceeded and the impact sustained. It was an excellent submission, highlighting a very well planned, executed and evaluated public health initiative. All those involved are to be congratulated."

Cllr Phillip Brightmore, Wirral Council's Cabinet member for Environment, added:- "The highest praise should go to all of those involved in this amazing initiative. It is a fantastic example of departments coming together to better the lives of those living in the most challenging circumstances. It is beyond doubt that alcohol-related harm in Wirral is being reduced as a result of these initiatives and that many previously difficult or chaotic lives have been made that little easier, which has a positive knock on effect for the wider community. It is great to see work being done in Wirral being acknowledged as the best in the country; it is well deserved."

'Reducing The Strength' was launched in Wirral in 2015 and asks retailers to stop stocking and selling cheap, strong (above 6.5% ABV and above) beer and cider.

Its initial target was to sign up 80% of Off Licences in the target areas to 'Reducing The Strength' agreements within 12 months. This target was in fact exceeded. Subsequent targets are focused on rolling the scheme out across Wirral and there is now an official pledge that by 2020, 30% of off sales premises would be 'super strength free.'
---
Stars Come To Life In New Exhibition At Liverpool's St George's Hall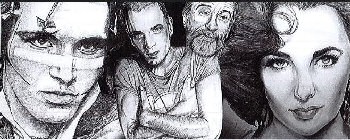 BY day he is a Council cleaning manager. But Billy Scott has a secret passion which he is about to share with the world. The 50 year old Liverpool City Council worker is also a talented artist, and now up to 200 of his works are set to go on show in the City's grandest public building, St George's Hall (North Entrance via Heritage Centre). Simulacra, which opens, on Saturday, 25 November 2017, will feature a host of famous faces, brought to life in stunning drawings which Billy creates in a shed at his home in Anfield. The father of 3 has been producing line drawings, sketched in pencil or graphite, since he was a child.

After attending Anfield Comprehensive, in 1984 at the age of 17 Billy started his working career on a Youth Training Scheme with the City Council in the then Central Liverpool Training Workshop, studying signwriting. While there his artistic flair was spotted by lecturers and he embarked on a 6 month study of art, building up a portfolio of work to be presented to Liverpool School of Art and Design. But having turned down the chance to undertake a Degree in Fine Arts, Billy put studying to 1 side and continued with art as a hobby, concentrating on portraits of footballers and celebrities. To date, this hobby has seen the body of artwork grow to include more than 500 drawings, which remain in his private collection. With around 200 portraits on show, Simulacra represents 2 years' work in the making and brings together a diverse range of subjects from various genres of popular culture.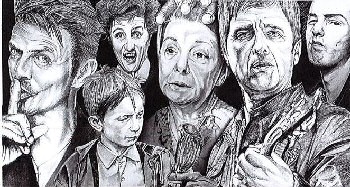 Visitors will go on a journey through sections from icons and sportsmen and women to TV characters, film, British and international music, and famous Liverpudlians. Along the way you will be able to stare in to the brilliantly realised faces of everyone from:- Bill Shankly and Dixie Dean to Bjork and Bryan Ferry, Salvador Dali and Ken Dodd to Audrey Hepburn and Adele, and Tom Hardy to Tony Hancock, as well as:- The Beatles, Cilla, Elvis Costello, Kenny Everett, Leonard Rossiter and the artist's favourite, David Bowie. Billy Scott says:- "I've drawn since I was a kid, but just pursued it as a hobby. I started putting them up on my Facebook page a couple of years ago, and the reaction I got from people spurred me on to do more. I've sold a few prints over the years and I've done a few commissions for friends and family. But I wouldn't describe myself as an artist. The exhibition will be extremely accessible and is split into different categories. It's only existed in plastic A4 folders until now, so I can't wait to see all the pictures framed and on the wall."

St George's Hall general manager Alan Smith adds:- "It's a delight to host such an accessible exhibition depicting the great and good of the entertainment and leisure world. It's even more pleasing to introduce the work of local artist Billy Scott who has produced the drawings over a 35 year span. Everyone thinks they can draw, copy, and emulate, but here is a real artist whose sheer joy of sketching subjects he simply likes comes across in this joyous exhibition. It's a real explosion of quality of art."
The free event will be open daily apart from 24 December to 26 December and on 1 January 2017. Opening hours will be 10am to 5pm, with no admission fee being charged...