Community Mental Health Survey 2018
PEOPLE who use NHS community Mental Health Services in Lancashire are being encouraged to take part in a survey to drive future service improvements. Lancashire Care NHS Foundation Trust is carrying out the 2018 Community Mental Health Survey to find out what people who use these services think about the care they receive in order to improve people's experiences. The survey is led by the Care Quality Commission (CQC) as part of a national programme to improve Mental Health Services for local populations.

This year the survey will be sent to 850 people aged 18 and over who have recently used the Trust's services. Obtaining feedback from people who use services and understanding what is important to them is vital for improving the quality of care. The results will help the Trust see where they are performing well and to identify any areas where there is room for improvement. Those chosen to take part will receive a copy of the questionnaire to complete between February and June. The results of the survey will be presented in a form that does not allow any individual's answers to be identified. The results of the survey will be published by the CQC, in November 2017, and will be share by the Trust.

Dawn Kenyon, Quality Improvement and Experience Manager at Lancashire Care NHS Foundation Trust said:- "The Community Mental Health Survey is part of a commitment to design and deliver health services with people at the heart of everything we do. Our vision identifies the importance of listening to people's stories so that we can learn and improve quality together. We hope that the people who use our services here in Lancashire will take the time to help us with this survey. The feedback we receive as part of the survey is extremely valuable in helping us to find out how we are doing, where we are doing well and how we can improve our services going forward. If you or someone you care for receive one of our surveys and has a query or requires any further information, please get in touch with us."
If you have any queries or concerns about the survey please contact the Quality Improvement Team on:- 01772 695366 or send an email.
---
Tattyfilarious tea for Sir Ken Dodd!
THE Squire of Knotty Ash is to be honoured with a special civic lunch, at Liverpool Town Hall, on his 90th Birthday. On Wednesday, 8 November 2017, Sir Ken Dodd, who is a Freeman of the City, will be treated to a rendition of his famous hit 'Happiness' by pupils from Knotty Ash Primary School, and children from Trinity Primary School will entertain him with their favourite jokes. A special Doddy themed afternoon tea will be served; including sandwiches, made fresh from the Jam Butty Mines and Diddy Pies! Sir Ken will also be presented with a giant Birthday card filled with goodwill messages from local people; simply email and put "Ken Dodd" in the subject line, by Tuesday, 7 November 2017.
Lord Mayor, Councillor Malcolm Kennedy, said:- "To borrow a line from Sir Ken, how tickled we are to be honouring him on the very special occasion of his 90th Birthday. He has been entertaining the nation for an incredible 65 years, and while other people of his vintage are now putting their feet up, he is still performing across the country with an energy and enthusiasm that is truly age defying. He is the 'King of Comedy' and the 'Master of Mirth,' a 1 off national treasure, the likes of which we have never seen before, and never will again. It is right and proper that we thank him for a lifetime of making people laugh." Sir Ken is proud to be honoured with a civic lunch on his 90th Birthday in his home City. He said:- "I have travelled all over the world, but I have yet to visit any place to compare with Merseyside. It has such a rich diversity of creative talents in music, the arts and especially humour. The people are blessed with kindness, generosity and tremendous energy and drive."

R Charity's ₤10m Appeal Reveal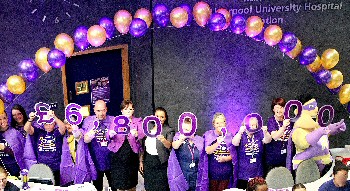 THIS November, 'R Charity' celebrated a significant milestone in the journey to raising ₤10 million for the new Royal Liverpool University Hospital. A grand total of ₤6.8millon has been reached with the help of fundraisers including staff, patients, volunteers and dedicated supporters. The funds will enable the new Royal to provide services beyond the NHS promise of care to create an outstanding patient experience in a world class Hospital.

To mark this momentous achievement, a day of celebration was planned. Staff throughout the Hospital joined in by wearing purple and took part in fundraising activities. Staff, patients and visitors were entertained throughout the day with performances from 3 local school choirs, the Royal Liverpool and Broadgreen staff choir and soloist Rhian Carys Jones.

R Charity's aim is to raise enough money to purchase equipment which is not currently provided as standard by the NHS. The money raised as part of the appeal will also help to provide an environment which gives the best experience for patients and families anywhere in the NHS. Some of the areas set to benefit from the ₤10m appeal include breast cancer services; the funds raised will allow the Trust to purchase a state of the art 3D mammography machine. This piece of equipment helps diagnose cancers earlier, so that patients can begin treatment earlier and ultimately increase their chance of survival.

The critical care unit in the new Hospital has the latest digital technology enabling staff to monitor and respond to patient needs. The unit provides treatment to the most critically ill patients in the Hospital, this means that loved ones visit for longer lengths of time. To ensure that those relatives are comfortable whilst visiting loved ones, the ₤10m appeal will help to provide reclining furniture improving comfort for relatives and visitors.

Overall the ₤10m appeal will enable the Trust to improve diagnostic services, digital technology and comfort for patients and relatives, not only benefitting patients now but in the future.

Lauren Davies, Interim Head of Fundraising for R Charity said:- "I am delighted to announce that we have raised a staggering ₤6.8milllion for the new Royal as part of the ₤10m appeal. What an incredible achievement! We couldn't have done it without all our supporters. Staff, patients and local people have all taken part in various activities since the appeal began. A huge thank you to our cyclists, our swimmers, our marathon runners and those businesses that come to our events and select us as their charity of the year. To help us reach the ₤10m target we want you to get involved and be part of the journey to the new Royal. Your support will enable us to provide equipment, services and diagnostic facilities which go beyond the NHS promise of care. By enhancing the services we currently provide we can ensure that our new Hospital will provide world class health care for generations to come."

R Charity still has a further ₤3million to raise to hit the target and there are lots of ways to get involved whatever your age or hobby.

To get involved or for more information you can contact the team on:- 0151 706 3153, via email or via visiting:- RLBUHT.NHS.UK/R-Charity.