CCTV of 2 males wanted in connection with burglary in Waterloo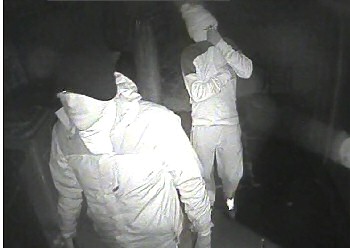 MERSEYSIDE Police Detectives have released CCTV stills of 2 men they believe may be able to assist an investigation into an attempted burglary in Waterloo, on Wednesday, 13 September 2017. Between 1.30 and 2.30am 2 male offenders broke into a property, on Glenwyllin Road, Waterloo, by forcing entry through rear patio doors into the conservatory. They are then said to have unsuccessfully attempted to gain access through a locked internal door. Nobody was injured and nothing was taken during the incident however property including a garden fence was damaged.

DI Robbie Moss said:- "I would urge neighbours in the area to consider if they saw anything which seemed suspicious before or after the attempted burglary to get in touch. I would also like to remind people to keep their doors and windows locked. We ask anyone who recognises the men pictured in the CCTV stills to come forward and tell us who they are. It is important that anyone who has any information in relation to the incident contacts the Police so we can find those responsible and bring them to justice."

Anyone with information is asked to call 101 quoting reference 0517231032. You can also call the independent charity Crimestoppers anonymously and for free on:- 0800 555 111 or online.
---
Public sector pay squeeze has reduced spending power in the North West by ₤1.3 billion this year
THE public sector pay cap has reduced spending power in the North West by ₤1.3 billion this year according to new analysis published by the TUC. The analysis shows that the North West's public sector workers are earning, on average, ₤2,695 less today than if their pay had risen in line with inflation (CPI). As a result, since the pay caps began in 2010, full time public sector workers in the North West have had ₤7 billion less to spend in the local economy.

Across North West areas, the figures show local economies are missing out on huge amounts:-
► In Merseyside, spending power is down ₤285 million.
► In Greater Manchester, it is down ₤497 million.
► Lancashire has experienced a reduction of ₤267 million.
► Across Cheshire it amounts to ₤134 million.
Recent TUC polling shows that 15% of public sector workers skipped meals this year to make ends meet. And 24% say they couldn't pay an unexpected bill of ₤500. Research published by the IPPR last week revealed that raising public sector pay would boost spending in local economies. And would help the public purse by raising Tax revenues and reducing the cost of in work benefits.

TUC Regional Secretary for the North West Lynn Collins said:- "The public sector pay squeeze has hit communities across the North West hard. And that means less money spent on our high streets and in local businesses. The pay cap is a false economy. The Chancellor must use the Budget to give all public sector workers the pay rise they have earned, and end these artificial pay restrictions."
---
Over 30 groups raise concern about human rights protection in the EU Withdrawal Bill
31 groups have submitted evidence to the Joint Committee of Human Rights outlining their shared concerns about the protection of human rights in the European Union (Withdrawal) Bill. Groups, including:- Human Rights Watch, Liberty, National Union of Students, Women's Aid (England), Disability Wales and Children in Scotland, submitted the evidence ahead of the next House of Commons Committee stage day, on the Withdrawal Bill, that took place on Tuesday, 21 November 2017. A key item for discussion was the amendments on the Charter of Fundamental Rights. Coordinated by the British Institute of Human Rights, the evidence submission states that the Withdrawal Bill, as it stands, will mean a loss of rights and accountability for people in the UK, notably:- ​
► People's fundamental human rights and equality protections, despite the Government's stated intention for the Withdrawal Bill to maintain the status quo, a number of rights have either been explicitly excluded or it is not clear how minimum standards of protection will be ensured; and
► Parliamentary scrutiny... the Bill's provisions for amending transposed EU law vest significant power in ministers rather than parliament, with its associated processes for scrutiny and consideration of the views of civil society.

It concludes that:- "Ultimately, exiting the EU should not lead to less protection of people's rights; the standards of protection should be equivalent to the current position, and where possible the opportunity to provide additional (not different) rights protections should be taken."
What are your views on the European Union (Withdrawal) Bill? Please email us your thoughts to:- News24@SouthportReporter.com.
---
Eastham Connects to tackle social isolation
INDIVIDUALS and groups from all parts of a Wirral neighbourhood are looking to come together in a major new initiative aimed at tackling social isolation. The local constituency committee, elected members and community representatives are spearheading a project called:- 'Eastham Connects' which they hope will pull the south Wirral community closer together and work in a cohesive way to improve the wellbeing of some of the area's most vulnerable or isolated residents. The initiative was launched, on Wednesday, 22 November 2017, at the Delamere Centre, Delamere Avenue in Eastham. At the event, partners set out the basis for the project which they have detailed in a document called:- 'Eastham Connects Framework' and the invited guests had the opportunity to ask questions and make a pledge to get involved.

Cllr Chris Carubia, Chair of the Wirral South Constituency Committee, said:- "Eastham already has some great examples of groups and initiatives that bring people together with a number of valuable social assets and a community with a real sense of identity. However, even from this position of great strength, there is still a need to tackle social isolation issues that exist in Eastham. Through Eastham Connects, we want to re-engage those residents who find themselves without regular, meaningful interaction. We want to remove any perceived barriers and we can only do this by drawing upon the obvious strengths and assets within our community."

Social isolation occurs when the opportunities that an individual has for contact with other people are either severely restricted or even non-existent. That person can then feel as though they are 'cut off' from society. While for some people this is a choice they make, for many others the impact of social isolation can be profound, causing both physical and mental health problems. The Eastham Connects Framework explains a number of ways in which collectively they can start to make an impact into addressing social isolation, which includes:-

► Working together to identify isolated individuals across Eastham and supporting them; helping to build their confidence and self-esteem so they feel able to reintegrate with local groups and activities they are interested in.
► Making it easy for residents to access activities on their doorstep. 1 of the ways this could be achieved is by staging a regular showcase event which allows local groups and projects to connect with local residents.
► Supporting local residents to set up their own groups if the particular activity they are interested in isn't already available in the local community
► Working with local health providers to ensure they are fully aware of what's on in Eastham so that they will be fully equipped to signpost their people to suitable local activities.

Cllr Carubia added:- "Social Isolation can affect all age groups, across all social strata and within all of our communities in Eastham. It has no boundaries. It is essential that it is tackled on a locally led basis with the community being at the heart of developing the strategy and being an equal partner in the delivery of agreed approaches and solutions."

The success of the Eastham Connects initiative could see the approach being used in other parts of the borough in future.
---
Personal allowance increase welcome, but what about those on the lowest incomes?
THE Chancellor announced that the personal allowance will increase from ₤11,500 to ₤11,850 from 6 April 2018. For many, this is a welcome announcement as it will mean they have more cash in their pockets, however it does little to help those on the lowest incomes. Those already earning under the current personal allowance of ₤11,500 will gain nothing from this change. Those earning above ₤11,500 may benefit, but by how much depends on whether they receive Tax Credits or other means tested benefits such as Universal Credits or housing benefit. Anne Fairpo, Chair of LITRG said:- "Increases to the personal allowance are often cited as helping those on the lowest incomes whereas in fact those on the lowest incomes either don't benefit at all or benefit by a lower amount than those with incomes higher up the scale. Entitlement to Tax Credits is based on gross income, so Tax credit claimants who have income above ₤11,500 should see the full benefit of the increase in personal allowance, making them ₤70 a year better off. However, those with incomes above ₤11,500 who are receiving Universal Credits will most likely see a reduction in their benefit. This is because Universal Credits, like other means tested benefits, is based on net income (after Tax and National Insurance have been deducted). As the amount of Tax they pay reduces, their Universal Credits award also reduces. Instead of gaining ₤70 a year from the increased personal allowance, they will only gain overall by ₤25.90 as their Universal Credits will be reduced by ₤44.10. In other words, they only gain 37% of the benefit of any increase in the personal allowance. If the Government want to help those on the very lowest incomes, increasing work allowances in Universal Credits and increasing the 1st income threshold in working Tax Credit would be more beneficial. The work allowances in Universal Credits were cut substantially (and in some cases removed) in 2016 and the first income threshold in Tax Credits has been frozen for some time. These thresholds are the amounts that claimants can earn before their benefits start to be withdrawn. Increasing them would help those on the lowest incomes who currently see no benefit from any increase in the personal allowance, and provide a valuable work incentive. It is also time the Government looked at increases to the National Insurance primary threshold which has lagged behind the personal allowance for some time."
---
Budget leaves questions for North West and workers
THE UK's Chancellor misses an opportunity to help North West workers and leaves questions rather than answers to the problems faced. Commenting on the Budget set out by the Chancellor. TUC Regional Secretary for the North West Lynn Collins said:- "The announcements by the Chancellor will leave workers across the Region asking more questions than they answer. With workers set to be worth ₤800 a year less by 2021 than expected in the Budget in March 2017, the Chancellor has missed an opportunity to take action; by giving low paid workers the boost they need, and removing the restraints on public sector pay for all workers. We have seen this week the impact that this squeeze has had on workers here in the North West. Whilst we welcome the investment in Intra City transport infrastructure for both Greater Manchester and Liverpool City Region. But this isn't the West East, Crossrail for the North that we need and want. The closest mention was off WiFi on Trans Pennine Trains, hardly the game changing Budget we were promised. We will be looking at what the Government is offering Greater Manchester for a City Region based industrial strategy. Given our calls for an industrial strategy that works for people and places, centred on great jobs, we will have a lot to positively contribute."

Jewellers in Southport Ram Raided and vehicle set on fire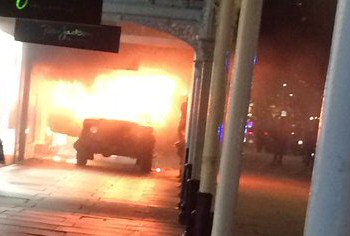 MERSEYSIDE Police Officers are investigating a robbery at David Search Jewellers, on Lord Street, Southport and are asking the public for help to catch those responsible. Officers were called at around 4.40pm, on Thursday, 23 November 2017, after a Landrover Defender was used to ram the premises. We are told that the suspects then left on motorcycles having set the vehicle alight. Thankfully no persons are believed to have been injured, but it has shaken up many shoppers and businesses who had waitressed it and its aftermath. A full investigation is now underway. CCTV from the local area is being requested, as well as any mobile phone footage or dash cam footage. Should you have any information or footage, please contact Merseyside Police on:- 101 or the Crimestoppers line anonymously on:- 0800 555 111.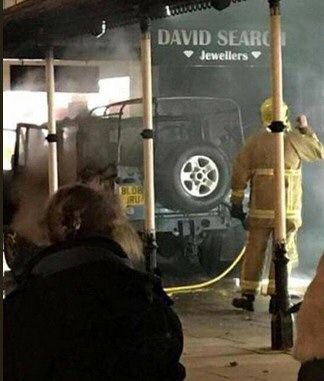 Detective Inspector Robbie Moss said:- "At this early stage of the investigation we are looking for any information on the movements of a convoy of vehicles before, during and after this brazen robbery. We believe that the Landrover Defender and three motorbikes came onto Lord Street from Bold Street before carrying out the offence, which would have been frightening to witness. If you were passing on foot or in a vehicle, and have any images, video or dashcam footage, get in touch as any small piece of evidence could be crucial to identifying those responsible and putting them before the courts. Likewise, if any individuals or businesses have been offered jewellery or watches in the Southport or surrounding areas since yesterday and have any suspicions as to their origin, do the right thing and get in contact. This robbery happened at a busy time on a main street, so we are also hopeful that in addition to CCTV and witnesses, we may also find people who saw the motorbikes making off down Lord Street and turning onto Duke Street after the offence. If you saw 3 bikes being ridden at speed, dumped or stored elsewhere, let us know."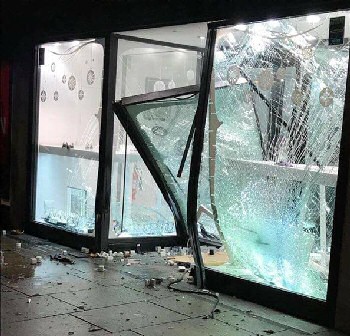 From what we have been told by people in the area, this was one of the most dangerous robberies, in Southport, in living memory. So if anyone is offered watches or jewellery they think might be from this raid, do get in touch urgently with the Police… Also if you have any other information, please also contact the Police.
Photos taken just after the incident, were snapped by Fatima Silva. The other photos have been taken by our Editor Patrick Trollope.