14th Liverpool Santa Dash and 5k Fun Run
Report Erica Dillon. Photos on this page Paul Francis Cooper. Video Patrick Trollope.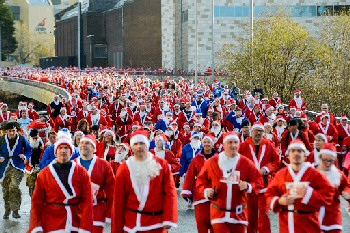 THE 14th Annual BTR Liverpool Santa Dash is the UK's biggest 5K Festive Fun Run and it also had the biggest 1K Mini Dash taking place just after the Dash finished. This amazing event took place on Sunday, 3 December 2017, within Liverpool City Centre. We are told that a staggering 7,500 red, blue and mini Santas pulled on their trainers to take part this years Santa Dash extravaganza. With next years being the 15th consecutive year, so lets see if we can build up on this amazing turn out! The festive spectacular highly regarded as the City's main kick start to Christmas and has gained international attention, as its locked in battle to for the World's Biggest Festive Fun Run. Its to early to say if Liverpool will retain the title, but fingers are crossed...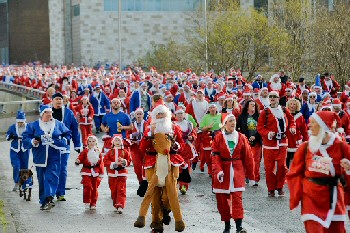 This year the event was sponsored by Radio City, in association with Arriva Bus. It was also supported by SP Energy Networks and St Johns Shopping Centre Liverpool. The Santa Dash official event charity of the year was Claire House Children's Hospice, which has bases in Wirral and West Derby.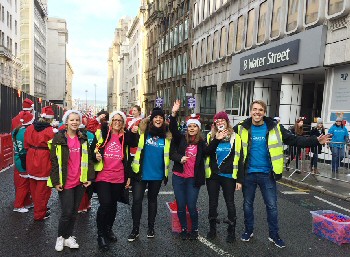 Special Santa guests included the Lord Mayor of Liverpool, Councillor Malcolm Kennedy, who swapped his Mayoral robes and chains for a red Santa suit and finishers' medal. He was running to raise funds for the Lord Mayor's Charity Appeal, whose good causes this year are:- 'The ADHD Foundation,' 'The Owen McVeigh Foundation,' 'The Choir with No Name,' and 'All Together NOW!' Also as normal Everton fans' favourite, fundraiser Speedo Mick, braved the December weather in his usual Speedo attire, taking part and collect a blue Santa Dash medal. The event also attracted a number of Santas from overseas, who had travelled from:- Australia, France, Gibraltar, Italy, Spain and the United States of America specially to take part in this year's event. Also attending where Merseyside Police cadets and Merseyside Army Cadet Force who both helped to give out medals and some even ran in it in full kit!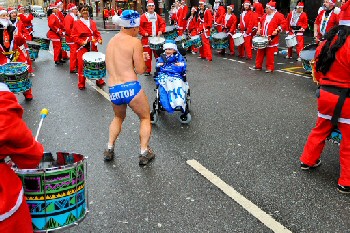 14 ever present Santas, who have taken part in every Liverpool Santa Dash, were back to run and collect the 14th medal in their Santa Dash collection. 4 generations of the Kearon family, who live in Wirral and Ireland, took part for the first time as a family. The 7 family members included Mum Pat, Dad Brian, sons Shaun and Stuart, granddaughter Amie, son-in-law Matt, and great granddaughter Amelia, who is just 3 months old.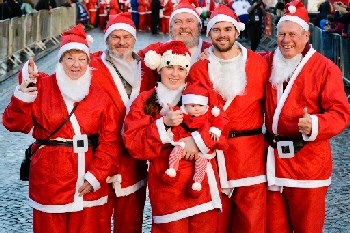 Father Christmas from the St Johns Shopping Centre Grotto made a special trip to officially start the Liverpool Santa Dash with Leanne and Dave from the Radio City Breakfast Show. Visit the St Johns Grotto over the festive season.
1st staged in 2004, the Liverpool Santa Dash was created by BTR Liverpool Race Director Alan Rothwell. The event has since continued to grow in popularity. In 2007, the festive fun run was expanded to include the 1K Mini Dash for under 12's, followed by the introduction of blue Santa suits in 2010 by public demand.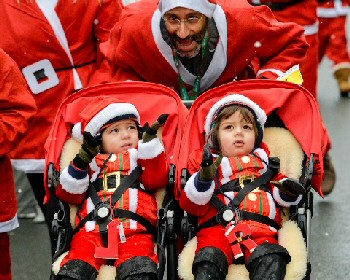 The main Santa Dash was followed by a 1K Mini Dash for youngsters aged 12 and under. The Mini Dash started in Castle Street, with youngsters enjoying the same grandstand finish line at Liverpool Town Hall.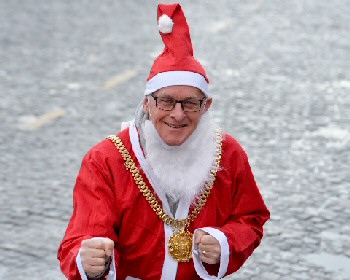 Sophie Chilvers, Running and Challenge Fundraiser at official Santa Dash event charity, Claire House, said:- "We are thrilled to be the charity partner for the Liverpool Santa Dash. Laughter, positivity and care are what Claire House is all about, so dressing as Santa and running through Liverpool City centre is the perfect way to raise vital funds and make this Christmas magical for all the children and families we support."
The event also held for the very first time a Santa Conga, at St Johns Shopping Centre, on Thursday, 7 December 2017. The date for the BTR Liverpool Santa Dash 2018 is confirmed as Sunday, 2 December 2018, ALL entries are open now at online...! >>>Continued>>>

PAGE 1 OF 6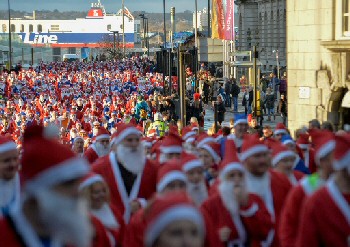 >>>Continued>>> BTR Race Director Alan Rothwell commented:- "What another incredible year for the Liverpool Santa Dash. Free bus travel for Santas was a very generous gesture from Arriva North West, and the sea of red and blue Santas at the Pier Head really is a breathtaking sight. Heading over the Churchill Flyover remains a massive highlight of the route, as does the fantastic Katumba drumming band welcoming Santas onto Dale Street. Stilt walking festive characters and real snow at the Liverpool Town Hall finish line all add to the Santa Dash experience; there really is no event quite like it. Thank you once again to the 7,500 Santas for making the Liverpool Santa Dash 2017 such a special day. From babes in arms to senior Santas in their 80s, it really was a wonderful spectacle and a brilliant day for all. Each year thousands of Santas take the dash into their hearts. See you all on 2 December 2018, to do it all over again; we're already counting down the days and entries are now open."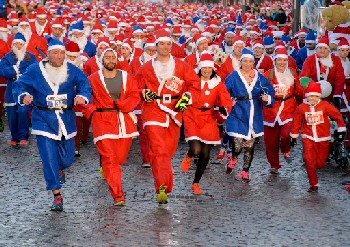 Again BTR Liverpool, who are the leading independent organisation for creating, managing and delivering headline race events across Liverpool City Region have really shown the true festive spirit of Christmas... Well done and we can not wait to see the 15th in 2018!!! The next event is the BTR Liverpool ½ Marathon which celebrates its 25 year milestone event on 25 March 2018.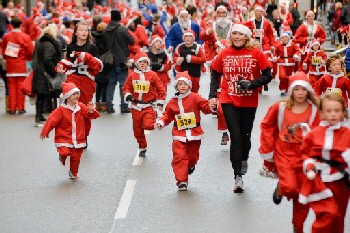 Its worth noting that the BTR event portfolio for 2017. Its growing portfolio also includes:- the Mersey Tunnel 10K; Wirral ½ Marathon and 10K; Port Sunlight 10K and 5K; 52 mile Tour Of Merseyside.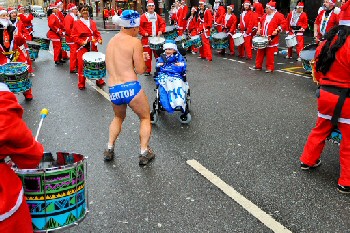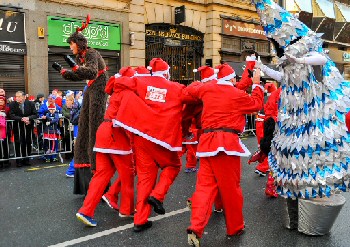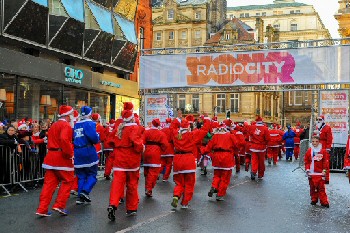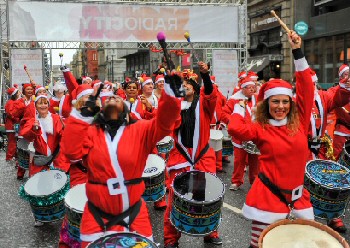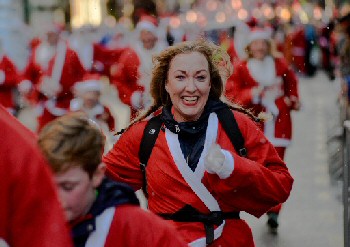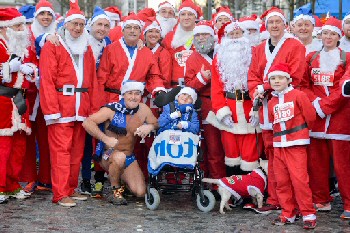 Click on this link to see more photographs taken at this fantastic event.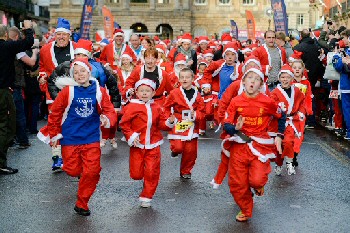 We hope you liked the photos, but please, don't copy them. Please help us to keep our copyright intact and to keep this site online. Click on here to find out how you can get you copy of these photos.