Southport Botanic Gardens Community Association receives a helping hand from McCarthy and Stone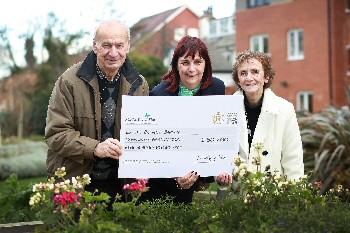 MCCARTHY and Stone, the house builder behind the 'Brunlees Court Retirement Living Plus' development in Southport, has presented Botanic Gardens Community Association with a ₤500 donation as part of its ongoing commitment to make a positive contribution to the local area. The Botanic Gardens Community Association was formed in December 2011 with the aim of finding ways of helping with running costs and reviving the fortunes of the popular Botanic Gardens in Churchtown, Southport. The association is formed of over 70 volunteers who help with the physical work in the gardens and organising fundraising events.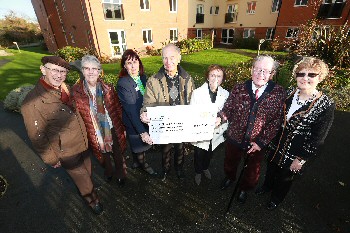 McCarthy and Stone's ₤500 donation will support the Botanic Gardens with its ongoing commitment to the local area, which includes maintaining the gardens in all year round and hosting events for the people of Southport. David Cobham, Chairman at the Botanic Gardens Community Association, visited McCarthy and Stone's Brunlees Court development. He was greeted by Sales Executive Jane Sandiford who presented Mr Cobham with a cheque for ₤500. Mr Cobham said:- "All of our volunteers work tirelessly to ensure the popular Botanic Gardens are well maintained, and can continue to be enjoyed by the local community. We are all thankful to McCarthy and Stone for its generous donation, which will help the Botanic Gardens Community Association to conserve and enhance the beautiful environment in which we live and work".

Fiona Brooks, Regional Sales and Marketing Director McCarthy and Stone North West, added:- "As a company we appreciate that our responsibilities go further than developing quality retirement properties; we also seek to create a positive legacy and make a difference in the communities in which we build. At our new Retirement Living Plus development in Southport, Brunlees Court, we have beautiful gardens and several of our homeowners enjoy keeping active and help out in the gardens; so it is an absolute pleasure to present this donation to a very important community association. We wish the team every success with its ongoing efforts to keep the Botanic Gardens as a thriving destination for the people of Southport."
---
Homes for homeless young people this Christmas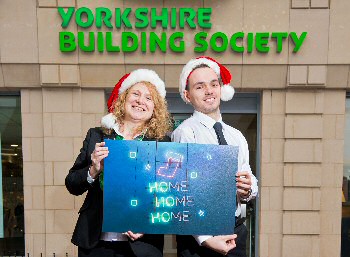 THE Southport branch of Yorkshire Building Society is supporting homeless young people this Christmas as part of its charity partnership with End Youth Homelessness (EYH). 35 homeless young people will have a home of their own this Christmas thanks to the Society funded Rent Deposit Scheme for EYH. The scheme is the first project of its kind to be rolled out on a national scale, and provides practical help to homeless young people in the UK who are ready to move out of supported accommodation. An estimated 83,000 young people in the UK are homeless and, according to latest figures, 12 young people in Sefton received some homelessness support from their local authority in 2015/16.People in Southport can help support EYH and spread a little festive cheer by buying a set of the charity's Christmas tree decorations for ₤1 per design, from the branch, on London Street.

Graham Stukley, manager of the Southport branch of Yorkshire Building Society, said:- "As Christmas is traditionally a time for giving, we want to give homeless young people the best gift of all, a home. Through our partnership with End Youth Homelessness we are providing help for young people in need, but this is only possible thanks to the support we receive from customers and the public in Southport. By buying a set of our Christmas decorations or making a donation, you will be helping homeless young people at 1 of the most difficult times of the year."

Nick Connolly, Managing Director of End Youth Homelessness, said:- "I would like to say a heartfelt thank you to all the customers and members of staff at Yorkshire Building Society who have contributed so far to our charity partnership. Through their donations and support we are able to help more homeless young people this Christmas."

► EYH is a national movement to end homelessness among 16 to 25 year olds in the UK.
► Through the course of the Society's 3 year partnership with EYH it aims to raise ₤750,000 to support over 700 homeless young people into their own rented homes.
► Every person supported through the Rent Deposit Scheme also receives a ₤200 home essentials grant and dedicated support with financial advice and life skills.
► Yorkshire Building Society's charity partnership with End Youth Homelessness supports its corporate responsibility strategy, Society Matters, and its ambition to make a lasting positive impact on society.

To find out more about the Society Matters strategy, please visit:- YBS.Co.UK/SocietyMatters.
---
6 years 3 months for prolific burglar
MERSEYSIDE Police, on Friday, 8 December 2017, welcomed the sentencing of a 31 year old, prolific burglar. Alex Maloney, of no fixed abode, was jailed for 6 years, 3 months, when he appeared at Liverpool Crown Court. Maloney was charged with a number of burglaries and assaulting a Police constable in relation to a number of unconnected incidents in Liverpool and Sefton between 13 May 2017 and 16 June 2017.

The offences included:-

► 13/05/2017 – Burglary non dwelling, St William of York Church, Edge Lane, Crosby.
► 16/05/2017 - Burglary non dwelling, Nugent Care, Edge Lane, Kensington.
► 31/05/2017 - Burglary dwelling, Chapel Lane, Netherton.
► 16/06/2017 – Burglary non dwelling, Rimrose Hope School.
► 16/06/2017 – Burglary non dwelling, St Elizabeth's Primary school, Litherland.
► 16/06/2017 – Burglary non dwelling, Lockwoods Construction, Bridle Way
► 16/06/2017 – Assault Constable.

He pleaded guilty to the burglaries at Lockwoods, Nugent Care and Rimrose Hope School. He pleaded not guilty to the burglaries at St William of York Church, Chapel Lane and Elizabeth's Primary school, and the assault of a constable but was convicted after trial.

Detective Sergeant Alan Williams said:- "This is a considerable custodial sentence and reflects the nature and the scope of the offences carried out by Maloney over a period of time. I hope that this sends out a message to other people that we will take robust action to find the people responsible for committing offences such as this and putting them before the courts. I hope this prison sentence also gives Maloney the chance to reflect on the consequences of his actions. I would like to take this opportunity to thank all the witnesses and local community who came forward and assisted in the conviction of Maloney."

'Ethical' Housing Company to build homes for homeless, foster carers, large families, disabled and the elderly
LIVERPOOL City Council is to set up a ground breaking, ethical housing company to deliver 10,000 new homes across the City, including bespoke properties for the homeless, foster carers, large families, the elderly and people with a disability.
A report to the Council's Cabinet, to be held on Friday, 15 December 2017, is recommending the authority create the company, to be called:- 'Foundations,' in a bid to dramatically shake up the City's housing market and accelerate the rent to buy sector over the coming decade by offering packages that take a percentage from rent towards a deposit.
The Mayor of Liverpool is proposing the radical plan as the City needs 27,000 new homes by 2030 with surveys showing housing supply dominated by small terraced houses, which skews the City's Council Tax revenues.
Fuelled by an estimated ₤500m investment programme 'Foundations' will also enable the Council to future proof the housing market for an ageing population, ensuring people can live independently for longer and provide intermediary accommodation that help keeps people out of long term Hospital stays.
Foundations, which is predicted to also create 2,000 new jobs, is 1 of the main pledges by Mayor Joe Anderson who wants to revolutionise the Council's housing role to bolster home ownership and for the local authority to act as a:- "high quality, ethical landlord" to help build sustainable neighbourhoods and offer tenants security of tenure.

The new properties would include:-

► Bespoke new housing for people who want to downsize, releasing larger homes for families.

► Filling a significant gap in the City for larger homes, especially for families who want to become foster parents, reducing the pressure on the City's caring provision for children.

► New homes in supported environments for the homeless, rough sleepers and those with addiction problems.

► Affordable rents, which help people save for their deposit to buy the house they are living in.

► Adaptable housing which suits those with disabilities or changing needs due to their age; or can be easily converted in the future, saving the Council in social care costs.

By establishing 'Foundations,' the Council's intervention will also help reduce properties becoming void and reduce the chances of properties being converted into inappropriate Houses in Multiple Occupation.

Mayor Anderson said:- "Liverpool is a growing City and we need to create an exciting housing sector which meets the needs of our people. We need a wider range of properties to suit a growing range of scenarios, but crucially also help people own their home. That's why we are going to offer rent packages which help people save for their deposit then buy their home. But we also need properties that help us face the future. For example, we want more of our looked after children to live with foster parents rather than in children's homes, but we also have a shortage of large homes. Foundations will help us build those special homes, and others which will help us save money and improve the City. This new housing company will radically reshape Liverpool's housing market and is called Foundations because that is precisely what it will provide for generations of people. Foundations will also help the Council benefit from the additional Council Tax we collect from increased housing, like we have already with the 8,000 homes I created in my last mayoral term. With a lack of government support Foundations is the only logical step. We have stock that can be refurbished and we have land that can be built so once the company is established we can hit the ground running. This will be a win win for everyone as the Council will be able to increase Council Tax, influence the quality of the housing and support people who want to buy by turning rent into a deposit. This company has more than just a social value, its business model also stacks up as a serious investment in the future of the City. As we've shown through the purchase of the Cunard Building, which now generates ₤2m a year for the Council, our invest to earn strategy works and profits from this new company will also be reinvested into Council Services to offset the damaging cuts this City has experienced these past 7 years."

A major advantage for the Council would be that profits of both house sales and rentals will be returned to the Council, as the only shareholder in the company, with a percentage reinvested in new stock.
This latest development takes forward an award winning approach that has already created 1,500 new properties for sale with Liverpool Mutual Homes and Redrow, via the Liverpool Housing Partnership, using the profits to create 100 affordable homes.
The new housing company, which is to be ratified at the next full Council meeting in January 2018, will also underpin the Council's other major strategic housing goals such as the renewal of older neighbourhoods and increasing the levels of home ownership in the City by offering tenants rental products that will enable residents to move from rental to home ownership.
Through the new company the City Council will also be considering other property development and property rental opportunities which may be commercially viable eg:- shop, office or other business premises.
We would love to know your thoughts and views on this topic, so please email us to:- News24@SouthportReporter.com with your comments...
---
Man attempts to steal smuggled pup from Dogs Trust Rehoming Centre
STAFF at Dogs Trust Merseyside have been left in shock after a man tried to steal a 4 month old French Bulldog puppy from the Rehoming Centre.
Managers at the Huyton Rehoming Centre believe the man had hidden in the grounds of the site, on Monday, 4 December 2017, until the centre was closed to the public and darkness had fallen.
He entered the puppy nursery area, at around 4.45pm, having watched the staff member who was looking after the litter of 5 enter a neighbouring puppy kennel.

It is thought the puppy was possibly intended for sale in the run up to Christmas, highlighting concerns from the charity that the message behind its famous slogan:- 'A dog is for Life, not just for Christmas' which turns 40 next year; is still not getting through, as people continue to gift puppies as presents without thinking of the long term responsibility that comes with dog ownership.

Fortunately, as the man began to make his way to the site entrance he was spotted by a member of staff trying to hide the puppy, Pierre, under his coat.
Having been alerted to the situation, members of staff chased him to the entrance and, realising he had been spotted, the man put the puppy on the ground by the side of the road before running off.

Assistant Manager, Catherine Stulberg, says:- "We are so shocked that this has happened and thank goodness we got Pierre back, who is absolutely fine. French Bulldogs are a very popular breed and cost thousands if purchased from a responsible breeder so we suspect he was either being stolen as a Christmas present or for breeding. Whatever the reason, it's absolutely despicable and unbelievable that someone would go to these lengths to get a French Bulldog puppy. We are so grateful to our staff for their quick action."

Pierre and his four litter mates have been cared for by Dogs Trust since being seized at Dover, when unscrupulous breeders were caught trying to illegally import them into Great Britain.
The charity, as part of its ongoing undercover investigation into Puppy Smuggling; a sickening trade which sees thousands of underage puppies illegally smuggled into the country, destined to be sold to unsuspecting members of the public; launched the Puppy Pilot scheme to care for smuggled puppies, by funding their quarantine costs and rehoming them responsibly. So far, over 600 puppies, just like Pierre, have been cared for through the pilot.
Catherine says:- "This litter have been through such an ordeal so they have been getting lots of TLC since arriving and we're delighted to say they have all found wonderful forever homes, which they'll be going to very shortly. The welfare of our dogs whilst they are with us is of paramount importance and of course we are very security conscious. In the 18 years we have been here we have never had a puppy stolen, but we are reviewing our security procedures to ensure this can never happen again. We encourage every dog owner to be extremely vigilant and ensure the security of your dog whether in your home, in your garden or out in public."

Whilst Dogs Trust would always champion rehoming a rescue dog, it has released advice to help anyone looking to get a puppy to ensure that they are buying responsibly, and not accidentally fuelling the Puppy Smuggling trade by purchasing a puppy that could have been illegally imported.