Annual Vehicle Only Charity Christmas Parade, in Southport
Photographs by Patrick Trollope.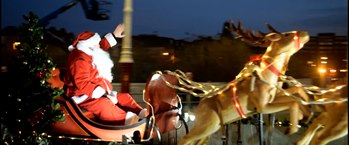 THE, now annual, Charity Christmas Parade, in Southport, on Sunday, 3 December 2017, was even bigger than ever, in fact, it was the biggest, of its type, in the North West of England, this year!

The event helps raise funds and also to gain toys for Woodvale (Ainsdale) based Springbrook Residential Unit. The centre provides short residential breaks, mostly 2 to 3 nights, for disabled young people who have been identified as needing such a service, by a Social Worker assessment. Springbrook can accommodate up to 5 young people, between the ages of 8 to 17 years, male or female, at any 1 time.

This year's Christmas Parade included a wide range of vehicles, covered in decorations and lights to help add to the Christmas spirit in Southport as well as to add some magic to the stay of those using Springbrook.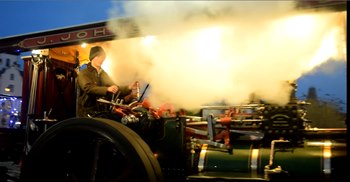 The parade this year took up both sides of the Promenade; it rolled on, passed the Marine Lake, and still had part of it passing Pleasureland when the front reached the roundabout, on its return down the Promenade. With steam traction engines, trucks, vans, cars, floats, ice cream vans, motorbikes, even the Liverpool FC bus, and not forgetting the main man himself, Father Christmas on a sleigh! This was quite a feat of sight and sound… After the 1st section, with lights, horns and music, the parade then snaked its way through to Woodvale, along Lord Street West, Lulworth Road, Waterloo Road and Liverpool Road. Those taking part then delivered 100s of toys to Springbrook Children's Home.

Surprisingly this was the event's 3rd year, but shockingly, despite the size and amazing sight this event made, local media and regional media have really not picked it up. We are please to have been able to film it and to have taken photos of the convoy.

Click on here to see some of the photos we took at this event...

Well done to Adam Brown, who organised this event along with his small team of elves. To see our video footage, please click on here or play it below. Please also share the video on Social Media, as this event needs to be highlighted. We can't wait to 2018's event, now we are aware of this and wish all who took part, especially Adam, a fantastic Christmas.


Click on here to see some of the photos we took at this event...
If you took part or can help Adam and his team in 2018, please do let us know via emailing us to:- News24@SouthportReporter.com.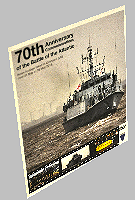 THE 70th BOA events this year in Liverpool has now been fully edited is available to buy, on a DVD, from our Online Shop, on Mersey Reporter very soon. For each DVD sold, ⃖3.00 will go to Unique opera exhibition hits the right note at Central Library the Liverpool's Lord Mayor's Charity Appeal. (Registered Charity No. 229539) At this stage we can only do UK postage options, but if you are outside the UK, you can still order copies, but only via emailing our newsroom at:- news24@merseyreporter.com with your FULL address and we will get back to you with a postage cost and a payment link, should you wish to continue.