'Support Northern Powerhouse culture this Christmas,' Minister says during Coronation Street trip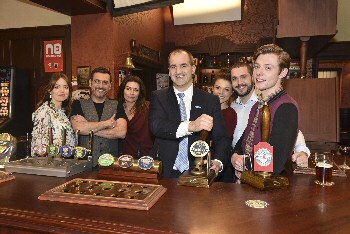 THE Northern Powerhouse Minister Jake Berry, on Friday, 8 December 2017, called on communities to support local cultural institutions over the festive break as he visited the Rovers Return set of Britain's best loved soap. Jake Berry walked the famous cobbled street and met the cast and crew of Coronation Street in Manchester to mark Northern Powerhouse Culture Week, and celebrate over 57 years of the household show being broadcast to the nation. During the trip he threw the spotlight on how government investment is supporting cultural institutions across the North of England, and urged people to get out and celebrate their local highlights.

Northern Powerhouse Minister Jake Berry said:- "I can't think of a more perfect way of marking Culture Week than visiting the set of one of the world's most iconic TV shows; made right here in the Northern Powerhouse. As well as being an economic powerhouse, the North of England is also a cultural powerhouse, with hundreds of the country's best museums, art galleries and other cultural organisations on people's doorsteps. Over the festive period, I'd encourage people to try something they haven't before. From Liverpool's Albert Docks to Newcastle's Discovery Museum, let's enjoy some of the most iconic, well known and well loved places the Northern Powerhouse has to offer."

As part of its commitment to ensuring that the Northern Powerhouse continues to blaze trails in arts and culture industries in the UK, the Government has invested:-
► ₤13 million to the Hull City of Culture 2017.

► ₤20 million for the Great Exhibition of the North and for a Northern Cultural Regeneration fund to pave way for future cultural investment in the Northern Powerhouse.

► ₤78 million for the Factory Manchester - Manchester's new theatre and exhibition space.

► From April 2018, an additional ₤170 million, or 75% of the Arts Council's lottery funding, will be invested outside of London, which means an additional 31 cultural institutions and organisations in the North will receive regular Government investment.

During the visit, the Minister also visited the Manchester Museum, which has benefitted from ₤5 million of Government funding, to hear about exciting plans for a new South Asia Gallery. This will draw on some of the best of the national collections from the British Museum to engage with the City Region's diverse communities and tourists.
---
Letter to Editor:- "Stamp appeal for Bone Cancer Research Trust"
"I'm looking for support for my stamp appeal to raise money for the Bone Cancer Research Trust (Charity Number 1159590), the leading charity dedicated to fighting primary bone cancer, and would love the support of your readers. We are looking for used and new postage stamps from the UK and overseas, and any amount at any time of the year is very much appreciated. More stamps are used in December than the rest of the months put together! Please save your new and used stamps; whether you get a few stamps a year for your birthday or you get lots from your friends from all over the world, or you can even save them from the bin at work! Instead of throwing away your stamped envelopes, we can raise vital funds to help us continue with our research, providing information, raising awareness as well as offer support to those who need it. Primary bone cancer can occur at any age, but affects mostly children, teenagers, young adults and the elderly. On average 12 people every week are diagnosed across the UK and Ireland. The survival rate for this disease is just over 50% and this has not changed in the last 25 years. With your help we can work towards changing this, so more people have a chance to live! Please help us to raise awareness as well as funds just by sending in something that you would normally out into the rubbish bin!
Please send your stamps to:-
BCRT Stamp Appeal
20 Bowers Road
Benfleet
Essex
England
SS7 5PZ
Or email:- Terri.Volunteer@BCRT.Org.UK for more information." Yours sincerely, Mrs Terri Bush, BCRT Stamp Appeal Volunteer.

46 year, from Formby, wanted by Police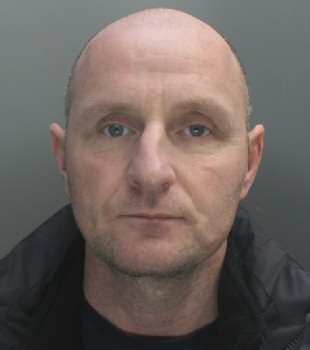 MERSEYSIDE Police have issued an appeal for the public's help to trace a 46 year old male, from Formby, who is wanted on a recall to prison. Sean Page, whose last known address was Cable Street, Formby was sentenced to 8 years and 3 months in prison on 25 May 2012, for importing and supplying class A and B drugs. He was released on license on 18 December 2015 but has failed to abide by the terms of his license and was recalled to prison on 14 March 2017. Extensive efforts have been made by the Police to find him but he remains outstanding and Officers are requesting the public's help to find him. Page is described as white, around 6ft tall with a bald head. Anyone who has seen Sean Page, or has any information about his whereabouts, is asked to call the Police on:- 101 quoting reference:- '0517063643.' If they prefer, people can also contact Crimestoppers, anonymously, on:- 0800 555 111.
---
5 star Christmas dinner for Wirral's care leavers
VOLUNTEERS have come together to provide a 5* Christmas dinner for 30 young care leavers aged 18-25 who would otherwise be alone and isolated on Christmas day. For now, the venue is a surprise, but has been described as:- 'ultra modern' and 'fabulous' and has been provided completely free of charge. The 'secret' venue has also arranged for award winning Merseyside Chef Paul Askew, from the Art School restaurant in Liverpool, to provide his time, expertise and food for free. Similar events have taken place across the country in previous years but this is the first time the event will happen in Wirral. Organisers have been so impressed with the plans and support from donors that plans are already well under way for Christmas dinner 2018. Nothing will go to waste. A local chip shop owner has kindly donated take away trays so that guests can take away 'doggie bags' and any leftover food will be distributed to Neo Café and the YMCA. Wirral Council has agreed to fund the cost of taxis to enable all of the guests to travel in style to and from the event on Christmas day.

Karen Smith, 1 of the volunteer organisers of the event said:- "This event is so much more than a dinner. Of course we are going to have a 5* 3 course meal, but the meal is all about coming together. It's about sharing and making friends. It's about having a place to go when you feel low and isolated or when you think you don't belong anywhere. It's also about knowing you aren't alone and that there are people who understand you and are there for you on Christmas Day; unconditionally."

Gina left care in 1990 at the age of 18 and felt compelled to help out at this event:- "When I heard about the Wirral Christmas dinner through a friend I wanted to help. I wish there was something like this when I left care. Leaving care is daunting and scary. Wirral Christmas dinner is a fantastic opportunity for young people to have Christmas dinner with other care leavers. It can be the start of new friendships and opportunities for them. It means they don't have to be alone on Christmas day in a safe environment where people care about them."

Before everyone sits down for dinner, there will be old fashioned games like charades and afterwards, a Christmas film in front of the TV. Guests will also receive a visit from Santa who will be delivering personalised gifts to everyone in attendance. To donate a gift, visit the events Facebook Page 'Wirral Christmas Dinner' where you will find an Amazon gift list that has lots of great gift ideas that have been paired with guests' hobbies or interests. Alternatively, send them an email for more information or deliver any gifts to the following drop off points:- Blackberry Grove Restaurant, New Brighton; Bromborough Civic Centre; Bebington Civic Centre or Tranmere Rovers' Shop. You can continue to donate gifts up to 23 December 2017.
---
'From Carbon' to play in Liverpool
ON Saturday, 16 December 2017, an exciting 7 piece Mancunian Indie band called:- 'From Carbon' will be playing live at:- 'Sound Food and Drink' Basement, (Duke street) in Liverpool. The band is currently supporting French touring singer / songwriter:- 'Ryder The Eagle' and Local Liverpool Indie band:- 'Seprona' as headline band. 'From Carbon' offers audiences the true sound of Manchester, fusing the nostalgic influences of pre-1997 Manchester while also bringing a forward thinking mentality to their sound keeping this style of music alive both now and in the future. In 2016 From Carbon Supported 'Heather Small' The voice of 'M-people' on an 18 date UK tour. 'From Carbon' are reputedly currently in talks to get a development deal on the back of 1 of their songs used in a new movie starring:- 'Michelle Keegan.' For more information visit the bands Facebook Event Page.