Almost 2,700 children in the North West will be homeless on Christmas day
A shocking 2,684 children in the North West will wake up homeless and in temporary accommodation this Christmas, a new report by Shelter reveals. Across Britain, 1 in every 111 children is currently homeless, and with the country still at the mercy of a worsening housing crisis, 2017 has seen the highest numbers of homeless children in a decade. In 2017 alone, 61% of the families helped by Shelter's frontline services were homeless or on the brink of losing their home. With at least 7 families becoming homeless every day in the North West, the charity is calling on the public to support its urgent Christmas appeal. To expose the devastating reality of homelessness, Shelter carried out in depth interviews with children and their parents living in emergency B&B's and Hostels. This is widely considered the worst type of temporary accommodation. In the unique investigation:-

► Every family lived in a single room which significantly disrupts the children's ability to play, do homework and carry out any kind of daily routine.

► A quarter of families had no access to a kitchen at all, and the rest had to make do with shared facilities. Struggling to cook meals, more than ½ of parents said they rely on expensive and unhealthy takeaways. And ⅔ had to eat family meals on the bed or floor of their room.

► ½ of families had to share toilet and bathroom facilities with other households, often with filthy conditions and unlockable doors, meaning strangers could walk in at any moment.

► Over ⅓ of parents had to share a bed with their children. ¾ say bedtimes have become difficult and ½ say their children are more tired.

In England, where the highest number of families are placed into B&B's, 45% stay beyond the 6 week legal limit. The charity's findings lay bare the psychological turmoil experienced by families living in these cramped conditions for often long periods of time, including:-

► ¾ of parents felt their children's mental health had been badly affected. 1 parent said her daughter had become suicidal since living in the Hostel.

► ½ of parents reported that their children's physical health had also worsened, with incidents of bed bug infestations, and broken heating causing children to fall ill.

► Children spoke about feeling anxious, afraid and ashamed. Several children described School as a respite. For 1 it was the only place he felt happy, another felt stressed at the thought of returning to her accommodation at the end of the School day.

► Children also talked about their School work suffering because of long journeys to School each day, poor and broken sleep, and having no space or quiet time to do their homework.

John Ryan, Shelter Manchester hub manager, said:- "It's a national scandal that the number of homeless children in Britain has risen every year for the last decade. No child should have to spend Christmas without a home; let alone more than 2,600 children in the North West. Many of us will spend Christmas day enjoying all of the festive traditions we cherish, but sadly it'll be a different story for those children hidden away in cramped B&B's or Hostel rooms. Imagine living in a noisy strange place full of people you don't know, and waking up exhausted from having no choice, but to share a bed with your siblings or parents.That's why our frontline advisers will continue to work tirelessly to help more families fighting homelessness. But we can't do this alone. We're asking people to help a homeless family and make giving to Shelter their new Christmas tradition."

To support Shelter's urgent Christmas appeal please visit:- Shelter.Org.UK or text:- 'SHELTER' to '70080' to donate ₤3.
---
2 licensed firearms stolen in Formby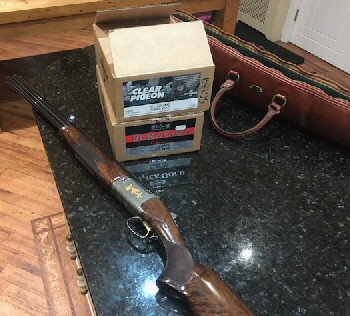 MERSEYSIDE Police are appealing for information following the theft of 2 licensed firearms in Formby. Police say that they received a report that a Browning shotgun and a Beretta shotgun had been taken from a car parked outside the Sparrowhawk Hotel, Southport Old Road, in Formby, at about 10pm, on Thursday, 7 December 2017. The owner discovered they had been taken from the Isuzu D-Max 4x4 vehicle, at 6pm that day, and they are believed to have been taken between 5pm to 6pm. Detective Inspector Robbie Moss said:- "I would like to reassure the local community that we are doing everything we can to investigate this theft and recover these stolen firearms. The weapons were legally owned shotguns which belong to someone who had correctly registered them with the Police. However in the wrong hands they are clearly dangerous and getting them back is our top priority. The people who have stolen them may not fully appreciate the danger they may be putting themselves and others in by handling these weapons, so I would appeal for them to come forward so we can take back possession of them safely. I would also urge anyone who knows the people who have got them to think carefully about the risks and implications of handling a firearm. We do not want anyone to come to any harm due to these weapons being misused or falling into the wrong hands so please, do the right thing and call the Police. If you remember seeing anything suspicious around 5pm to 6pm, on Thursday, close to the Sparrowhawk Hotel and haven't yet spoken to the Police then please call us on:- 101 quoting incident reference:- '0517314995.' Alternatively, contact Crimestoppers anonymously on:- 0800 555 111."

Man arrested after the discovery of a cannabis farm in St Helens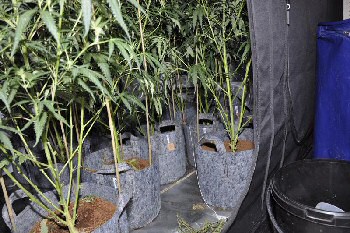 AT around 2.30pm, on Thursday, 7 December 2017, Merseyside Police Officers conducting enquiries within the Alfred Street area identified a cannabis farm, that had around 40 plants, with a potential annual yield of ₤160,000 discovered. Following the discovery, Utility services had to attend to make the property safe. A 40 year old man from St Helens was also arrested on suspicion of cannabis cultivation.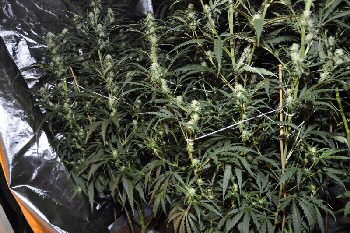 Sergeant Gary Sorrell from the specialist Cannabis Dismantling Team said:- "It is good that we have dismantled a cannabis farm with all the associated risks that it brings. Cultivating cannabis, overloading the electricity sockets in the process and mixing with water is dangerous and can cause a fire. We are liaising with St Helens Council in this matter to secure the house. If you live close to one of these farms, you are potentially in danger from the fires that they can cause, so report any of the signs and help us remove any such hazards from your street. Cannabis cultivation by criminal gangs can cause serious harm in our communities and we know that criminal groups involved in the cultivation of cannabis are usually involved in other serious organised crime, bringing fear and harm to those around them. We would ask that if you believe someone is using a property as a cannabis farm, please tell us so we can take positive action and find those responsible for setting them up."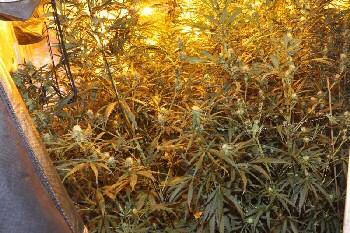 Some of the signs that cannabis is being grown are:-

► Strange smells and sounds.

► Frequent and varied visitors to a property, often at unusual times.

► Gardening equipment being taken into a property, such as plant pots, fertilizer, fans and industrial lighting.

► Windows are sealed and covered or the curtains are permanently closed.

► Heat from an adjoining property.

► Birds gathering on a roof in cold weather.

► Individually these activities may seem commonplace, however, together may indicate something more sinister.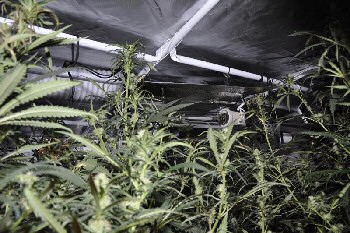 Anyone with any information can call Police on:- 101 quoting reference:- '0517314712,' or Crimestoppers, anonymously, on:- 0800 555 111. Information can also be provided online.