Environmental improvements set for go ahead
A series of improvements to Liverpool's highways and open spaces areas are to be funded through new developments in the City. A total of 13 projects worth a combined ₤620,000 will receive contributory funding of ₤275,000, paid for through planning agreements known as Section 106.

It includes ₤30,000 towards creating a wildflower garden and recreation space outside the Florrie in The Dingle which will house sheep and bee hives, as well as funding to deliver an exhibition to develop local artists.

Around ₤40,000 is being allocated to improving alleyways along County and City Road in Walton and turn them into community spaces displaying artwork. And ₤68,000 will be spent installing a new bridge to the island at Princes Park lake as part of ₤250,000 plans to create a memorial to Nelson Mandela to tie in with what would have been his 100th birthday in 2018.

Deputy Mayor, Councillor Ann O'Byrne, who chaired the subcommittee that made the recommendations, said:- "This is about making sure that we target the money we receive from developers at projects that deliver significant environmental and other improvements. We are committed to making Liverpool a greener place to live, work and visit and these projects will make a real difference to communities across the City."

The other projects are:-
► Plants and trees on the central reservation at Utting Avenue in Anfield - ₤35,000.
► New pathways, trees, benches and shrubs at Lister Drive Playing Fields in Tuebrook - ₤33,000.
► Improving Broadway Bridges in Clubmoor by painting or greening - ₤30,000.
► Creating a new footpath into Croxteth Park - ₤15,000.
► Hillfoot chicanes on footway in Allerton/Hunts Cross to prevent vehicles accessing open space - ₤10,114.
► Greening alleyways in the Garston Triangle - ₤7,760.
► Tree planting in Newsham Park as part of the 1 Tree Per Child project - ₤7,760.
► Improvements to trees on Rice Lane Recreation Ground - ₤3,990.
► Installation of fitness equipment around Croxteth Park - ₤3,000.
► Energy saving lighting scheme at Tuebrook Hope Centre - ₤910.
Councillor Steve Munby, Cabinet member for highways and neighbourhoods, said:- "We are funding a range of projects that will improve the environment across the City. We have far less money available due to significant cuts in our funding from the Government so it is right and proper that we have a proper process for deciding how and where we spend Section 106 money, to make sure we get the maximum impact."

A report submitted to the Cabinet on Friday, 15 December 2017, is recommending approval of the funding.
---
Arsonists attack Primary School display and park area
BOTH Merseyside Police and Merseyside Fire and Rescue Service (MFRS) are appealing for information after an suspected arson in a Bootle park, on Saturday, 9 December 2017. We are told that at around 5.20pm, MFRS were called to a fire in Derby Park, on Fernhill Road, Bootle. On arrival the crew found that a seating area, a notice board and a park layout produced by Christchurch Primary School, in Bootle, were set alight by persons unknown causing significant damage. No injuries were caused and the fire was extinguished.

Local Policing Sergeant Kate Young said:- "This type of behaviour is completely unacceptable and clearly dangerous. We will act on all information provided to identify those responsible. All members of our community should feel they can visit our green spaces without fear or intimidation, so please let us know if you saw anything suspicious in the park on Saturday which may assist."

MFRS Arson Coordinator Graham Morgan said:- "This fire caused a considerable amount of damage to notice boards and a seating area in Derby Park, an area well used by the local community. Merseyside Fire and Rescue Service is committed to tackling incidents of suspected arson and is working closely with Officers from Merseyside Police to investigate the incident."

Anyone with information is asked to contact:- 101, speak to local Officers or you can contact Crimestoppers anonymously on:- 0800 555 111.

Counterfeit goods seized in joint operation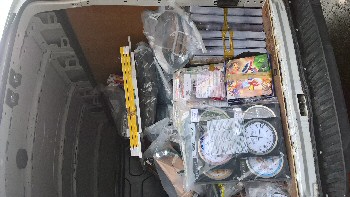 WIRRAL Council Trading Standards yesterday carried out an operation to deal with counterfeit goods. In a joint operation with Merseyside Police and brand protection officers from Surelock, React and Liverpool Football Club, stall holders in Birkenhead Market were targeted as it had been reported that they were selling fake clothing and other products.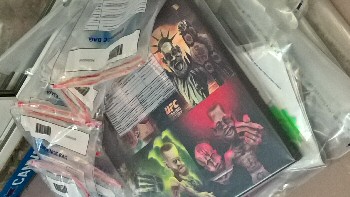 The seizure involved big name brands including:- Premier League football clubs, music merchandise and goods bearing the logos of Marvel Superheroes and Disney characters. The operation was in response to complaints received from Brand Holder organisations who had confirmed that the products were infringing the rights of the copyright owners.

Selling counterfeit goods is a criminal offence under the Trade Marks Act 1994. These criminal activities undermine legitimate businesses and affects consumer confidence. Cheap clothing and products might seem harmless but they are likely to be low quality goods and/or unsafe. Caution also has to be made for counterfeit children's clothing as the material could pose a potential choking hazard for small children.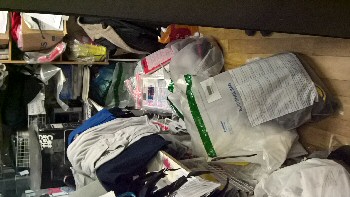 Cllr Phillip Brightmore, Wirral Council Cabinet member for Environment, said:- "Counterfeit products can defraud the customer along with damaging and weakening a brand's reputation. Such products can put customer safety at risk as they are not tested to high UK standards. The supply of counterfeit goods can also be linked to serious, organised crime and the funding of illegal operations. This is not a victimless crime. The sale of counterfeit goods undermines genuine retailers who provide employment for local people. Wirral Council will support legitimate businesses and protect consumers by taking robust action against the suppliers of counterfeit goods and those who seek to sell them."