Twenty Twenty TV looking for Cast for new TV series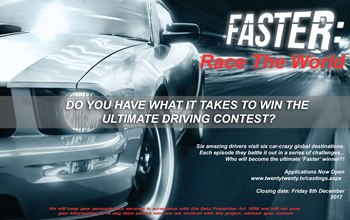 A new TV show called:- 'Faster - Race The World (w/t)' is a globetrotting car competition series that taps into the urban glamour and auto culture of some of the world's major cities. 6 amazing drivers fly out to a different car crazy global location each episode where they will be immersed in each country's unique car culture. But they are not just here to have fun; they're here to win. In a series of driving challenges; based on skill and speed; our 6 drivers will be whittled down to one ultimate 'Faster' winner. The TV show have contact us as they are currently looking for cast. They said:- "We are looking for people to take part. Please click on the flyer above for more information. You can submitting an application directly to:- TwentyTwenty.TV/Casting/."
---
North West parents to benefit from Tax Free Childcare roll out for under 6's
TAX Free Childcare is now available to around 140,000 families in the North West whose youngest child is under 6. Parents, including the self employed, can apply online for Tax Free Childcare; part of the Government's Childcare Choices offer; for children who were aged under 6, on 24 November 2017. It will cut childcare costs for working families by up to ₤2,000 per child per year, or ₤4,000 for disabled children.
Tax Free Childcare will be gradually rolled out to parents with children aged under 12, with everyone who is eligible able to apply, by the end of March 2018. The money can go towards a whole range of regulated Childcare, whether Nurseries, Childminders, after School Clubs or Holiday Clubs. Parents can find out what help is available on the Childcare Choices website. This website includes a Childcare Calculator, that compares all the Government's childcare offers to check what works best for individual families.

Once eligible parents have opened their new account they can start paying their childcare provider straightaway, using the Government contribution. Parents apply for both Tax Free Childcare and 30 hours free childcare, through a single online application. 30 hours free childcare is available to working parents of 3 and 4 year olds in England. Parents should apply online now to get their eligibility codes in good time if they plan to use 30 hours free childcare from January 2018, when the next term starts.

Liz Truss, Chief Secretary to the Treasury, said:- "Tax Free Childcare will cut thousands of pounds from childcare bills for millions of families, making it easier for more parents to work if they want to. This is part of our commitment to support families, including helping them to earn more and keep more of what they earn by increasing the National Living Wage and cutting Income Tax for millions of people."

These offers build on the childcare support already available to thousands of families in the North West, including:-

► 15 hours free childcare for 3 and 4 year old children

► 15 hours for some 2 year olds

► 30 hours free childcare for 3 and 4 year old children of working families

► enhanced childcare support through Universal Credit

► Tax Credits for childcare

► Childcare Vouchers.
---
Pop star Kevin Simm appears at Revitalise Sandpipers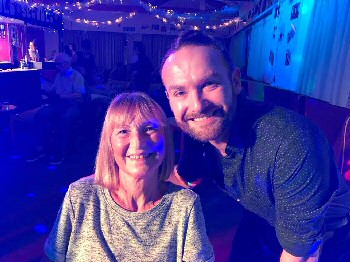 POP icon and TV star Kevin Simm entertained guests at Revitalise Sandpipers; which provides respite holidays for disabled people and carers, on Friday, 8 December 2017, the culmination of the Centre's:- 'Ultimate 90s Week.'

Kevin is best known as a former member of the chart topping group Liberty X and won BBC TV's The Voice in 2016 with his rendition of 'Chandelier.'

In a storming set, Kevin enthralled the Centre's guests with numbers including:- Frank Sinatra's 'Fly Me to the Moon,' The Temptation's 'My Girl' and Ed Sheeran's 'Thinking Out Loud.'

Once the performance had finished, Kevin also took the time to meet and pose for photos with guests, volunteers and staff at the centre, even contributing to our:- 'Wish You Were Here' campaign, that has been fronted by the charity's Vice President Dame Judy Dench, inviting celebrities to share their treasured holiday moments.

Speaking of the evening's success, Leslie Sparkes, Revitalise's Guest Relations Manager commented:- "It was a real pleasure to welcome Kevin to Revitalise Sandpipers and have him perform to our guests. It was so great to see everyone enjoying themselves and having fun; what a way to end our 'Ultimate 90's Week!"

Speaking in a special video message recorded for the charity, Kevin added:- "…I just want to wish you all a very Merry Christmas and I'm very happy to be here tonight so thank you very much."

Revitalise provides respite holidays for disabled people and carers at Sandpipers and 2 other UK centres. Accessible excursions, activities and entertainments are an integral part of every Revitalise holiday.
---
Bike & Go's Christmas gift helps beat the bulge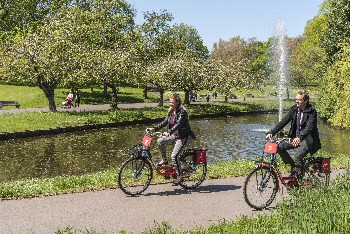 LEADING bike hire scheme Bike & Go is inviting new users to bike off the Christmas blowout by offering a half price subscription.
Those signing up to the scheme this month will pay just ₤5 rather than the usual ₤10 annual fee, making it more affordable to enjoy the outdoor festivities and burn calories too.
They can then hire up to 2 bikes at a time from 21 Train Stations across Merseyside, including:- Southport, Ainsdale and Formby, at just ₤3.80 per 24 hours.
The offer comes as a study by Forza Supplements reveals that the average Brit will eat up to 5,241 calories on Christmas Day, and would have to run the equivalent of 2 marathons to burn it off.

David O'Leary, director of Bike & Go said:- "While very few of us will have the time, inclination, or even the ability to burn off thousands of calories in 1 month through exercise, most people will benefit from a bike ride. By jumping on a bike, you can escape the Christmas madness, clear your head, and burn off up to 270 calories at the same time."

Those who don't want to cycle alone can enlist friends and arrange their own 'festive sights' tour, or join 1 of the many group bike rides on offer in the Region.
There are also a number of other organised bike rides around the Region, many of which are women only events, in the run up to Christmas.
David said:- "No matter how you choose to do it, taking to 2 wheels, over December, can make you look and feel better. By providing ½ price subscription this month, we're making it even easier for people to enjoy the numerous benefits that cycling can bring."

Bike & Go offers bike hire facilities from 70 participating Train Stations across much of the:- North West, North East and Yorkshire, East and South East of England, and Scotland.
In 2016 the scheme was praised by a UK division of the travel giant TripAdvisor when it was included in a list of the top 7 bicycle hire companies drawn up by its subsidiary rental company Holiday Lettings.
To hire a Bike & Go bike, users simply need to register their card details online, which they can do via smart phones, tablets, or at home, and pay the annual ₤10 subscription fee.
They will then receive a user number via email which will allow immediate bike hire; usually charged at just ₤3.80 per 24 hours up to a maximum of 72 hours; while they wait for their Bike & Go membership card.

Southport Cruisers Christmas Charity Bike Ride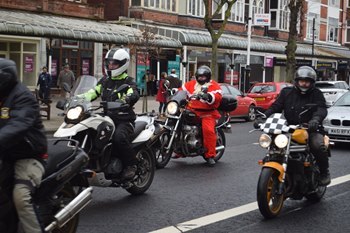 THE Southport Cruisers have held their annual Christmas Charity Bike Ride, from Southport to Formby's Clumber Lodge Children's Home, to deliver presents and to raise funds for the home. This year's ride, which was held on 10 December 2017, raised ₤460. The club also does the same run every Easter, to the Homes, and are already looking for people to take part with them for the 2018 event. The club is open to anyone with an interest in motorcycles. The aim of the club, who meet at the Railway Club, on Sussex Road, is to promote biking via social events and rides around the country or abroad, mostly for charity. To find out more about the local club, that was formed in 2005, visit:- SouthportCruisers.Com or go to the club's Facebook Page.