NHS B Positive Choir launches debut single and asks you to:- 'Rise up and Give Blood'
THE NHS B Positive Choir and Gospel sensation Lurine Cato launch Rise Up, to encourage more people to Rise Up and be counted as blood donors, and raise vital funds to help support the life changing work of NHS sickle cell wards. To see Rise Up at the:- 'MOBO Awards 2017,' and for lots more about B Positive website.

B Positive is a group of 60 singers from across England who live with sickle cell disease, their families, helpers and friends. The choir was formed with the mission to create awareness of sickle cell disease and the need for more blood donors. Fresh from their powerful television debut at MOBO Awards 2017 in which they shared the stage with the British Got Talent Winner Tokio Myers, the B Positive Choir are proud to announce the release of their 1st single "Rise Up," a rendition Andra Day's original song. With lead vocals by Gospel sensation, Lurine Cato.

NHS Blood and Transplant and MOBO, 1st started to work together in 2016 to spread awareness of the urgent need for more blood donors to a wider audience. NHS Blood and Transplant urgently needs 200,000 new blood donors each year in order to help provide those who need it with the best care possible. 1 donation takes an hour and can save up to 3 lives

Choir director Colin Anderson said:- "Over the last year 900,000 people have given up their time to help patients in need. But we need more new donors. Every day, we need 6,000 donations to continue saving lives. We need life saving blood from new donors of all backgrounds to provide the closest matches for all communities. We are particularly looking for younger people and black communities to come forward."

Lurine Cato said:- "We urgently need 40,000 new black donors help people with sickle cell disease. Sickle cell is more common in black, South Asian and Minority Ethnic people. Blood from black donors provides the closest match to black people who need blood."

MOBO CEO and Founder, Kanya King MBE said:- "We are proud to be partnering with NHS Blood and Transplant on the "B Positive" campaign to help recruit new donors, and use our platform to help reach a wide audience. We were honoured to be able to provide B Positive Choir with their television debut, and it's amazing to see the response they have received."

For information about B Positive, Lurine Cato and to download Rise UP go to:- Blood.Co.UK/BPositive.
---
Dementia Centre Set To Open Next Year
A local nurse from Melling is joining forces with 2 friends to fulfil their dream of opening a dementia centre in the heart of Kirkby. The Me2u centre, which is due to open fully in early 2018 will offer people living with dementia the opportunity to remain independent for longer, it also hopes to provide respite care, advice and support to caregivers. NHS Nurse and mum of four, Rosie Whittington said:- "I initially qualified as a mental health nurse in 2001 and have always been drawn to working with older adults, however my passion now is to work with people living with dementia day to day. They have inspired me to take a leap of faith and take the next step to achieving our goal which is to provide the support needed for dementia sufferers to live independently for longer."

Along with her colleague Amanda – a social worker for the last 10 years, specialising in older people with mental health problems and Angela, an insurance worker who is looking for a more rewarding role, Rosie is hoping their new venture will provide much needed care and respite to dementia sufferers and enable them to remain independent by having the support and care facilities they need closer to home. Rosie added:- "Working in this sector both Amanda and I are desperately aware of the need for such services in the local community especially since cuts from local authorities have resulted in the closure of many day centres. We witness on a daily basis the struggles facing those living with dementia due to limited resources which impacts greatly on the care givers."

The Centre will be based in West Vale, Kirkby, and will be open 7 days a week for up to 20 clients, from 8am to 6pm. The cost to use the centre (which is yet to be determined) will include transport to and from the centre for those living in Kirkby and the surrounding areas and 3 meals per day.

A hair salon, wet room and cinema are just some of the provisions that will be made available to clients in order to enhance the quality of life and encourage a little more independence. Amanda said:- "My passion is working with people and families living with dementia and our aim and vision for the future is to have respite beds for patients requiring EMI care. I truly believe that this is a much needed service and I hope we can provide the support and care to the highest of standards to those most in need."

For more information or for interviews and pictures please contact Clare Maher via calling:- 07933864162 or sending an email.
---
Man charged following theft in Southport Town Centre
MERSEYSIDE Police arrested and charged 45 year old, Warren Wright, from Southport, following a theft in Southport, on Wednesday, 13 December 2017. His arrest is in connection to a report given to the Police that a wallet containing a quantity of cash had been stolen from the pocket of a man on London Street, at around 2.30pm. Warren Wright has since appear at Sefton Magistrates Court, on Friday, 15 December 2017.
---
Male and female found dead in Southport
ON Thursday, 14 December 2017, Emergency services were called to the house Frailey Close, Southport after receiving a report from a member of the public concern for the safety of a man and woman. At around 11am both Police and Paramedics attended and located John Neill, 87 years and Lillian 'Lilly' Neill, 86 years. Sadly both where pronounced dead at the scene. At this time, the deaths are not being treated as suspicious, following post mortems, but the results are currently being withheld pending toxicology reports.

Police Dog Handlers and Police Dogs Receive Awards from both RSPCA and Assistant Chief Constable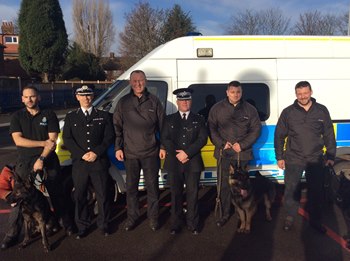 THE bravery of Police Dog Handlers and Police Dogs was recognised at an award ceremony held at the force's Mather Avenue station, on Wednesday, 14 December 2017. Representatives from the RSPCA and Assistant Chief Constable Ian Critchley presented the awards to the teams together with 3 handlers and their dogs who successfully completed their 13 weeks training course.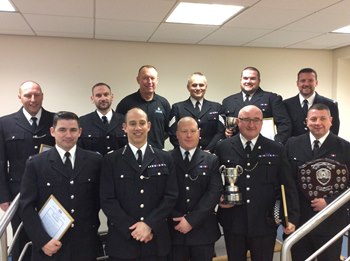 The Dobie Cup was given to the Explosive dogs teams who deployed to the MEN arena in Manchester following the terror attack in May 2017. The citation for the awards states:- "They demonstrated the highest levels of professionalism and dedication to Merseyside Police and the communities of both Merseyside and Greater Manchester. They worked a very long shift without complaint and demonstrated true resilience whilst ensuring the dogs welfare throughout. They assisted search areas not knowing if other explosive devices had been planted despite the intelligence at the time stating that a secondary terrorist was outstanding and in possession of an explosive device. This work allowed areas to be declared safe and assisted other emergency services with the triage and removal of victims of the explosion."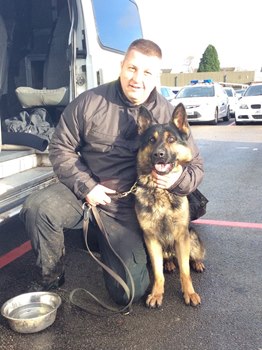 The Steen Cup was awarded to Constable Paul Hughes and PD Tex. On Friday, 24 March 2017 Constable Hughes and PD Tex responded to an incident whereby a wanted male was being pursued by a foot patrol. After a short chase the wanted male was joined by 2 other males who had all became aggressive to the lone Officer and assisted with an escape. Con Hughes detains 1 male and eventually he is handed over to area patrols and arrested for obstruct Police. The team then start to search the area for the other outstanding male and after a long and vigorous search he is located by PD Tex hiding inside a bin shed of a commercial premises. Upon locating the male PD Tex has then been kicked and punched numerous times as the offender has tried to get away from him. The citation reads:- "There aren't a lot of dogs within the section that can search for prolonged periods especially away from their handler. It takes a lot of skill, and persistence to train a Police Dog to such a high standard. Tex has himself shown bundles of courage and determination to prevent the offender from making off ensuring that the public and colleagues are safe."

3 handlers and their Police Dogs:- Constable Simon Harris and PD Kane; Constable David Bartley and PD Chico and Constable David Smith and PD Wallis; also marked the successful completion of their 13 week training by taking part in a demonstration in front of colleagues, family, friends and school children from Green Park school in Maghull. Constable Harris was also given an award for being the best Officer and dog on the training course. The course entailed teaching the dogs, amongst other things, tracking; searching properties and open areas; chasing and detaining offenders; confronting and disarming an offender armed with a weapon and agility.

Assistant Constable Ian Critchley said:- "Our Officers in the dogs section do a fantastic job day in and day out with their Police Dogs. They are often called out to manage difficult and challenging situations as well as do excellent work in recovering drugs, firearms and cash. It is great to see the explosives dogs teams recognised for the assistance they offered following the terror attack in Manchester earlier this year and for Constable Paul Hughes and PD Tex for their sterling work in detaining an offender. The demonstration by our newest recruits; Kane, Chico and Wallis; and their handlers shows that the force remains in good hands and that our dogs will continue to assist in keeping the streets of Merseyside safe in the future."