Merseyside Fire and Rescue Authority initiative helps fund sprinklers at a St Helens Hospital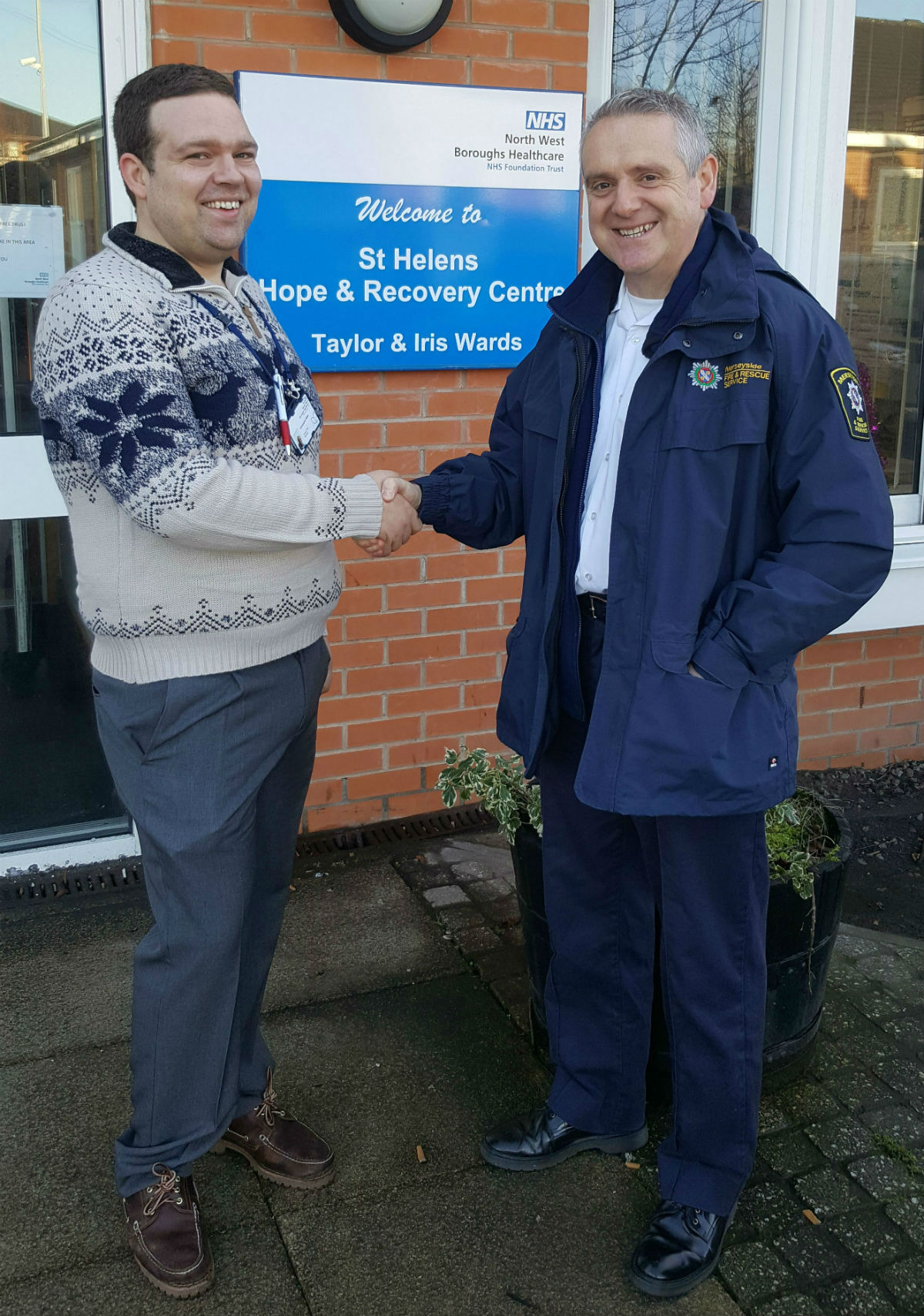 A project which aims to increase the number of buildings which have effective sprinkler systems in Merseyside has seen sprinklers fitted at a St Helens mental health Hospital. The system has been installed on Taylor and Iris Wards at Peasley Cross Hospital on Marshalls Cross Road in St Helens as part of a Merseyside wide initiative to protect vulnerable members of the community against the risk of fire. The project, agreed by Merseyside Fire and Rescue Authority (MFRA) in 2014, aspires to have at least one building in each of Merseyside's five districts retro fitted with a sprinkler system. With a focus on making communities safer and increasing the numbers of properties containing a sprinkler system across the county, MFRA is working with:- businesses, healthcare providers, Schools and housing providers to retro fit sprinkler systems to a number of large or complex residential buildings. The sprinklers on Taylor and Iris Wards at Peasley Cross Hospital, part of North West Boroughs Healthcare NHS Foundation Trust, will now help protect 32 patients at the 2 storey high building from fire. Merseyside Fire and Rescue Authority has agreed to contribute towards the cost of installing the sprinklers, recognising the additional fire safety protection they provide for users of the unit and firefighters when responding to any potential future fires within the building. More information on the impact and effectiveness of sprinklers can be found online. Group Manager Any Groom, who is leading on the sprinkler project for MFRA, said:- "It has been great to work with North West Boroughs Healthcare NHS Foundation Trust to fit sprinklers at Peasley Cross Hospital. We have seen many fires in Merseyside where fitted sprinklers have prevented the fire from spreading, limiting damage to owners and businesses, allowing faster business recovery from potentially devastating fires and ultimately saving both lives and livelihoods. Sprinklers provide a range of benefits including environmental ones and, if more widely used, could potentially save millions of pounds for our economy. MFRA believes more can be done to promote the wider use of sprinklers in schools and domestic, commercial, healthcare and residential premises and we continue to actively work towards supporting this aim."

Mike Roscoe, Assistant Director at North West Boroughs Healthcare NHS Foundation Trust, said:- "We'd like to thank Merseyside Fire and Rescue Authority for its kind contribution towards getting these sprinklers fitted on our wards which have helped ensure our patients are better protected in the event of a fire. Merseyside Fire and Rescue Authority also worked with us to help ensure that the sprinklers fitted are suitable for the environment on our wards."
MFRA Deputy Chief Fire Officer, Phil Garrigan, said:- "The fitting of sprinklers in Peasley Cross Hospital's Taylor and Iris Wards is a great step forward in helping to protect patients from fire. MFRA is promoting the use of sprinklers in Schools, commercial, healthcare and residential buildings for a number of reasons. Firstly, they suppress fires and contain them, which helps us when firefighters and crews arrive on scene and contributes towards their safety. They also limit fire spread, protect occupants and reduce fire damage to businesses, helping owners get back to normal quickly. Greater use of fire sprinklers would make the country safer and more resilient."

---
CLA statement on the Universal Service Obligation to deliver high speed broadband across the UK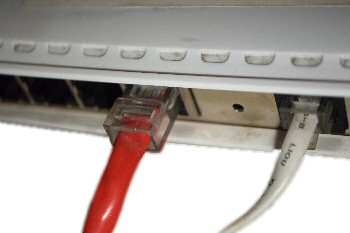 THE Government has confirmed on 20 December 2017, that universal high speed broadband will be delivered by a regulatory Universal Service Obligation (USO). An offer from BT to deliver a universal service on its own terms was rejected by the Government. BT Openreach, the largest provider of fixed line broadband infrastructure, consistently opposed the USO to give every household or business premises the right to an internet connection of a legally set speed of at least 10 megabits per second (Mbps). The CLA which represents landowners, farmers and rural businesses welcomed the regulation. CLA Senior Rural Business Adviser Dr Charles Trotman said:- "The challenges of rolling out fast, reliable and affordable rural broadband are well known but have been recognised by the Government with the commitment to provide a universal service obligation of at least 10 Mbps from 2020. For too long, rural areas have been at the back of the queue when it comes to investment in infrastructure and that is why this legal principle is not something to compromise on. Rural areas now stand a better chance of receiving a decent broadband service without BT monopolising the market and deciding its own terms for connection. It is vital for the Government to move as swiftly as possible towards meeting its objective of universal coverage in 2020 and to ensure legal guarantees are set for any future universal obligation. 10 Mbps is only a benchmark minimum speed which is sufficient now, but as technology advances could be too slow in just 5 years' time."

1 in 4 teenagers couldn't enjoy Christmas without social media
MORE than 1 in 4 teenagers; an estimated 108,000 young people in the North West; say they couldn't enjoy Christmas without social media according to a new survey carried out for The Children's Society. Almost 1 in 3, 128,000, said they thought it was getting harder to enjoy Christmas, while only 1 in 10 felt it was getting easier. Many young people are left casting envious glances at their peers and people they follow, with 31%, 124,000, saying that social media use at Christmas makes them want more gifts and presents after having compared themselves to others. 1 in 5 children think that friends on social media seem to be having a better Christmas than them. However, 40% felt that social media made them think more about those who are less fortunate than they are at Christmas time. The poll of 1,010 13 to 17 year olds in England and Wales, conducted by Research Now for The Children's Society, found a 32% increased their use of social media over Christmas, with only 8% saying they spent less time on the online platforms. 47% of all young people said they didn't spend enough time with friends during the Christmas break, with 76% of those who use social media more at this time of year saying they did so to see what their school friends were doing over the holidays. Worryingly 13% said they use social media more at Christmas to help them feel less alone, while 17% do so to escape family stress and 32% do so because they feel bored.

Rob Jackson, North West Area Director at The Children's Society, said:- "Christmas can be a stressful time for everyone, including children. Many miss their friends whilst not at school and social media can represent an important lifeline to the outside world. Although social media can have many benefits, we know that overuse can be damaging to young people's well-being and may harm their mental health. That is why parents need to be aware of what children are doing online and more needs to be done to raise awareness about how to minimise risks and help ensure use of social media is as positive an experience as possible. It is also absolutely vital that parents talk to their children, support them to see friends and encourage them to stay active. By doing so they can help them to overcome the stresses of the season and enjoy the festive spirit. There will however be many children this Christmas, with nowhere to turn, and at The Children's Society we support thousands of these young people. It is vital that more of them are able to access the support they need all year round."

The Children's Society is calling for tougher regulation and decisive action by social media companies to ensure the online world is safer for children and to minimise risks like cyber bullying and online grooming. It wants to see clearer child friendly guidelines, better advice on blocking people and reporting issues, and quicker and more effective responses to reports of inappropriate behaviour and material. Mr Reed added:- "The Government must do its bit to make sure this happens, and we would urge it to listen to the voices of young people in developing its proposed Code of Practice for social media companies, which we would like to see in place as soon as possible."
---
Don't Let Fire Ruin Festive Cheer
IT'S the most wonderful time of the year: Christmas dinner, giving presents, decorating your home; there's so much to think about at this time of year… and that's before the festivities even get started! 1 thing Merseyside Fire and Rescue Service is urging residents to put at the top of their Christmas to do lists this year is fire safety. While fire safety is important the whole year round, the extra distractions of Christmas make vigilance especially important. MFRS is asking people to take extra care over Christmas, when the winter weather can bring its own challenges, to ensure that their families and loved ones are protected from fire.

Mark Thomas, Prevention Group Manager for MFRS, said:- "Christmas should be a fun time for festive cheer with family and friends. But fairy lights, candles and decorations means it is also a time to take extra care to keep our loved ones safe from fire. We want everyone to enjoy a Merry Christmas and we urge all to keep fire safety at the top of your list. Ensure you place candles in suitable holders and away from curtains and festive decorations, never leave cooking unattended and, of course, test your smoke alarms. The colder weather brings its own dangers too. Take care when using portable heaters or open fires to keep warm and always look out for elderly neighbours, friends and relatives."

Here are some tips to help you and your family enjoy the joys of Christmas safely:-

► Never leave cooking unattended. The majority of fires start in the kitchen so this is a high risk area. Many of us enjoy a merry tipple over the festive season but be sure to avoid cooking whilst under the influence of alcohol. Always turn off kitchen appliances when you have finished cooking.

► Never leave burning candles unattended. Keep candles out of the reach of children and pets, and away from decorations, cards and wrapping paper, fires, lights and heaters.

► Never use heaters to dry clothes. Heaters can start fires when things are replaced too close to them. Keep them well away from curtains, clothing and furniture.

► Don't overload sockets. Ensure only one plug per socket. Always turn off plugs when they are not in use, except those that are designed to be left on, like freezers.

► Ensure you have working smoke alarms installed on all levels of your home. A working alarm can give you the vital time needed to escape in a fire. Test your smoke alarms regularly and never remove batteries.

► Put your cigarette out, right out. Make sure your cigarette is fully extinguished and take care when under the influence of alcohol or tired. It's very easy to fall asleep while your cigarette is still burning and this can set furniture alight.

► Ensure you switch off fairy lights and unplug them before you go to bed, or leave the house. Check your Christmas tree lights conform to the British Standard (BS EN 60598) and are in good working order before use.

► Always use an RCD (Residual Current Device) on outdoor electrical equipment. This safety device can save lives by instantly switching off the power if there is a fault and can be found in any DIY store.

► Do something good this Christmas. Test the smoke alarms of someone you know who may need help such as an older relative or neighbour to ensure their safety as they are at greater risk from fire.

► Make sure that everyone in your home knows what to do in case of fire; in the event of fire you should get out, stay out and call:- 999.