Merseyside's Police Commissioner asks local people to help protect local Policing
MERSEYSIDE'S Police Commissioner is asking local people if they would be willing to pay a little extra to help protect Police Officer numbers and recruit new Armed Officers after the Government sidestepped its responsibility to invest in the Police Service. After 7 years of austerity, the Government announced in December 2017 that the Police would, once again, receive no more new money from the Home Office to tackle crime in Merseyside. Instead, Policing Minister Nick Hurd MP announced Police and Crime Commissioners would be expected to ask local taxpayers to pay up to an extra ₤1 a month towards their Police Service, through their Council Tax. Since 2010, Merseyside Police has had to make cuts of ₤103m, with an estimated ₤18m still to make by 2021 to 2022.

If the Commissioner, Jane Kennedy, does not win the support of local people, Merseyside Police will be left facing a further shortfall of more than ₤3.17m; that is the equivalent of 64 Police Officer posts. Jane said:- "The sad truth is that this Government has once again left police forces around the country facing a funding black hole. They have washed their hands of their responsibility and instead are shifting the burden of paying for the Police on to the shoulders of local Council Taxpayers. By freezing the grant provided by Central Government, at the 2017 / 2018 rate, a reduction on the previous 2 years; the Policing Minister has imposed a real terms cut on the Police budget, as we contend with pay and inflationary pressures. His proposal is that I make up this shortfall by asking Local Taxpayers to pay more. This is a step which I am reluctant to take, however, if I don't raise the Policing element of local Council Tax, then Merseyside Police will be penalised and our communities adversely affected. This money will be used to save Police Officer jobs and help us to recruit 20 new Armed Officers, who are needed to help tackling the scourge of serious and organised crime on Merseyside and to protect our communities. The Government did not bother to ask people if they would be willing to contribute more for Policing before they made this announcement; instead they arrogantly assumed that local residents could stump up the cash. I know finances are tight for a lot of people on Merseyside at the moment so I don't ask for this Tax rise lightly."

The Commissioner is now holding a region wide consultation asking people if they would be willing to contribute the extra funding expected by Central Government to make up for the shortfall and help her to limit the impact of the ongoing cuts.

The increase equates to approximately 15p a week or ₤8 a year for a Band A household; the lowest Council Tax category and the amount paid by the majority of Tax payers, on Merseyside. This would increase the Police element of Tax payers' bills from ₤110.65 to ₤118.65 a year.

Even with this increase, the Commissioner and Chief Constable will still be forced to make savings of ₤7m over the next 12 months.

Jane said:- "Since 2015 the Government have assumed that Police and Crime Commissioners like myself will put up the Council Tax precept to minimise the impact of their cuts to funding. It is a move which comes from a Government who know the price of everything and the value of nothing. Any additional funding we can raise from the precept will not replace the 1,000 Officers we have lost over the last 7 years. However, it will mean that we will have 64 Officers more, by March 2019 than we would otherwise. In a climate of growing demands, rising crime and increasing calls for help from the public, I do not believe we can afford to lose any more officers. I am therefore forced to ask people on Merseyside if they would be willing to contribute that extra 15p a week to help protect vital frontline Police Services."

People are invited to have their say through a short online survey, by Sunday, 4 February 2018. The Commissioner will also be holding a series of road shows throughout Merseyside to ask people for their views. Please find details of the community consultation events below:-
| | | |
| --- | --- | --- |
| Time and Date | Location | Area |
| 2pm to 4pm on Monday, 22 January 2018 | Sainsbury's, Rice Lane, Walton, L9 1NL. | North Liverpool |
| 10am to 12noon on Tuesday, 23 January 2018 | Tesco Extra Store, Park Road, Liverpool, L8 4XF | South Liverpool |
| 2pm to 4pm on Tuesday, 23 January 2018 | Asda Aintree, Ormskirk Road, Liverpool L10 3LN | Sefton |
| 10am to 12noon on Wednesday, 24 January 2018 | Asda, Central 12 Shopping Park, Derby Road, Southport, PR9 0TY | Sefton |
| 10am to 12 noon on Friday, 26 January 2018 | Asda, Huyton Lane, Liverpool, L36 7TX | Knowsley |
| 2pm to 4pm on Friday, 26 January 2018 | ASDA, Kirkland Street, St Helens, WA10 2EF, | St Helens |
| 2pm to 4pm on Monday, 29 January 2018 | Asda Birkenhead, 222 Grange Road, Birkenhead, CH41 6EB | Wirral |

Southport based specialist school receives ₤450 grant in Police Mutual's national community sponsorship programme
SOUTHPORT based Presfield High School and Specialist College receives ₤450 grant in Police Mutual's national community sponsorship programme, Force for Good. Merseyside Police Force where Presfield School is based had nine winning initiatives, which together received over ₤2,000 in charitable donations from Police Mutual. Retired Police Officer, Stephen Swinnerton nominated Presfield School, where his son, Daniel, is in his final year. Daniel says:- "Presfield School is a specialist school for children on the Autistic Spectrum. After previously hosting a successful trip to London, the school is planning a trip to Ireland this year, to allow pupils to challenge themselves further by travelling to a location where they had not been previously." Teacher Jenna McKenna, who is leading the initiative, says:- "Police Mutual's Force for Good grant will help us to plan a fun-filled educational trip for a group of young people that may not get the chance to do this again in the future. Pupils will have the opportunity to gain confidence in being more independent and to develop their social skill and friendships, something that pupils on the Autistic Spectrum can find difficult at times. They will has have the opportunity to create life long lasting memories that will help to improve their self esteem."
---
Phone Bills and 'unlimited' TXT messages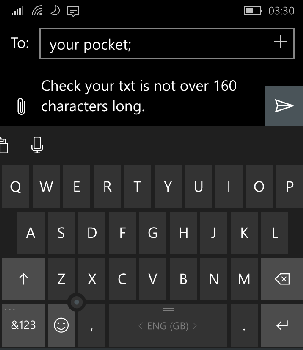 IF you are a mobile phone user, you probably use TXT messages. TXT messages are a convenient and useful way to send and receive information and to have short conversations. Most people who have 'unlimited text' messages on their tariffs might suddenly find it is not as unlimited as they would expect. Many of us know that picture messages, in the UK, will result in an extra charge, but you might not be aware that on some networks, your text might have turned into a picture message until your bill arrives. Because, as we have recently found out, on o2's website states about your text-

► You've included a symbol, emoticon or emoji.

► You're sending a group text.

► The message is too long.

► The message has a subject line.

► Sending a text with or without attachments to an email address will always be charged as an MMS.

This is a common issue we have found out and not just on o2. In a statement on Twitter to us, o2 UK said:- "This is a phone feature and not something we're able to control we're afraid." We do stress that this is not just an o2 related issue, but this happens on other networks as well, so do check your providers terms and conditions around text message delivery and sending. If you are not a prolific texter and have never gone over your limit before, you might be in for a shock if you do go over and you have not checked... Also sending Christmas and New Year group messages might land you with a very big phone bill, if you group send your messages. What we want to know is, have you experienced higher bills than you expected? Did you get told that your handset might send more characters than your txt limit, as say, on o2 of 160 characters. If you got your hand set form any UK network, were you warned that your 'unlimited text' plan has a limit on how many characters your can send? The other question we are interested is, were you told that your phone can go over this, when you received your handset? Please email us to:- News24@SouthportReporter.com if you have any thoughts our views on this issue. We would also ask if you are willing for us to include your comments as examples to both Ofcom and our local MPs for comments about this issue, please indicate you are OK with that. If you agree, but don't want your name or contact information provided to them, also please indicate this, and we will remove them from the comment before sending...... We also have a Twitter Poll about this issue that will be open until Monday, 22 January 2018, about this issue. If you would like to take part, please click on here.