CWP's Westminster Surgery Rated "Good" by the Care Quality Commission
WE are delighted to announce that Westminster GP Surgery recently received positive news regarding a Care Quality Commission (CQC) Inspection held, on Tuesday, 25 April 2017.

Overall, the Practice in Ellesmere Port was rated as Good with a number of positives noted down by Professor Steve Field, the CQC's Chief Inspector of General Practice. The CQC's report was published, on Friday, 9 June 2017.

Cheshire and Wirral Partnership NHS Foundation Trust operates the practice and it is the 1st GP Practice that the Trust has been chosen to run. We took over the surgery in July 2015 and it was registered by the CQC, on Wednesday, 11 May 2016.

A number of positives were noted by inspectors that visited the site. The CQC was pleased to report that our services were planned and delivered to take into account the needs of different patient groups. Coinciding with this, they also highlighted the surgery's regular debt and housing advice drop in sessions as a tremendous positive to users of the surgery.

Among other positives noted were acknowledgements of the systems in place at the surgery to avoid risks to patient safety. In particular, they noted how equipment checks were carried out, there were systems to reduce the risk of infections and to keep the premises clean.

The inspectors also highlighted how our staff understood and fulfilled their responsibilities to raise concerns, reports incidents and near misses. Staff were aware of procedures for safeguarding patients from the risk of abuse.

On top of this, they also highlighted the surgery's excellent work in monitoring the access to the service so that they could ensure that the needs of different patients were met.

They also praised the vision and strategy of the Trust and how it related to the surgery. They said:- "CWP had a clear vision which was 'to bring about service transformation by working in partnership to improve health and well being by providing high quality care.' It also had six clear values which underpinned its objective to provide person Centred care which were; care, communication, courage, competence, compassion and commitment. The vision and values were displayed for patients to refer to. Staff spoken with were familiar with the vision, values and objectives of CWP"

Nick Thompson, business manager at the surgery, was delighted with the news. He said:- "The findings of this CQC inspection are the result of the tremendous hard work carried out by the dedicated team we have here at the surgery. In addition to the positive report that we have received, the CQC have also indicated some areas in which we can improve. We look forward to acting in these areas to continue to develop our services."

CWP medical director (compliance, quality and assurance), Anushta Sivananthan, said:- "On be½ of Cheshire and Wirral Partnership NHS Foundation Trust, I would like to congratulate our dedicated team at Westminster Surgery for receiving a "Good" rating by the CQC. We know that the local team supported by wider services of CWP have put in a great deal of hard work and commitment. I am particularly pleased to see that the CQC highlighted our values, including person Centred care, as one of the many positive points they had to make about the surgery."
---
Brits invited to share their views of Police in new national study
A new national study is calling on the people of Southport to share their views and experiences of the Police and emergency services. The anonymous study is hosted online by Hudgell Solicitors, legal specialists in civil liberties cases, and will gauge the nation's perceptions of the Police and other emergency services. The study's findings will explore themes including:- safety, trust and overall reputation, investigating the experiences Brits have had with the Police, how the nation feels about the force and what has impacted on their perceptions, from portrayal by the media to their own personal experiences. People from Southport can share their views by completing the study online. Neil Hudgell, Managing Director of Hudgell Solicitors said:- "We're currently living through times of uncertainty and policing is a hot topic, especially following the recent General Elections. With this in mind, and as a firm which represents clients across the country in cases relating to the conduct of the Police and other emergency services, we are hosting this study to explore the nation's views. The findings will help to paint a picture of perceptions around trust, security and reputation on a national scale. We'd urge people across Southport to share their views."

CWP and the Land Trust Shortlisted for Prestigious Award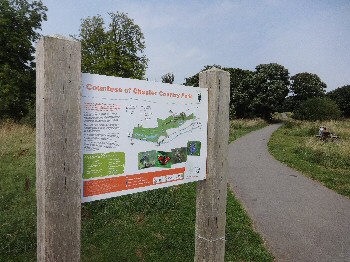 CHESHIRE and Wirral Partnership NHS Foundation Trust (CWP) are delighted to announce that we have been shortlisted for a Healthcare Transformation Award, for a project run in association with our partners at the Land Trust.

The awards form part of an event called Health + Care which was held on Wednesday, 28 June 2017 and Thursday, 29 June 2017, at ExCeL London. Organisers of the event say that it is Europe's largest integrated health and social care event, which strives to build relationships between commissioners, providers and care suppliers.

CWP, along with national land management charity the Land Trust, have been shortlisted in the Improving Patient and Community Engagement category. This is due to a highly fruitful partnership that has seen CWP utilising the lush surroundings of the Countess of Chester Country Park, owned and managed by the Land Trust.

One of the main reasons for the establishing of the partnership, was to aid care plans provided by teams at our Trust for service users. Care plans provided by the team within CWP are focussed on individual needs, delivering appropriate, person Centred care. Through making use of the Countess of Chester Country Park, the specific elements of physical and mental care for service users and the wider community can be met through a range of activities.

Among the activities held regularly at the park are; health walks, buggy walks, Nordic walking, Green Gym, walk to run and parkrun. They all contribute to a tailored, person Centred approach to healthcare and give people the confidence and inspiration to actively enhance their wellbeing. Utilising the country park has meant that health activities have been fully included in programmes of recovery. In 2016 to 2017, 290 formal health activities took place at the country park, with more than 1,200 participants.

Commenting on CWP being shortlisted for the award, Avril Devaney, CWP director of nursing, therapies and patient partnership, said:- "At CWP, we are delighted to be shortlisted for this award along with our partners from the Land Trust. The project is hugely beneficial to people who access our services, as it allows us to provide them with person Centred, care plans."

Working collaboratively with The Land Trust on this initiative has been a rewarding experience and has brought great value to our organisation.

The country park is located adjacent to the main Countess of Chester Health park site and is managed on a day to day basis by The Conservation Volunteers. Many of our staff also use the park, demonstrating how it provides a real and long-term, sustainable, benefit to health and wellbeing.

Alan Carter, director of portfolio management at the Land Trust, added:- "We're really proud of our partnership work with CWP at the Countess of Chester Country Park and are delighted to be shortlisted for this award. We hope the combination of our long term sustainable vision for this public open space, CWP's commitment towards patient and community engagement, and the passion and dedication shown by our managing partner The Conservation Volunteers, will prove to be award winning."
---
Are you the next of kin of a Southport man?
SEFTON Coroner's Office have issued an appeal to the family of a man who died in Southport to come forward. Brian A Wright, 53, who lived in Castle Walk, Southport died at home, on Saturday, 24 June 2017. There are no suspicious circumstances surrounding his death. Anyone who can help the Coroner identify and trace his next of kin should call:- 0151 777 3422 or email:- Sefton.Coroners.Office@Merseyside.PNN.Police.UK.