Video interview with Southport's MP Damien Moore
PLAY below our first interview with Southport's MP Damien Moore, who became the first Conservative parliamentary candidate for Southport Constituency, in 2 decades of Lib Dem rule, on 8 June 2017. This was our first chance to talk to him since he was sworn in as the Member of Parliament for Southport.
Damien, off camera has expressed his passion for Southport, crediting the many small businesses that are in the area. He said he is shocked and upset at how little help they have had over the years and is looking to make a real change for them over the next 5 years. He said that he looks forward to working cross party in order to do this and will shout lowd and hard for Southport on both a local level, within the Liverpool City Region and nationally. Damien said:- "This is a great privilege to represent such a wonderful part of the UK. I'm looking forward to its unique challenges ahead. I will be putting a powerful message out to everyone, that Southport must not be overlooked. Southport is a Town that is totally different to the rest of the area, if not the UK. It's 1 of my key areas to start looking at is Southport's visitor economy and seeing how I can help it. I want to see how I can support the many businesses operating around within it, from local gift shops to our fantastic hotels, bars and restaurants, that not only give Southport its distinctive looks, but also provide work for all ages. I look forward to delivering to the many small businesses the support they require. I will be welcoming all businesses owners and any local people who have view on how I can do this to contact me along the way. I will be running regular meetings in the constituency to meet anyone who has any issues, not just business related, so that I can try to offer them a voice within parliament, fighting their corner."
We strongly suggest if your on follow him on:- Twitter and on Facebook. Also to watch Damien being sworn in as the Member of Parliament, click on this link.
---
Southport teenager paves the way for new generation of fundraisers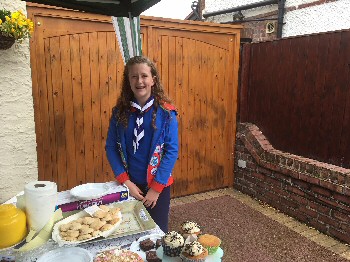 A teenager from Southport has raised more than £400 for a local cancer research charity from a cake bake inspired by her grandmother's fundraising ventures. Isobel Cutts is the 13 year old granddaughter of Olive Cutts, the Chair of Southport's fundraising group for North West Cancer Research. Following in Olive's footstep's, Isobel turned her front drive into a cake stall selling hundreds of cakes to raise money for the charity. The Greenbank High pupil, supported by volunteers from her grandmother's fundraising group, baked a selection of cakes. On the menu was a mouth watering choice of chocolate fudge cakes, lemon drizzle, fruit cake and chocolate brownies. Priced between 50p and £2, the sale held in Hillside, Southport, raised a total of £470 which has been donated to North West Cancer Research. Isobel is on track to becoming a member of the Southport fundraising group for North West Cancer Research. This was the 2nd time she had joined forces with her grandmother after they worked together over Easter to raise more than £100 for the charity from knitted, chocolate filled chicks. As a 14th St. James' Birkdale Guide, Isobel was presented with the fundraiser badge by her unit leader Lynn Deacon as recognition for her efforts. This now brings the teenager more than ½ way to achieving the Baden Powell Challenge Award which is the highest accolade a Guide can achieve.

Isobel said:- "Lots of people came down to the cake sale. Thanks to my grandma and her friends who helped me by baking some of the cakes, I've managed to raise money to help important research into cancer. After seeing how much fun I had organising the stall, my friends seemed really impressed by it and want to get involved in my next events. I understand how important cancer research is and want to help my grandma and her team raise as much money as possible."

Olive, Isobel's grandmother, is part of the Southport based fundraising group for North West Cancer Research. The group hold regular activities and events to fundraise for the charity. North West Cancer Research has committed to funding more than £13million worth of research over the next 5 years.

Sara Cooper, Committee Engagement and Events Executive, North West Cancer Research, said:- "Everyone at North West Cancer Research would like to thank Isobel for her efforts in her cake bake. It's nice to see someone so young get involved in fundraising and goes to show that anyone can do it. As an independently funded charity we rely on the good-will of people like Isobel as well as our army of fundraising groups all over the North West and Wales."

To find out more about the Southport-based fundraising events for North West Cancer Research, contact Olive Cutts at:- olive.cutts@talktalk.net.
---
Volunteers Needed to Capture Heritage of Forgotten WW1 Hospital on Merseyside
VOLUNTEERS are needed for a project to capture memories of a military hospital on Merseyside which pioneered treatment for soldiers with 'shell shock' during the 1st World War. If you are interested in local or family history drop in to Meadows Library, in Maghull, on 21 July 2017, from 11am to 4:30pm, where you can meet the team running a new project celebrating this important, but little known heritage, and find out how you can get involved.

Moss Side Military Hospital in Maghull treated over 3,600 patients between opening in December 1914 and 1919, and became renowned in the developing field of psychological medicine. Clinical staff at the time were described as:- "the brilliant band of workers who…made Maghull the centre for the study of abnormal psychology."

The Moss Side site eventually closed in 1995 and the buildings were later demolished, but it is now the subject of an exciting new Heritage Lottery Funded project at The Atkinson in Southport to ensure the legacy of those who worked and were treated there is not forgotten during the centenary commemorations of the Great War.

As well as unearthing fascinating local heritage for people in Sefton and across Merseyside, the project will also shine a light on how the ground breaking treatment offered at Moss Side has influenced our modern understanding of conditions such as post traumatic stress disorder.

In conjunction with academics from Manchester Metropolitan University, Sefton Library Services, archives consultant Kevin Bolton and Sefton Library Services, The Atkinson will launch:- 'Maghull and the Great War Remembered: Shell Shock - the impact and aftermath on lives and minds' at Meadows Library in Maghull on 21 July 2017, from 11am to 4:30pm.

Volunteers, or a new "brilliant band" are needed to help collect oral histories, to add to existing archives, and help to run a series of exhibitions, workshops and events between October 2017 and November 2018.

Archive consultant Kevin Bolton and academics and heritage experts from Manchester Metropolitan University will provide free training, and volunteers are welcome to commit as much or little time to the project as they like.

Please come along to the launch to find out more or get in touch via email.

Emma Anderson, Director of The Atkinson, said:- "We are delighted to be working in partnership with a highly respected team of historians from Manchester Metropolitan University, Amy Walling, Drs Ben Edwards and Sam Edwards, plus archive consultant Kevin Bolton, who lead the development of Archives + in Manchester, and with our colleagues at Sefton Library Services to launch this exciting Heritage Lottery Funded project."

Dr Sam Edwards, Senior Lecturer in History at Manchester Metropolitan University, said:- "The 1st World War saw the emergence of increasingly destructive forms of mechanized warfare, especially along the trenches of the Western Front. The result of all these deadly innovations was to make war increasingly traumatic for those who experienced and endured it. For many soldiers, prolonged exposure to these conditions broke nerves, and broke minds. As a result, military doctors coined a new phrase: shell shock. In time, hospitals were established back in Blighty to treat those struggling with this condition. 1 famous such hospital was at Craiglockhart, near Edinburgh, where war poets Wilfred Owen and Siegfried Sassoon were at one point patients. But another such hospital was at Moss Side in Maghull. Sadly, the remains of this hospital have now gone. But many of the records survive, and so too do the stories of those who lived nearby. This project seeks to recover the lost history and heritage of Moss Side hospital; it seeks to reclaim the stories of the patients, doctors, nurses and local residents who battled with the shell shock of modern war. Today, public awareness of mental health concerns is better than ever before. Even so, the challenges of post traumatic stress disorder; as shell shock is now known to be a form of are still relatively un-discussed and un-appreciated. As we reflect on the centennial of the conflict, this project will revisit the forgotten stories of those traumatized by the 1st World War, reminding us that war; in past and present maims bodies and minds."
---
LCB Boys Under 17s Progress to Royal London County Cup Final
THE LCB Boys Under 17 progress through to the National Final of the Royal London County Cup, where they will meet Middlesex, at Kibworth CC, on Sunday, 9 July 2017, from 10:45am. Having topped the North Regional group with wins against Durham, Yorkshire and Derbyshire, and only one defeat against Cheshire, they qualified for the sem final against Northamptonshire, at Ormskirk CC.
The semi final was a close encounter. Northants elected to bat 1st and made a good start posting 55 for the 1st wicket, but with excellent bowling from Lancashire's Lewis Dove (4-44), reduced the opposition to 172 all out. In reply Lancashire lost 4 early wickets, but an excellent fifth wicket partnership of 75 by captain Rehan Udwadia (57) and Sam Dorsey 44* and a quick fire 41* by Lewis Dove led Lancashire to victory by 5 wickets with 2 overs to spare.

Full scorecard -> LCB Under 17 won by 5 wickets!

Bob Deardon, LCB Under 17s Manager, speaking about the semi-final performance said:- "In a tense game on a challenging pitch I was delighted to see the boys apply great application and determined batting particularly by the middle order to clinch the win. We'd like to thank Ormskirk CC for hosting the game and their continued support of staging numerous matches for our county age group programme."

Gary Yates, LCB Under 17s Head Coach and LCCC Academy Director, is looking forward to the final. He added:- "It's great to see our Under 17's perform well to get to the national final on Sunday. This group of players have shown some determination and fight with winning some close games along the way. If we achieve our potential on Sunday we can hopefully win the final, and for the team, this will be an excellent experience of competing on a big day."

Green Day at Sheffield Arena and special guests Rancid
Photos and review by Jo Forrest,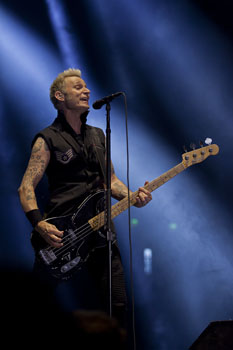 THE American band, Green Day, has been hailed as 1 of the best live rock bands of the 21st century and have been doing a quick tour of the UK in recent days. We got the chance to see the band at the Sheffield Arena along with the support band Rancid. The punk rock still show youthful exuberance when performing, despite their careers spanning the over 3 decades! The event was not simply a night for nostalgia, as they added tracks from their band's latest album:- 'Revolution Radio' that seemed to go down very well with the audience. Also doing an amazing performance was support band Rancid who have a album out called:- 'Trouble Maker.' To celebrate the group being on tour in the UK the had a very cool limited edition shirt on sale at both Hyde Park and at Sheffield. Interestingly it is worth noting that Green Day was the headline British Summer Time, Hyde Park, London, on Saturday, 1 July 2017. Sadly this year the band did not get a chance to head to Liverpool, but it will be worth fans on Merseyside to keep an eye out on their next Tour of the UK. Sadly for Scottish fans, this tour a few days later became a "wash out," as the UK Tour promoters had to cancel a concert by Green Day in Glasgow, only hours before it was due to begin, because "adverse weather conditions" meant it was "no longer safe" for the bands to perform. This decision left some fans "very distraught." Luckily for fans in Sheffield, weather is never an issue at the Motorpoint Arena Sheffield ever since the very large indoor music and entertainment venue opened in 1991. Please let us know if you attened any of the tour dates via emailing us to:- News24@SouthportReporter.com. Also please do let us know if you would like to see Green Day and/or Rancid visit our fantastic City, Liverpool, via Tweeting:- "#Liverpool #UK would welcome @greenday & @Rancid in 2018... @SouthportReport" Ok we know our readers will not do it, but its good to think you will...