Fire and Rescue Services win health award for bowel cancer screening scheme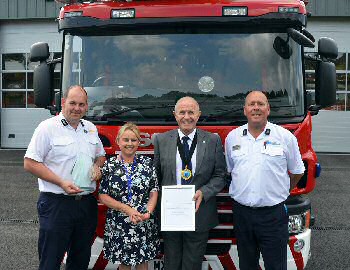 MERSEYSIDE Fire and Rescue Service and Cheshire Fire and Rescue Service have won a prestigious health award for their pioneering new scheme focusing on bowel cancer screening.

The 2 services' Safe and Well visits have won a Healthcare Transformation Award in the category of Improving Cancer Outcomes, alongside their partners Public Health England, NHS England (Cheshire and Merseyside) and Cancer Research UK.

Firefighters from the two services have regularly visited the homes of vulnerable people over 65 to give advice on fire safety for a number of years. But, since February this year, both services have partnered with the NHS to provide some health advice as well to try and reduce the number of emergency visits to Hospital.

Crews, and specially trained fire advocates, issue advice on how to avoid a trip or fall in the home, who to contact if people want to stop smoking or drinking and, crucially, advice on bowel cancer screening.

As a result, Safe and Well visits carried out by Merseyside Fire and Rescue Service generate around 120 referrals for bowel cancer screening each month.

Cheshire Fire and Rescue Service carried out 15,935 Safe and Well visits in Cheshire from February to June this year which resulted in 1,098 bowel cancer referrals.

Phil Byrne, Station Manager at Merseyside Fire and Rescue Service, said:- "Fire and rescue services have a unique ability to access homes of vulnerable people and we are pleased to be including such a worthwhile project as part of our home safety engagement work. The feedback from staff conducting Safe and Well visits, and the positive results, show the benefits of face to face communication. Our staff have had the opportunity to explain to clients in their home the benefits of the Bowel Cancer Screening Programme and ensure the correct and appropriate screening kits are sent out directly from the Bowel Cancer Screening Hub in Rugby. In our 1st month we completed 574 Safe and Well visits generating 129 requests for screening kits. This partnership work with NHS England and Cancer Research UK will no doubt improve uptake in the screening programme and emphasise the value that the fire and rescue Services bring to the safety and wellbeing of our communities."

Julie Kelly, Head of Public Health NHS England North, Cheshire and Merseyside, said:- "Regular bowel cancer screening has been shown to reduce the risk of dying from bowel cancer by 16%. Screening aims to detect bowel cancer at an early stage when treatment is more likely to be effective. This initiative is an excellent example of local organisations working together for the benefit of the populations we serve."

Experts from Cancer Research UK were responsible for giving fire service staff their training on the screening scheme.

Anna Murray, Primary Care Engagement Facilitator at Cancer Research, said:- "Although bowel cancer screening has been a National Screening Programme since 2006, the percentage of people who take part remains low compared to breast and cervical screening. It has been a pleasure to work with Merseyside Fire and Rescue Service and Cheshire Fire and Rescue Service to ensure that fire service personnel receive appropriate training to be able to deliver this innovative scheme. Any work that aims to increase early diagnosis and prevention of cancer in the population should be commended."
---
No time off for carers is unacceptable

RESPITE holiday charity Revitalise; which runs the Sandpipers respite holiday centre in Southport; has responded to Carers UK's State of Caring 2017 report, echoing its call for immediate practical action in order to make a difference to carers' lives.

The findings of the report strongly echoed research conducted by Revitalise over recent years, painting an all too familiar picture of the plight of the UK's estimated 6.8 million unpaid carers.

In agreement with Carers UK, Revitalise's research found that many carers maintain their role for long periods of time, with little or no time off. A 3rd of carers told the charity they had not had any significant time off since they started caring, with 90% not able to access proper holidays away from caring.

In a separate study, the charity also found evidence that being unable to access respite breaks has a noticeable impact on carers' emotional and physical wellbeing. 60% of carers admitted that they felt unable to 'switch off' from their caring role, with 63% saying that they felt mentally exhausted and 52% saying they didn't know how they would be able to cope if things continued the way they were.

Revitalise's research also made clear that the concerns expressed by carers did not lend themselves to an optimistic outlook for the future. 4 out of 10 unpaid carers also voiced trepidation that they would end up ill, in chronic pain or disabled themselves.

In light of Carers UK's State of Caring 2017 report and its own research, Revitalise is showing its support for unpaid carers all across the UK, calling for immediate action and greater statutory support for social care services, particularly in the respect of greater provision of respite breaks.

Revitalise CEO Chris Simmonds commented:- "While the recent report by Carers UK has quite rightly been receiving the media attention it deserves, it saddens me to say that to charities like Revitalise, which supports disabled people and carers, this news is all too familiar. Unpaid carers give so much, day in, day out, to support the person they care for, but need the escape valve of regular time off in order to continue their caring role. This is why we are demanding better statutory services and funding and especially access to proper breaks; for carers and those they care for."

Revitalise provides respite holidays for disabled people and carers at Sandpipers in Southport and 2 other accessible UK holiday centres in Chigwell in Essex and Southampton. Each centre offers a wide range of accessible activities and excursions in a holiday environment.
---
Lost medication within the Bootle / Crosby area
MERSEYSIDE Police are appealing for the public to be cautious after prescription medication was reported to have been lost on Saturday, 8 July 2017, between Bootle and Crosby. We are told that Officers from the Sefton area had received a report that a sports bag had been left on the number 53 Arriva bus, between Bootle New Strand and Moor Street, Crosby containing clothing and medication. The medication comprised:- pregabalin (300mg), carbamazepine (200mg), flupentixol (0.5mg), omeprazole (20mg) and zopiclone (7.5mg). Local Officers are reminding people that taking any medication which has not been prescribed for them can be dangerous and, in some circumstances, can prove fatal. Anyone who finds any of the medication is asked to hand it in to any Pharmacy or Police Station or call Officers on the:- 101 number.

Southport Accountancy firm goes wild to support life saving cancer research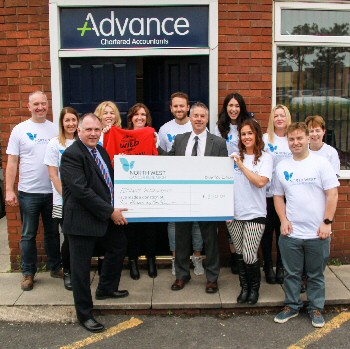 CHARTERED accountants, Advance Accountancy Limited has donated ₤250 to support charity trustee and public health expert Mark Haig in his bid to Challenge the Wild.

The Southport based company made the generous contribution to Mark's fundraising efforts which saw him spend two days and one night in the Irish wilderness to raise money for North West Cancer Research.

Having been diagnosed with cancer himself in 2012 and undergoing successful treatment in 2013, 57 year old Mark understands the vital role that research must play in the fight against cancer.

Organised by Heart North Wales, Challenge the Wild, saw a group of ten fundraisers split into two teams headed by presenters Oli Kemp and Rachael Howarth. They then spent a whole weekend challenging each other and themselves to rock climb, scramble, abseil, cliff jump and trek in the dark.

With the help of Advance Accountancy, Mark has raised ₤1,095 which will be donated to North West Cancer Research to support life-saving research currently underway in the North West .

Bob Thompson, Director Advance Accountancy, said:- "Many of the team here have been affected by cancer in one way or another, so when we heard what Mark was doing, we knew we wanted to help his cause. Hats off to him for completing the two days in the wild, from what he's shared with us it sounds like it was a once in a lifetime challenge. On behalf of us all at Advance Accountancy, I'd like to say a big well done to Mark and his other challengers on their amazing fundraising efforts."

So far, the 10 challengers have raised a combined total of ₤11,000 with more donations still coming through from Just Giving pages.

Trustee for North West Cancer Research, Mark Haig said:- "It was a very challenging but a very enjoyable and rewarding few days in the wild with my fellow challengers. The weather wasn't great but we all battled on and completed the tasks thrown at us. I'd like to give a massive thanks to Bob and the team at Advance Accountancy for their generous donation, which has taken me above my fundraising target. Having had cancer, I know too well the effects it can have. I was lucky enough to receive treatment which worked, but this is not always the case for everyone. The more money we can raise for charities like North West Cancer Research, the more advances we can make when it comes to cancer diagnosis and treatment."

All money raised by Mark and his fellow challengers will be donated to North West Cancer Research which funds life-saving cancer research across the North West . The charity has committed to funding more than ₤13million worth of research over the next five years.

You can still support the charity and Mark's efforts by donating to Team Rachael via Just Giving or you can donate ₤3 by texting:- 'NWCW47 ₤3' to:- 70070.
---
Liverpool City Council is getting ready to issue a License to (street) party
LIVERPOOL City Council is boosting community spirit with plans to waive the legal costs of staging street parties. Currently, any individual/group who wants to host a street party needs to apply for a Traffic Regulation Order (TRO) which can cost in excess of ₤2,000.

The recommendation, which will be presented at a Cabinet Meeting, on Friday, 21 July 2017, looks to establish a Community Events Order which would allow residents to apply to hold community events in their neighbourhoods, with the Council covering the cost of a TRO, which would cover a 12 month period.

The order would allow the City Council to close roads so that community events or street parties could take place. It also has the benefit of allowing children to play safely in traffic free areas, creating safer zones and encouraging young people to get active outdoors, improving their health and well being.

If approved, it would come in to force from April 2018 for 12 months, renewing each year. This means residents will have until 31 December 2017 to submit an application for a street party which will be assessed in the New Year, and if it's successful they could hold their event from April 2018. Initially, closures in the same area would only be permitted once a month to ensure minimum disruption to the road network.

The City Council's Highways Team will provide a full guidance note for anyone thinking of applying, which includes:-

► Events are to be organised and funded by the applicant, not by the City council.
► The applicant must consult with all residents in the area. If any objections are raised, the council will work with the person who has submitted the request to identify a solution. Ward members will make the ultimate decision.

► Not all roads can be closed, so alternative options should be considered; major roads and bus routes are exempt from the scheme.

► Road closures can't exceed 3 hours.

► Applicant must be able to demonstrate they have the appropriate Public Liability Insurance to cover the event.

► All signs and barriers would need to be organised and paid for by the organiser. If it's going to be a regular event it is recommended the applicant purchase the traffic management equipment.

► If applications for events in 2018 are made after 31 December 2017, residents will have to pay for the TRO which could be around ₤2,400.

► The initiative forms part of Play Streets; a nationwide drive for local authorities to develop a scheme that will encourage young people to play safely on the streets.

Liverpool City Council's Cabinet Member for Highways and City Services, Councillor Steve Munby, said:- "We often receive requests from residents who wish to close their road to host a street party, but the costs associated are prohibitive for both Council and the individual. This Community Events Order would enable the City Council to cover the costs of a 1 off, annual Traffic Regulation Order which would then give communities the freedom to put on an event in their area. Not only is it a simple and effective way to encourage children to play out on traffic free streets, but in turn, it gives neighbours the chance to socialise, growing the community spirit and engendering pride in where people live. I'm sure residents will be thrilled with the prospect and I look forward to seeing a whole host of events taking place in communities across the City in 2018."