Nurse Cadet Programme to provide opportunities for young people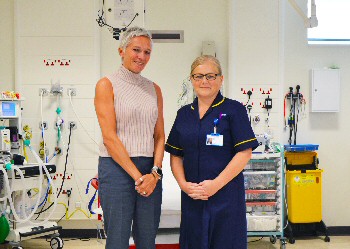 HUGH Baird College and Aintree University Hospital have announced that they are working in partnership on a number of initiatives aimed at providing exciting and rewarding career opportunities for young people living in the Liverpool City Region. Over the next month, Hugh Baird College and Aintree will launch a Nursing Cadet Programme, a Pre-Nursing Cadet programme and a wide range of Apprenticeship opportunities will also be available. The Nursing Cadet Programme will offer 20 students, aged 16 to 18, the opportunity to take their 1st steps towards becoming qualified nurses and healthcare practitioners.

Dianne Brown, Aintree University Hospital's Chief Nurse, said:- "We are keen to recruit tomorrow's nursing professionals through this programme and we are looking forward to welcoming cadets to Aintree. Young people will benefit from working with a range of highly skilled health care professionals in a range of areas, including one of the most modern emergency centres in the country."

Through the Cadetship scheme, students will gain a unique blend of theory based study and hands on work experience, as they split their time between the College and placements at a variety of services across Aintree. Successful applicants for the Nursing Cadet Programme will receive travel passes, free meals and will also be provided with kit and equipment. The 1st intake of Nursing Cadets will start this October and recruitment is underway now with a closing date for applications of 15 September 2017. Those with an interest can find out more about the programme and can apply via the College's website. In order to provide 14 year olds, with the opportunity to prepare for the full Nursing Cadet Programme, the College and Aintree have worked closely to establish an innovative Pre-Nursing Cadet Programme. Based at Hugh Baird College's 14 to 16 College, the programme will not only give students the theory, skills and GCSEs needed to move seamlessly on to the full Cadet programme, but the learning experience will be enriched with master classes from healthcare specialists and visits to the range of clinical settings at Aintree.

Yana Williams, Principal and Chief Executive at Hugh Baird College said:- "We are delighted to be working together with Aintree on these exciting new developments. Hugh Baird College have a strong reputation for providing learning opportunities complimented by employer involvement either in curriculum development or through work placement opportunities and master classes. It was this approach that enabled the College to become the UK's 1st Career College in 2014 and I am delighted to say that the Career College will be working with us on our Nursing Cadet Programmes. The Nursing Cadet initiatives we are launching are aimed at gifted, talented and driven students who are passionate about helping others. By becoming a Nursing Cadet with Hugh Baird College and Aintree, students will be gaining a unique learning experience involving work placements that will position them perfectly to progress on to a career in healthcare."

Speaking of the Apprenticeship opportunities that the partnership will yield, Hugh Baird College's Director of Workplace Learning Lynn Masterton said:- "As a result of this partnership we are delighted to announce that we will be providing a broad range of health Apprenticeship programmes that will enhance skill levels across departments at Aintree."

Metro Mayor keeps his armed forces pledge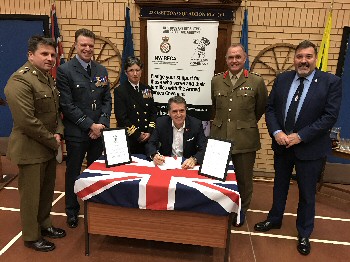 METRO Mayor Steve Rotheram has formally signed the Liverpool City Region Armed Forces Community Covenant at an event hosted by the reserves unit, 238 Squadron, 156 Transport Regiment, Royal Logistics Corps in Bootle. The signing ceremony at the Pelham Drive base of 238 Squadron was attended by representatives from the 3 military services, armed forces voluntary organisations, the local Councils, and reservist soldiers from the unit.

Metro Mayor Rotheram said:- "The Liverpool City Region has long been an important source of recruitment for the armed forces, so this is an issue that touches many families and reaches deep into every community. Therefore, I wasn't signing the Covenant solely as Metro Mayor or just on behalf of the Liverpool City Region Combined Authority, but on behalf of each and every 1 of the 1.5 million people I am elected to represent. The support for the Armed Forces Community Covenant locally reflects the strong armed forces tradition here. That's why Liverpool hosted this year's national Armed Forces Day and why our annual Remembrance Service is the largest outside London."

Mr Rotheram continued:- "Only last week, we remembered the heroism of Noel Chavasse during the 1st World War whilst serving with the King's (Liverpool Regiment) - one of only 3 people to be awarded a Victoria Cross twice. Then there is the largely unsung, but vital role the City Region played in defeating Hitler's U-boats and winning the Battle of the Atlantic during World War 2. This extraordinary record of commitment and sacrifice has continued through to modern conflicts, particularly in Iraq and Afghanistan."

The event marked the fulfilment of a key manifesto pledge by the Metro Mayor, and 156 Regiment Commanding Officer Lieutenant Colonel Tim Gould congratulated him at the event for being "a man of his word." The version of the Covenant agreed for the Liverpool City Region provides for an Armed Forces Champion to be appointed on a City Region basis, and for the publication of an annual stocktake of work on the Covenant, drawing together what has been and will be done to support former and serving members of the armed forces, and their families.
---
Lights on Bikes or Lack of Lights
WE have recently asked on Twitter a quick survey about cyclists who are currently riding around the area without lights on their bikes. The question was:- "Do you think Merseyside Police should stop and fine cyclists who have no lights on bikes, as well as search them?" This is down to the fact local people and businesses are reporting a massive rise in incidents involving people cycling at night, without lights. We are told that often Police are failing to react to cyclists, of all ages, who even ride past them, at night without lights. Often the worry is that these people, who are often riding very late at night, dressed in dark clothing, often with hoods up, are up to no good. Our pole did result in one Twitter user asking:- "Why should I be stopped and searched while cycling?" The result of our quick pole was that 63% said:- "Yes, they are dangerous." 32% said:- "No, as it's not a priority" 5% said:- "Don't care, not interested." We are still interested to know your views. Please email us to:- News24@SouthportReporter.com or place your views on our Facebook Page.