Suspected arson incidents in Rimrose Valley, Crosby
MERSEYSIDE Fire and Rescue Service (MFRS) along with Merseyside Police have joined forces to tackle the issue of garden fires after a series of suspected arson incidents within the Rimrose Valley area of Crosby. The incidents have included:- trees, bushes and rubbish being set alight in gardens and on open land. Officers from the Fire Service will be carrying out proactive mobile patrols, supported by Local Police Officers, and residents are being asked to check and clear any rubbish from gardens to ensure that their houses are at a minimal risk of being targeted.

Station Manager Paul Kay, Arson Reduction Co-ordinator for Merseyside Fire and Rescue Service, said:- "Merseyside Fire and Rescue Service are committed to tackling incidents of suspected arson and is working closely with officers from Merseyside Police to tackle anti social fire setting in Crosby. There have been a number of suspected arson incidents in the area recently and this action will see Firefighters and Police Officers work together to reassure residents, raise awareness of the dangers of arson and highlight the impact fires have on our communities. Arson is a serious criminal offence which puts people's lives at risk, causes damage to homes, businesses and community facilities and impacts on wildlife and the environment. It can range from mindless criminal damage to deliberately targeted attacks, but, either way, the potentially deadly consequences remain the same. If fire engines are called out to deliberate fires this may delay our response to other emergencies, which could endanger lives elsewhere. We want to make people aware that deliberately setting fires in a public place is arson and, if caught, those responsible may face legal action. To help protect their properties from arson, residents are encouraged to put their wheelie bins away until the day they are being collected and avoid placing bins, rubbish, or other combustible items against the walls of their home. Sheds and garages should be securely locked and any flammable liquids safely stored away."

Merseyside Police Local Community Sergeant Kate Young said:- "I want to reassure people in the local community that we standing alongside the fire service in taking any suspected arson incident extremely seriously, as the consequences of such reckless and behaviour can be catastrophic. If you are aware of any suspicious behaviour near to your home, call 999 and the emergency services can respond accordingly. Anyone with home CCTV or passing motorists with dash cam footage of in recent incidents are also encouraged to speak to us. We will act on all information provided and are determined to identify those responsible and bring them to justice. We will be parking a mobile police station in the Rimrose Valley area tonight and would encourage anyone to speak with us to report incidents or concerns. If you know who is responsible for these incidents do the right thing and call police or speak to us anonymously via the independent charity Crimestoppers on:- 0800 555 111."

Why where Police Officers on Dunes and Police Vehicles on Coast Road?

WE got asked by many readers have asked us why Police vehicles where parked on the Coast Road, by Pontins, at around 5pm, on 5 September 2017. We have been told that the Merseyside Police Units where called to Shore Road, Ainsdale, after a group of males had made off from a suspected stolen grey Volvo. We are also informed that 2 males were arrested nearby, on suspicion of unauthorised taking of a motor vehicle. The car was later recovered and forensically examined. Both males, a 20 year old male and an 18 year old have both been released, but are still under investigation.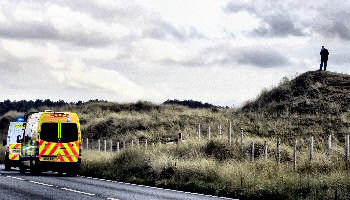 ---
16 year old arrested on suspicion of conspiracy to murder
MERSEYSIDE Police Detectives who are currently investigating the murder of 18 year old, Yusuf Sonko, that took place in Toxteth, on Friday, 2 June 2017, have arrested a teenager in connection with the offence. The 16 year old, male, from Toxteth was arrested, on suspicion of conspiracy to murder, on 6 September 2017. The male has since been questioned by detectives and released under investigation. Anyone with any information is asked to call the Gun crime hotline on:- 0800 230 0600 or the Crimestoppers line anonymously on:- 0800 555 111.