Funding to help families affected by domestic violence
LIVERPOOL has been awarded almost ₤400,000 to help victims of domestic violence and their families over the next 3 years. Between April 2016 and March 2017, there were 4,622 offences of domestic violence recorded by Merseyside Police, of which 1,274 were high risk. The Home Office cash; from the Violence against Women and Girls Transformation Fund; will be used to provide specialist domestic abuse services through the City Council's Early Help Hubs to reduce the risk and chance of being a victim, and prevent the escalation of abuse. Staff will be hired to strengthen the focus on domestic abuse, increasing the capacity and expertise of partners to work with victims and their families. A relationship programme will also be run for perpetrators aimed at changing their behaviour, which will be independently evaluated to assess outcomes.

Councillor Emily Spurrell, Cabinet member for Community and Safer Neighbourhoods, said:- "We know that domestic abuse is something that affects many households in Liverpool and can have a devastating impact, not just on those directly involved, but also their families and friends. More than a third of women and girls experience some form of physical and or sexual violence in their lifetime and most of the time it is from someone they know. Violence in any form towards women is not inevitable or predictable; it can and must be stopped. Domestic abuse does not just affect the victim, but children as well and Department of Health figures show at least 750,000 children a year witness it, with many being abused by the same perpetrator. Our funding will be used to support families through our Early Help hubs meaning a range of partners will be able to offer support to both adults and children. We know that domestic abuse is highest in the North and Central areas of the City so we will be initially piloting our work there before rolling it out across the rest of the City."

Due to underreporting of domestic violence, it is estimated that in 2015 there were approximately 14,500 female victims aged between 16 and 59 in Liverpool. The economic and social costs of this are around ₤45 million a year, related to physical and mental health services, criminal justice, social services, housing, civil, legal and employment bills. Staff will work with other organisations including GPs, Schools, housing associations, Children's Centres and domestic abuse agencies to share information and provide support for those affected. The report recommending acceptance of the funding will be considered by the Cabinet, on Friday, 15 September 2017.
---
Southport and Formby opticians seek to get drivers ready for School
LOCAL opticians are urging bus drivers, in Southport and Formby, along with parents responsible for the School run to get their eyes tested. Specsavers branches in Southport and Formby are hoping that bus drivers and parents will get their eyes checked in their local store so that their vision is top of the class. To encourage drivers to take this time to check up on their eye health, Specsavers in Southport and Formby are giving away free eye exams to any drivers who bring in their bus driving licence throughout September 2017.

Store director Victoria Dunn of Specsavers in Eastbank Street explains:- "With School starting this month, we'd like to make sure that it's not just the kids who are prepared. Whether your kids travel with you to get to School, or they get the bus, everyone wants to know that they're getting there safely and regular eye exams are the easiest way to do this. Any local School bus drivers can bring along their driving licence, and we'll make sure they get a full eye exam free of charge, as our way of ensuring that children in Southport and Formby are getting to School as safely as possible. And any parents who want to take this as their chance to get their eyesight tested can bring their kids along too, to ensure the whole family is in tip top shape. Children under 16 and those in full time education get their eyes tested for free, and we've got a huge range of frames which appeal to young and old alike."

School parking changes
SEFTON Council are tackling inconsiderate and dangerous parking outside a number of Schools during drop off and pick up times. Following the start of the School year, the Council has acted upon concerns by residents, teachers and parents who are worried about inconsiderate and often dangerous parking on restricted areas near 26 Schools across Sefton. As a result, the 5 minute observation period, which is usually afforded to cars parked on single or double yellow lines at Schools, has been removed. Civil enforcement Officers will now immediately issue a penalty charge notice to any vehicle found parked in an area where restrictions are in place in the vicinity of 1 of the Schools identified. Cllr Paulette Lappin, Sefton Council's Cabinet Member for Regulation and Compliance, said:- "This means that when an Officer is patrolling in the vicinity and they see a vehicle parked on a yellow line between 08.15 and 09.15 or between 14.45 and 15.45, they will immediately serve a penalty charge notice. We hope that this will make the roads around Schools a far safer and more pleasant environment for pupils, parents, teachers, and residents alike. While this initiative is targeted at 26 Schools, in Sefton, where drivers repeatedly flout the regulations, if other hotspots are identified, they will be considered for inclusion in the scheme."
---
Residents set to see early New Ferry regeneration ideas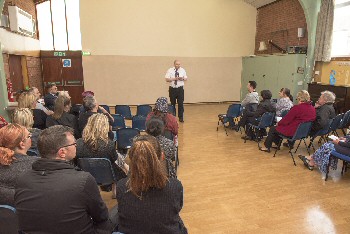 NEW Ferry residents and those who run businesses in the area will have the opportunity to have their say on initial regeneration options at a series of public events. The consultation events will take place on Tuesday, 12 September 2017, Wednesday, 13 September and Thursday, 14 September 2017, at St Mark's Church on New Chester Road, New Ferry, from 2pm to 7pm. Over the past few months at the regular community meetings, there have been discussions and ideas put forward for the future of New Ferry. Wirral Council appointed consultants GVA to explore the ideas put forward by local people and also to assess the area's potential to emerge successfully from the impact of the explosion in March; which caused massive devastation to the area; and create a viable and sustainable future for New Ferry. David Ball, who is leading Wirral Council's recovery operation after the blast, said:- "This is a really significant stage in our response to what happened in March and we want everyone's input into the regeneration plans. New Ferry deserves to see progress made and the proposals must be realistic and deliverable. Once the consultation has been completed we will be reporting back to the next community meeting, on Monday, 18 September 2017, at 5.30pm, in St. Mark's Church Hall and then within a couple of weeks we will finalize the regeneration plan ready for submission to Government and various other agencies for funding support which will be critical to delivering the regeneration." In addition to the drop in events next week, people will also have the chance to comment on the proposals online. Links to the online survey will be posted on the Council's social media feeds once they go live. David added:- "What we are looking at are initial ideas; more detailed plans and impressions will come forward later. We are committed to continuing to work hand in hand with local people on the regeneration of New Ferry so consultation at this stage is very important; we look forward to sharing these ideas with residents."