'High Tidies'' making waves in Wirral
THE 'High Tidies'' are the latest beach clean up group to set up in Wirral and are looking for new members. 1 of their founding members, Peter Woodall, helped create the High Tidies' when he retired and said:- "It's surprising what 2 or 3 determined people can achieve in 90 minutes even when the group is small, now we're looking for new members to join us and keep West Wirral litter free."

The High Tidies' have been boosted by ₤200 funding from the Council, via Wirral West Constituency Committee's:- 'Small Grant Big Difference' fund*, and plan to buy extra litter picking equipment to support their work. Cllr Jeff Green, Chair of Wirral West Constituency Committee said:- "The fund supports a diverse range of projects across the west of the borough. The application process highlighted the fantastic work of many voluntary, community and faith groups in Wirral and I am delighted that so many local groups will receive some extra cash to help them grow."

The High Tidies' are keen to continue their growth and are calling on other local residents to help out as much as they can. They have planned a series of fortnightly litter picks, on West Kirby Beach, through to the end of October 2017. If you would like to take part, the High Tidies' will meet at West Kirby Beach at the bottom of Dee Lane, West Kirby, at 10am, on the following dates:- Sunday, 17 September 2017, Sunday, 1 October 2017, Sunday, 15 October 2017. and Sunday, 29 October 2017. All welcome. If there is a particular area of West Wirral that you feel needs a little bit of TLC then go along to the next scheduled litter pick as the High Tidies' are looking for new areas to target. You can also contact them via the High Tidies' Facebook Page.

* Local groups were invited to bid for grants of up to ₤200 as part of the 'Small Grant, Big Difference' fund. The fund was introduced as part of Wirral's 'Love Where You Live' campaign and will support a number of different initiatives to improve West Wirral's local high streets, open spaces and community assets.
---
Man jailed for subjecting cat to violence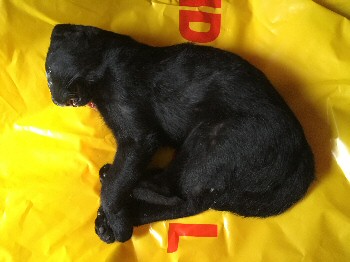 A man from Wallesey has been jailed after his cat suffered a series of painful injuries which raised vets' suspicions. Kristian Murphy (DOB 01/06/1992), of Mill Lane, Wallesey, appeared at Wirral Magistrates' Court, on Monday, 4 September 2017, facing an allegation of causing unnecessary suffering to a male black cat named Bagheera, between 16 August 2016 and 26 September 2016, by failing to exercise reasonable care and supervision and subjecting the cat to non accidental injury which was likely to cause unnecessary suffering, contrary to Section 4 (1) of the Animal Welfare Act 2006. Murphy has since pleaded guilty and has been sentenced to 12 weeks in prison and banned from keeping animals for 5 years.

The RSPCA was contacted in September 2016, by Mr Murphy's veterinary practice when 5 month old Bagheera was brought to the vets with what Inspector Anthony Joynes described as 'catastrophic injuries.' Bagheera had previously been brought to the vets on 16 August 2016 with a broken lower canine and acting 'drunk' and disorientated which Murphy said was due to him falling off the sofa. On 24 September 2016 he was brought in again with a lame hind left leg, swollen face and bloodied nostrils which the owner said had occurred after a fall. On 26 September 2016, he was brought in for the last time with new injuries and sadly due to the severity of these injuries Bagheera died on the vet table before treatment could be given. The black cat had a fractured left and right thigh bone, fractured pubic bone, dislocation of the ribs and a trauma on the right side of his head. It was at this point that the RSPCA was contacted and Inspector Joynes seized the body. A postmortem confirmed the concerns of the vets that the injuries had been caused by numerous acts of physical violence. Inspector Joynes said:- "This kitten was completely vulnerable and put his whole trust in him and he abused that trust by inflicting horrific violence on him. It's really upsetting for me as I'll never know exactly what happened behind closed doors and it's so frustrating when you can't help the animal involved because sadly Bagheera's injuries were so severe that he died before we even got there. Time and again Murphy presented Bagheera to the vets for treatment which may shock some people, but it is actually quite common in cases of non accidental injury. He always had an explanation, but the vets felt that these injuries were not consistent given the history and when investigated by a specialist on non accidental injury he found that Bagheera's injuries had been a result of physical abuse at the hands of Murphy. We are pleased that the outcome demonstrates how serious the judge deemed this case to be by issuing a ban and a jail sentence and hopefully this will prevent any other animals suffering as a result."

Middle aged health at risk as over 850,000 adults do not manage a brisk 10 minute walk each month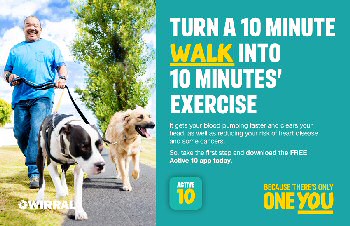 OVER 850,000 adults aged 40 to 60 in the North West do not achieve 10 minutes of continuous brisk walking over the course of a month and are missing out on important health benefits, according to evidence reviewed by Public Health England (PHE). The findings also reveal how lifestyles have changed over time, showing that people in the UK are 20% less active now than they were in the 1960s and on average walk 15 miles less a year than 2 decades ago. The sedentary nature of modern, busy lives makes it difficult for many to find the time for enough exercise to benefit their health. PHE's new 'One You' physical activity campaign is encouraging adults to build 10 minutes continuous brisk walking into their day as a simple way to improve their health. This is particularly aimed at those who have an inactive or low activity lifestyle and may find incorporating activity into their day challenging. The 'Active 10' app has been developed to show how much brisk walking a person is doing each day and how to incorporate more of it into their lifestyles. Meeting the CMO's physical activity guidance of 150 minutes of moderate to vigorous exercise can provide health benefits including a lowered risk of type 2 diabetes (by 40%), cardiovascular disease (by 35%), dementia (by 30%) and some cancers (by 20%). Taking at least 1 brisk 10 minute walk a day has been shown to reduce the risk of early death by 15%. The severity of the current physical inactivity epidemic amongst adults contributes to 1 in 6 deaths in the UK and is costing the NHS over ₤900 million per year.

Julie Webster, acting Director of Health and Wellbeing, Wirral Council said:- "It can be hard to change our habits, but walking just 10 minutes a day at a brisk pace can have enormous health benefits and is good for your overall wellbeing as well. We welcome the launch of Active10 app as a tool to help users set achievable goals and gradually build up their activity."

Cllr Chris Jones, Wirral's Cabinet Member for Public Health said:- "It is worrying that so many 40 to 60 year olds across the North West are not doing 10 minutes brisk walk a month. Our busy lives often mean that our own health is at the bottom of our list of priorities. What's great about walking is that it can so easily fit in to your day. Whether it's taking the dog out, walking on the School run or going for a lunchtime walk, it's 1 of the simplest ways to get started and fit activity in to your day."

Search 'Active 10' to download the free app which shows how much brisk walking you are currently doing and provides tips and encouragement on how to fit 10 minute bursts of brisk walking into your daily routine.
---
Liverpool's Hot New Attraction by Mersey Ferries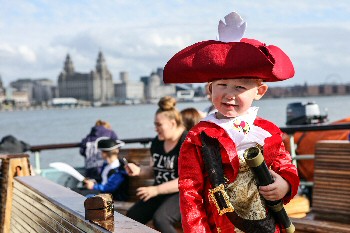 TIME to reignite the nostalgia associated with the iconic Mersey Ferries as they prepare the launch the cruise of a life time … if you are child who loves all things Pirate that is! The iconic brand sets sail with only 4 of these unique cruises each taking place, on 16 September 2017, to co-inside with the Pirate Festival taking place on the Albert Dock. What better way for any young Pirate to descend into a Pirate festival than to arrive by Pirate Ship! A stand alone charter is being prepared for this unique adventure. The vessel will be decked out to resemble a Pirate Ship which will be manned by 2 Pirate Crews. As soon as your mini Pirates arrive they will be absorbed into their very own interactive adventure with a full Pirate show, a mini treasure hunt, face paintings and crafts. This 50 minute adventure promises to be an ever lasting memory for all mini budding Pirates. Each will be initiated into a Pirate Crew during all the fun and games. As they depart their new Pirate friends will give them a gift as a memory of their special day.